Creativity is not a gift. It is a skill we can train with proper innovation tools.
Kaoru Ishikawa famously said that quality professionals only need six tools. 
You can think back to your experiences of performing carpentry or plumbing. There are essentially six tools you use 95% of the time. 
Innovation management has been a much-discussed topic in the past decade or so. This is due to its value in bringing game-changing ideas and molding the way we do business.
Managing innovation is always helpful. This is true from business advancement to utilizing your workforce's creativity.
Innovation management refers to the broader act of sculpting ideas into actual innovations. It is the actual process that takes an idea from its infancy into a successful product.
Innovation management does not happen on its own. A ship needs sails along with a dedicated captain and crew who know how to use them. Thus managing innovation requires a tool and motivates people to use it.
A dedicated tool for innovation is a tremendous help in achieving concrete results. It helps to keep the entirety of ideas, discussion, categorization, and process management.
For this reason, we have decided to write this comprehensive article. So, it will help you to find the right tool for managing innovation.
Importance of Innovation Tools
The topic of creativity comes up when we introduce somebody to innovation methodologies. This is especially true for those focused on business models. The most common query is whether we need to use creativity or not to innovate. 
There is a short answer to this. Therefore, the majority of the most successful innovation methodologies give creativity a vital role.
All methodologies state that creativity is not a matter of genius or lucky moments. It is something that everyone can achieve with proper tools.
So, from this introduction, we can go further into the topic of creativity in innovation.
The creativity tools are used during a regular innovation process. Teams should generate new ideas to explore their feasibility as proper business models.
The phases that use creativity are challenging. This is especially true for individuals not accustomed to innovation methodologies.
Innovators have developed a wide range of tools because of this challenge. So, it helps people unleash and nurture their innate creativity. Rules, procedures, and methods usually constrain creativity. 
However, these restrictions are suited to run established companies. But, they do not help explore new possibilities during an innovation workshop.
Types of Innovation Tools
Let us look at the most popular creativity tools for innovation. We can separate them into two groups:
Divergence tools-

 It focuses on the generation of as many ideas as possible.
Convergence tools

, which strive to analyze, filter, and merge ideas to select the best ones.
Within both groups, there is a wide range of options to choose from, depending on the workshop and project.
We have listed some of the most common tools. Hence, it will give us a short glimpse of what creativity for innovation means.
These tools try to generate as many ideas as possible. This is usually a few minutes during an ideation session.
Not criticizing or judging new ideas as they come is a basic rule here. So, this is as negativity is probably the best way to kill any ideation.
Innovators should let their brains run free. It will help them to generate as many possibilities as possible.
Therefore, any filtering and merging will come later, during the convergence process.
Analogy thinking produces 80% of the ideas during the ideation session. This means copying concepts from other industries. Then we adapt these concepts to our own.
So, a great way to generate new business ideas is to review other business models and industries. These businesses may not even be closely related to our own company. 
Try to analyze their business model. Try to apply it to your industry. So, new business possibilities will naturally arise during this process.
Analogy cards are a great way to practice analogy thinking. These include BMI's Business Pattern Cards. This is as they give a clear reference to work while guiding the creative process.
Comprehensive reports can help to find out administrative areas that need improvement. So, various solutions can be used to improve those areas. One of the solutions is Analogy thinking.
Trend and Technology Benchmarking
Technology benchmarking as a reference is used for another method of analogy thinking. The method is useful in selecting several trend technologies. Then we should try to figure out how to install them in our company.
For instance, we may choose IA, IoT, and blockchain. Then we would come up with new business ideas based on current applications. This will be done through a brainstorming process.
Hence, new ideas will come from the interlink between our experience and new possibilities.
Lateral thinking tools are another useful method set to run an ideation session. This way of thinking involves looking at your situation differently.
Therefore, it is nearly stepping sideways from our current business strategy.
So, an excellent way to do that is the "three ifs" tool. This is very useful for challenging our assumptions and changing our perspectives.
In this phase, we should ask ourselves what would happen if our situation was different in three ways. For instance:
What would happen if I charged my client?
So, what would happen if I have another value proposition?
What would happen if I modify the value chain?
It is recommended to combine analogy with lateral thinking for better results. 
E.g., we can ask ourselves what would happen if we introduce AI to our value proposition.
Or figure out our client base if a particular business model is applied. Therefore, the business model could be from another industry.
We will discover many things while trying to answer these "if" questions. Our business knowledge will help us to discover new possibilities. It will help us to generate new ideas during the process.
The possibilities for lateral thinking and analogy are huge. Hence, these tools help to boost a fruitful ideation process. Therefore, it will help us to widen our business scope.
These tools are intended for a clear purpose. It helps us to organize, filter, and select all the ideas generated. These ideas are generated during the divergence process.
This step requires a very different mindset. All the tools used for this purpose are also different. It focuses on analysis and synthesis, rather than idea generation.
Contrary to popular belief, this kind of work is indeed creative. Therefore, running only the ideation step is useless to finish any innovation process successfully.
We should also have a precise method to filter the best ideas. Thus, it leaves apart those not worthy enough and focuses on the best ones.
Ideas can be organized using mind maps. In addition, we can use them to explore associations and divergences between ideas. It helps to cluster all those concepts coming from ideation.
Mind maps will help identify underlying trends. So, it will clean redundancies and narrow our scope to fewer concepts.
A mind map needs to be created to achieve this. But, we can also use several prebuilt canvases and tools.  Hence, this includes a value proposition canvas and a business model canvas.
Thinking Hat is a widespread technique. It is beneficial to explore the upsides and downsides of every idea.
We might define several hats, each representing a different mindset. E.g., the customer, the advocate, the devil's advocate, and the board of directors.
Some people should wear different hats after pitching this idea. Therefore, they should analyze the pitch from a different perspective. It might be useful to have the same person wear several hats.
So, it forces them to look at the same idea from different angles. The feedback this technique generates is precious. It helps the team to bring new perspectives into the discussion.
Therefore, it dismisses those ideas that do not make it through the test and improving those passing it.
Hundred-dollar test, or idea shopping
This tool is handy for rating ideas. It is usually in a canvas format.
Several value propositions can be introduced to a selected audience. It asks people to buy whatever proposition they want with a fixed amount of money.
The amount can be freely allocated and expended in several places or just one. No prices are set. So, people allocate their chosen amounts to a particular idea.
After the funds are distributed, we can quickly identify the most popular ideas. Therefore, they will receive most of the money.
This test allows the team to get valuable feedback.  Hence, they can get feedback from outsiders, filter ideas, and leave aside prejudices.
In scientific terminology, this tool is also known as Cumulative Voting or Hundred-Point Method.
Some Popular Innovation Management Tools
We have prepared a list of some of the most popular innovation management tools.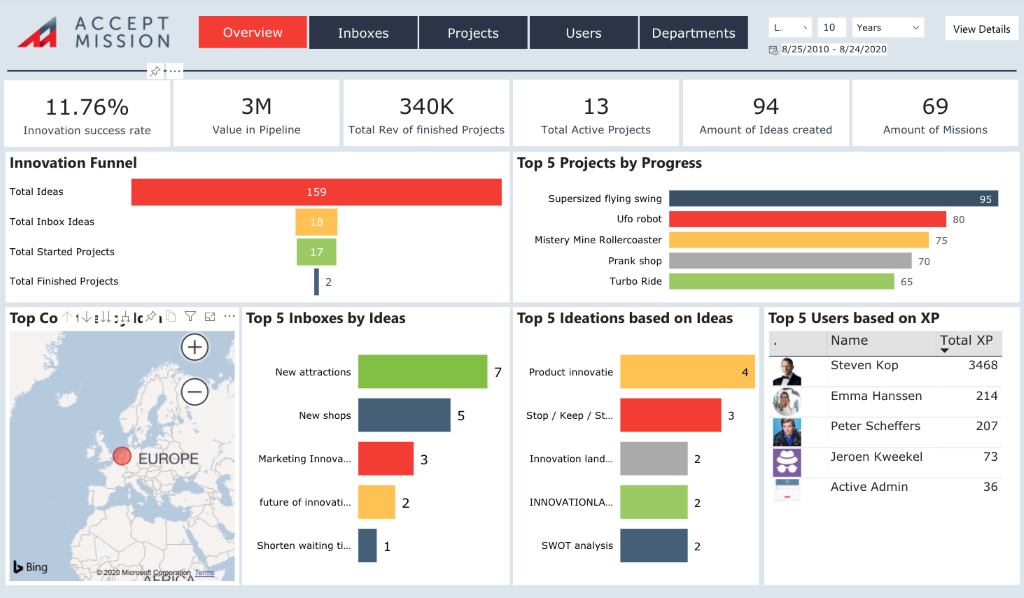 We decided to include Accept Mission in this listing due to its unique nature.
Accept Mission is a brainstorming tool. It specializes in using a gratifying approach to get people innovating. It makes participation fun.
But it is, unfortunately, quite limited in its flexibility and versatility.
Pros:
A gamifying approach that makes ideation fun
Engages employees with high participation and ignites conversation
A clear overview of all ideas generated with the right data
Cons:
Difficult to start without guidance, but has product tours
It May seem childish because of the gamification elements
Free version: Yes
Free trial: Yes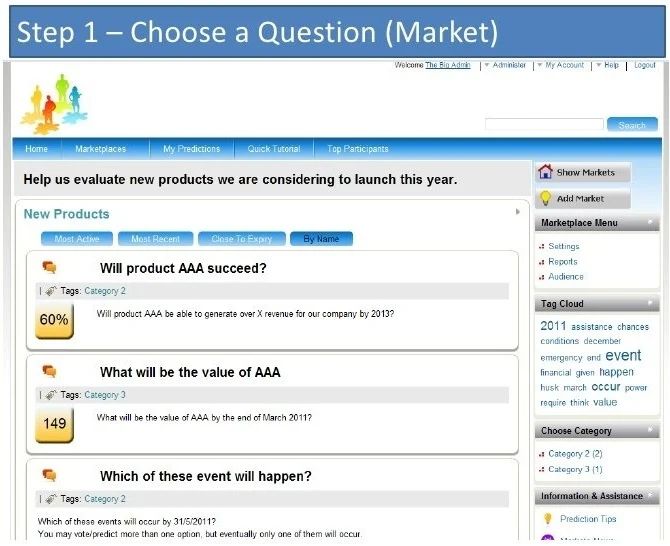 Qmarkets is enterprise software. It is designed to work as a complete innovation management package.
It can do some heavy lifting in innovation management. But it falls short in intuitive use for the end-user.
Pros:
Flexible customer service that is ready at a moment's notice
Fair reporting on platform activity statistics
Responsive content management
Cons:
Unintuitive due to a heavy feature load
Requires extensive knowledge to use
The Mobile version does not work well.
Problems with multi-language support
Free version: No
Free trial: Yes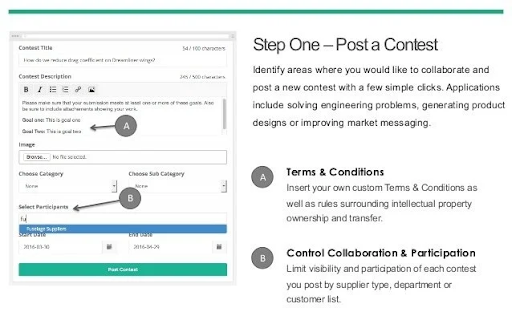 Ideawake is a precision innovation management tool. It is suitable for beginners. Where it lacks in features, it makes up for in practicality. But larger organizations may find this tool insufficient for versatile needs.
Pros:
Does not need extensive implementation projects to get started with
Allows people from different functions to connect and work together
Visually pleasing platform
Cons:
Limited features and possible use cases
Does not have a process for evaluating ideas based on their viability
Minor problems & bugs may be encountered in use due to a lacking internal testing process.
Free version: No
Free trial: Yes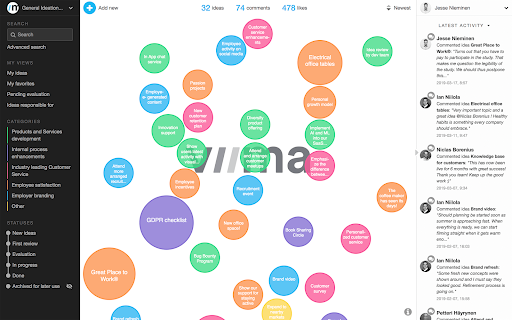 Viima is an all-in-one innovation management tool. Startups can easily use it for larger organizations.
Viima stands out of the bunch in its ease of use. It has a visual appearance that helps keep participants motivated and intrigued. So, Viima has been designed to be an intuitive self-service SaaS too.
In addition, it includes access to professional and quick-responding customer support.
Pros:
A scalable innovation management process. Customer admin users can maintain and develop it first hand.
Intuitive & engaging UI. It helps maximize user participation levels and thus drives results.
Starting does not need any previous knowledge and is the quickest to put in place.
Cons:
Mobile UI does not yet support all the features of the desktop browser version
Does not support customer-specific subdomain addresses
Tutorial videos are not publicly available. They instead need registration to the service beforehand.
Free version: Yes
Free trial: Yes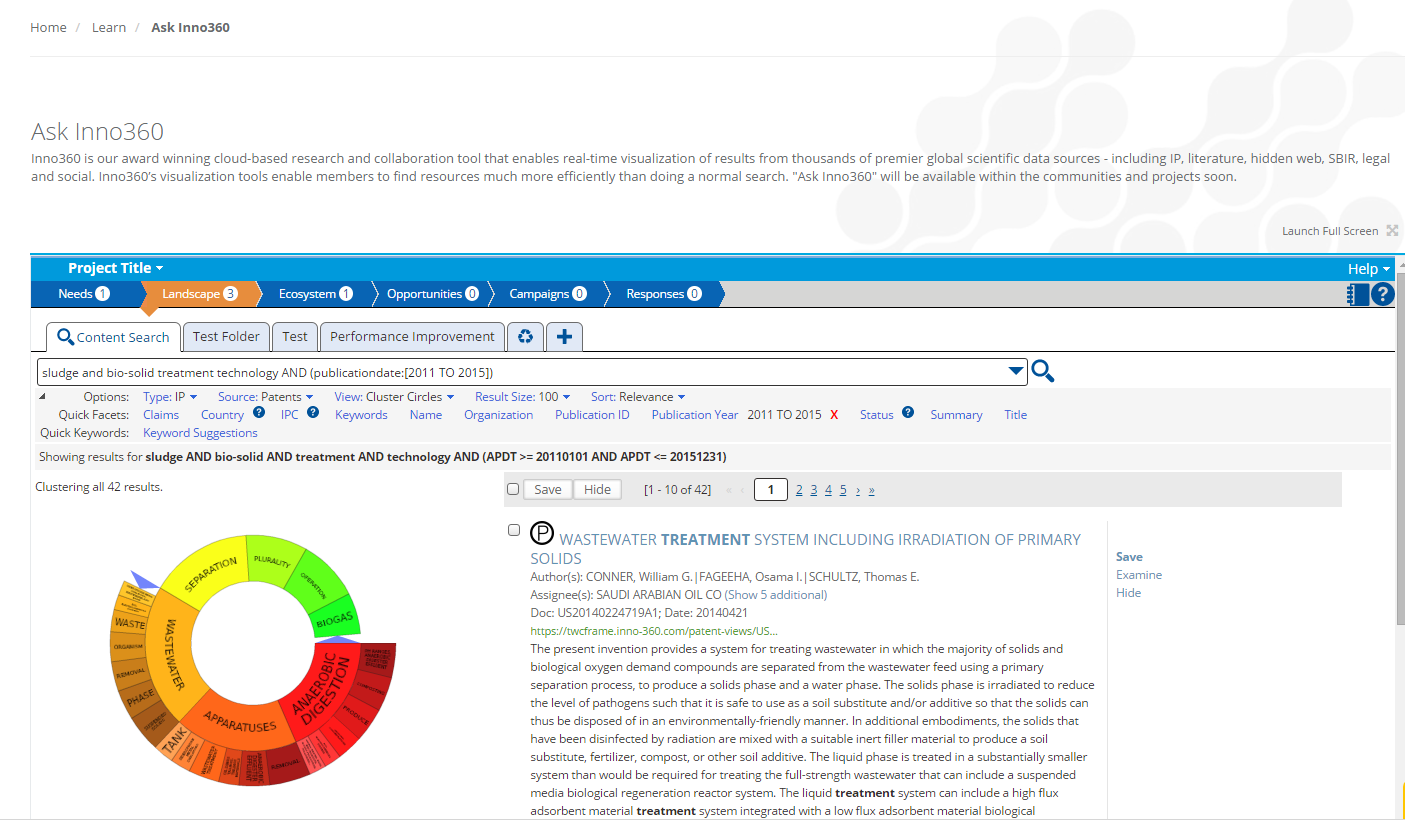 Inno360 specializes in creating disruptive innovation in an organization. It does so by searching for opportunities and ideas on the web. This approach is fresh in using the web to create new disruptive ideas.
So, the platform is not designed for massive internal innovation in terms of usability.
Pros:
Help find new and bold ideas
Intuitive & visually engaging platform
Does not heavily rely on internal participation
Cons:
Not suitable for managing internal innovation
Cannot be used to engage employees
A minimal way of using that mainly relies on utilizing existing information.
Free version: No
Free trial: Yes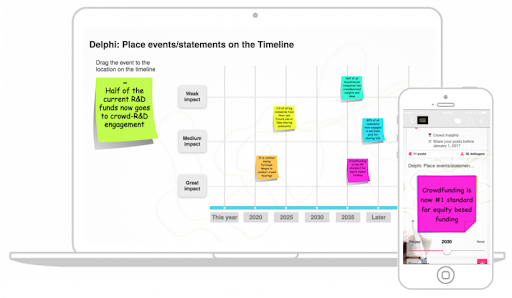 Co: tunity's tunity's InnoFunnel is more of an idea management tool. But, it is also included in this listing due to its versatility.
Co:tunity works well when customized for smaller projects. But, it is not designed for heavy lifting due to the structure of the workflow.
Pros:
Engaging platform with an excellent design
Knowledgeable & active customer service
Easy to use for smaller firms or projects
Cons:
Difficult to scale up. So, this is due to a shortage of features and inflexibility of the idea management process.
Advanced features are challenging to use
Unintuitive admin settings need the training to get started.
Free version: Yes
Free trial: Yes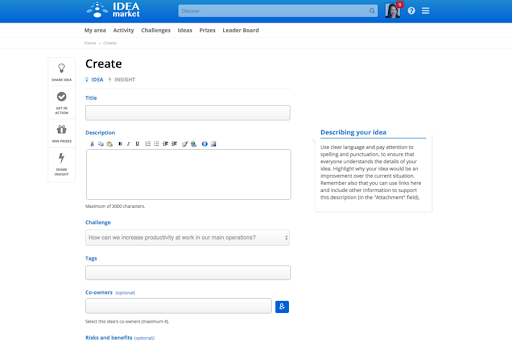 Exago SMART is an enterprise innovation management software. Therefore, it offers ready solutions for various use cases.
It works well for the given purpose, even with many people. But it lacks customizability.
Pros:
Easy to use after the necessary setup has been done
Works well for the intended use case
Engages employees and incites conversation
Cons:
Heavy feature load. It makes it difficult to customize and use outside the intended bounds.
Set-up requires time and resources. It cannot be done autonomously.
Not cost-effective for smaller organizations or projects
Free version: No
Free trial: Yes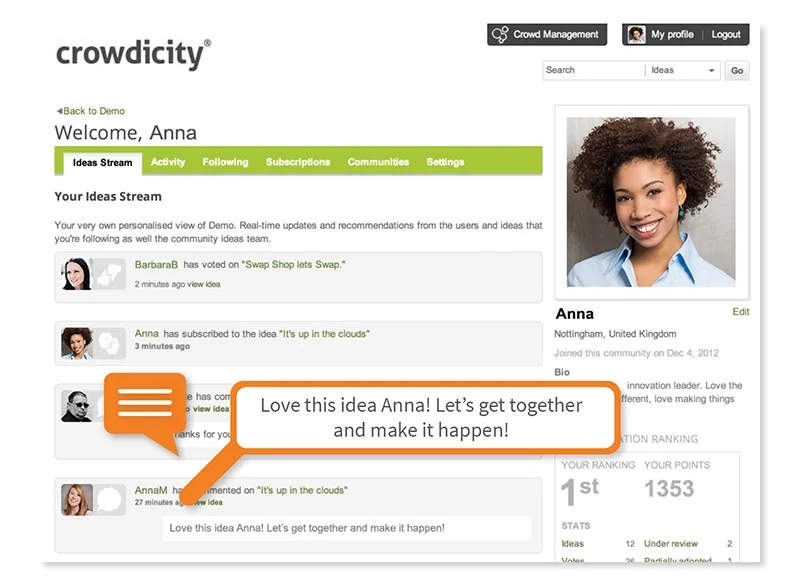 Crowdicity is an idea management tool. It is also equipped for innovation management. But, where it specializes in flexibility and practicality, it lacks versatility.
All features are designed to keep the customer experience effortless. Hence, this is good for a specific use case.
But an extra tool is needed to expand your scope of innovation management.
Pros:
Responsive and helpful customer service
Engaging and practical UI
Can be visually customized to match your brand
Cons:
Difficult to scale. Not useful for other use cases than direct brainstorming
Lacking multi-language support
Poor reporting & analytics on platform related activity
Free version: No
Free trial: Yes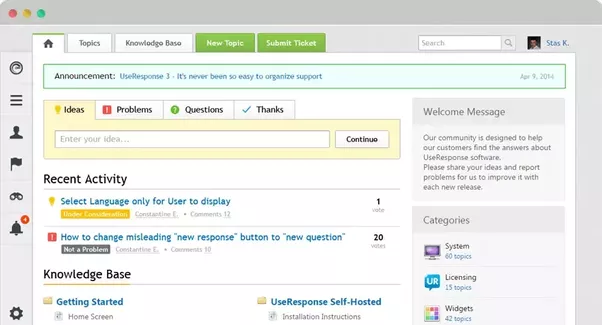 IdeaScale is an idea management tool. It focuses on providing an effortless setup and experience for users. So, it does these things well and with even massive participation.
But it is not designed for customizability. If you are looking for an easy and fast way to set everything up, it does just that.
But, you may think your innovation management goals might shift at some point. Therefore, then it may need an extra tool.
Pros:
Functional UI. Easy to get started and use
Does straightforward idea management well
Cons:
Difficult to customize for specific needs
Managing settings is not intuitive.
Some important features are only available inexpensive plans.
Free version: Yes
Free trial: Yes
Benefits of Innovation Tools
Incremental vs. Radical Progress
Especially larger companies often solely focus on developing their products and services. It is done in an incremental and sustaining manner.
The problem with doing so is that it is safe and much more straightforward. So, it gives breathing room for any new idea to grow, be the idea, however radical.
Lack of innovation is a common factor among companies pursuing incremental growth.
A conscious effort to manage innovation is necessary. Therefore, it helps create an environment where new, radical, or even disruptive ideas can be brought to life.
However, without it, many ground-breaking ideas will never see the light of day.
Staying ahead of the curve
Innovation management (read, "innovation") increases adaptability. It is a way to keep not only the current product or service competitive. In addition, it is also a gateway to even being at the frontier of building something game-changing.
Nokia was at the forefront of developing touch-screen technology. But, they were missing the tools to manage this innovation.
Using all available resources
Use all that raw creativity lurking in the organization's silent masses. So, instead of letting it go to waste, or rather not utilizing it, wouldn't it be wiser to do something about it?
Many smaller firms rarely have enough collective knowledge or creativity to go around. Thus, it wounds to see huge organizations that can think five steps ahead and see them settle for 1.
Conclusion
Both divergent and convergent tools are used during different phases of innovation. We might also create a strategy that mixes both tools, depending on our goals.
Sometimes settling with one tool is not easy. It requires a facilitator with experience and patience to lead the process. They choose the right tools and lead people down the same path.
Organizations can also analyze their financial requirements. They can then come up with appropriate solutions using the tools.
We will make the most of the tools chosen with professional help. So, it will help to unlock any team's potential.
With AI Based Assessment Tool, Mitigate Your Risk And Test Your Startup Investability Score Now