Let's go through a scenario to understand sales 101. If your business has built a social media amplification tool (e.g., it helps clients virally spread their message through social sharing). 
The wrong pitch would be talking about how great your technology is and all the "bells and whistles" you have built into the product. 
A client really doesn't care, especially since you are one of a hundred other companies peddling similar products to them. 
Creating a lot of confusion for them on who to trust. Which often means them doing nothing, not make a bad decision, and waiting for the dust to settle in the industry.
Successful salespeople aren't born; they learn the skills through trial and error. 
OK, so you love your product.
You have been around this market for a while, and you have never seen a product so inexpensive, useful, long-lived, and attractive.
Unfortunately, you are suffering from a condition that affects many business people. Its principal symptom is a lack of objectivity.
If left untreated, it will result in the disappearance of your entire business. Your customers remain proudly self-centered. They will not appreciate the glories of your product's reputation.
Remember, they mainly focus on their personal needs. Maybe it's a car that's leaking oil. Or a child's sweater that needs mending. Or a bookkeeping system has gone haywire.
What do they want? A solution to their problem, not a product.
They want to be able to drive without dripping oil; they need something to keep their child warm; and that they want an accurate financial report and a cup of java.
You will have to present your product as the satisfaction to their needs–the scratch to their itch. That, they can buy.
So, I have written this article that will help you know about the sales tactics, important tips that sales teach you, sales 101 outlines with some examples highlighted.
Check Your Business Worth And Get The Highest Price For Your Business
Demand-Side Sales 101
For a lot of us, selling in the market feels icky. Our stomachs tighten at the thought of reciting features and benefits or pressuring customers into purchasing. 
It's really not our fault. We weren't taught how to sell, plus we've been sold before, leaving us with a bitter taste.
Here's the truth: sales do not have to feel icky for you or your customers. In fact, with the right approach, sales can be an empowering experience for all.
Bob Moesta, lifelong innovator and co-architect of the "Jobs to be Done" theory, shares his approach for flipping the lens on sales. 
Bob shifts the focus of sales from selling, to helping people buy and make progress in their lives-demand-side sales.
Now, in Demand-Side Sales 101, you'll learn to really see what your customers see, hear what they hear, and understand what they mean. 
So, you'll not only be a more effective and innovative salesperson-you'll want to help people make progress.
Sales Tactics 101: Techniques of Selling-
There are countless articles you can find online about the most effective sales tactics and tips to improve your sales. 
If your current sales strategy isn't leading to easier and faster sales, you've got two strategies available to you.
The first sales tactic is to thoroughly review your current sales technique. Is your sales pitch compelling to potential buyers?
Are you specifying how your product or service can solve consumers' problems?
The second sales tactic is to mix and match multiple techniques to convert leads into buyers.
Below are some techniques you'll be able to use to make a winning hybrid sales technique for your company.
Sales 101 Teaches You To –
Create a strong Leadership Role
As the leader of a startup, you should
Be involved within the sales effort to gauge how your company and your product perform ahead of the customer.
Routinely make time in their schedules to engage with potential and target customers.
Make time to make sure that each employee knows they're expected to support the sales process.
Build Strong Relationships
An important expression to keep in mind is, "people buy from people." This refers to the fact that organizations don't make decisions—individuals do.
In addition, to gain the trust of potential customers, you need to invest the resources necessary to make sure that your technology will rise to the scrutiny of a possible buyer.
You should be fully acquainted with the sales process. Many entrepreneurs will think that they are busy developing their products and raising money from investors, so they don't have time for relationship-building.
Yet failure to ascertain relationships with potential customers is the ideal reason why most new ventures fail.
Research Your Customers (Prospecting)
Before communicating along with your customer directly, you must take a while to know who your customer is.
This varies depending on the sort of product you're selling, the environment, and a bunch of other factors, but the essential knowledge remains identical.
For instance, if you're a car salesman, you would like to know that customers come because they're curious about purchasing a vehicle. This may seem obvious but it's an undeniable fact that is commonly overlooked by salespeople.
Likewise, if you're a true real estate agent, people hire you to assist them to sell a house or purchase a house.
So, becoming a sales professional means understanding the straightforward needs of your customer before you ever interact with them.
Fortunately, it isn't a difficult concept to master. Just remember that you are working with the customer, not conspiring against them.
Know The Benefits Of Your Products and Services
Have you ever had a purchase experience where you felt like you knew more about the product than the salesperson?
 As a sales professional, you must always keep in mind that your main aim is to be a product expert.
So, depending on the sort of product(s) you're selling, there could be tons of data to take in.
If you focus on products that is needed on a daily basis, for instance, wholesale thermal bottles is one of the perfect products to consider. Thermal bottles are very essential for everyone especially for those who are always on the field, it is very convenient to carry around anywhere and it will be able to keep their drinks hot or cold for hours.
Learning your product takes many forms. It can be reading literature about the merchandise or using it personally to become more familiar with product features and benefits.
Even the worst salespeople within the world sell products sometimes, but only a real sales professional is capable of adjusting a deal-breaker into a closed sale and a cheerful customer.
Build Confidence In Your Company
You build this type of trust the same way you build trust with colleagues and friends.
The main difference is that in business, we plan to do that systematically, in ways that breed effectiveness and efficiency.
This is defined by the American Society of Training and Development's (ASTD) definition of professional selling:
"The holistic business system required to effectively manage, develop,  enable, and execute a mutualistic, interpersonal exchange of products and/or services for equitable value."
Know That Everyone is involved in the sales process
Selling can even be seen as something that takes place not just when goods and/or services displace but also when someone promotes a brand new idea.
It means that everyone is involved in selling to some degree, regardless of their profession or place in society.
You use a process similar to selling when you try to get your kids to go to bed after you try and persuade a possible employee to take a foothold at your company and when you try to get your colleagues to go along with a particular problem-solving approach.
Think of sales as a process
Thinking of selling as a process is crucial to the concept that there's systematic work involved in helping your target customer conclude.
Good salespeople are very efficient at this and tend to be conscious of what different stakeholders find valuable.
Establishing and communicating the varied win-win positions are crucial when managing sales processes with multiple stakeholders on the buying side.
For the sales process to work, it is imminent for you, to be directly involved in sales activities from the outset.
Moreover, this will help you develop an informed understanding of how potential customers relate to your offering and what kind of resources are needed to manage the sales process to close.
Building Rapport
Working together with your potential clients isn't all about the merchandise. As a sales professional, you should also focus on the customer as an individual when appropriate.
This could be as simple as asking about the customer's family. Even you can share your personal stories of your own that you think the customer might be able to relate to.
Remember to be genuine because most customers can sense if you are simply leading them along or trying to "butter them up" to get a sale.
Sell the Benefits Not The Features
In the marketing "Hall of huge Ideas," the distinction between product features and benefits sits on a raised marble pedestal within the center room under a hoop of spotlights.
Many entrepreneurs refer to their product in terms of its features such as its color, capacity, durability, strength, and technical capabilities.
Marketers (that's you) are different. They speak of the product, in terms of how it will benefit the customer.
They describe the need that your product will immediately fulfill, offering a vision of the satisfied customer living his or her carefree life.
Let's take the instance of a coffeemaker and study the difference between features and benefits.
A parched Parisian will never reply to "Want some water?" but you will get their attention with this unique word "Voulez-vous de l'eau?"
It's the same thing when you market a product: Customers may see you talking, but they won't become interested in what you're saying until you speak their language.
State your main competitive advantages as clearly as possible.
Hence, once you master this difference, you are halfway done with becoming a marketing guru.
Focus on Unique Selling Proposition
When you market your product, you need to not only appeal to the customer. You must distinguish yourself from the competition.
No brand of frozen dessert tastes "unpleasant." No infrared spectrometer talks about its "inaccuracy."
So, why would a customer choose one product over another? There can be many reasons But often it's the Unique Selling Proposition. It's the compelling benefit that shouts.
If you are making frozen dessert, you cannot base your whole appeal to the customer by simply saying "it tastes better"–unless you've got some credible objective documentation that this can be so.
Perhaps you'll be able to claim your ingredients are uniquely fresh, or that the frozen dessert is handmade in some particular way, which makes it taste "better" or a minimum of different than other ice creams.
Look at Ben & Jerry's: They not only market their ice cream but market the structure of the company itself and its commitment to making donations.
Give An Effective Sales Presentation (Demonstration)
In business-to-business environments, the selling and buying process is commonly not simple. Many times you'll never meet the one who will ultimately use your product.
You may be talking to an agent who makes the choice supported by agreed-upon objective criteria.
In that case, all you'll be able to do is to prepare the most effective proposal you can.
This should specialize in outlining your product and your company should match as closely as possible the demands of the proposal request.
Personal sales make commerce happen. And if you're the main person making the sales pitch–or if you supervise people who do–correctly-tuning your presentation techniques can pump up your bottom line.
Overcoming Buying Objections
What objections might you face during a sales call? Salespeople are like basketball players in the sense that their failures at the plate outnumber their successes.
You should be able to put up a list of around six to 10 most common objections that pop up during sales presentations.
When you have that list, just jot down your best responses to each of those objections. Some responses may involve several different elements.
Some objections could also be hard to reply to in a very positive way.
For instance, if the objection is that a bit of apparatus is simply too slow, maybe you'll be able to focus attention on other strong points that override the structure for this.
Perhaps less downtime, lower error rate, greater ease of operation, and therefore less training required, could be some objections.
Until you come up with a proper response, that objection will continue to end your sales.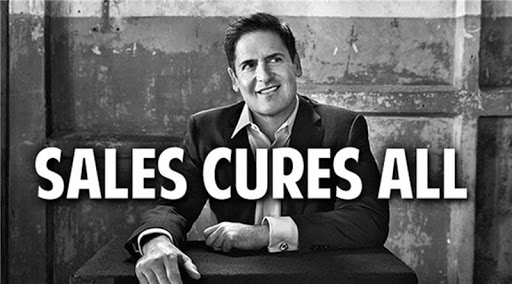 All Businesses have a goal to generate profit or be profitable, but not all businesses know how to fix this problem. But as MARK CUBANsays : "SALES CURES ALL."
A Simple Sales 101 Process Outline
Let's go through the basic sales process used to train salespersons and a brief outline of what happens at each stage of the sale.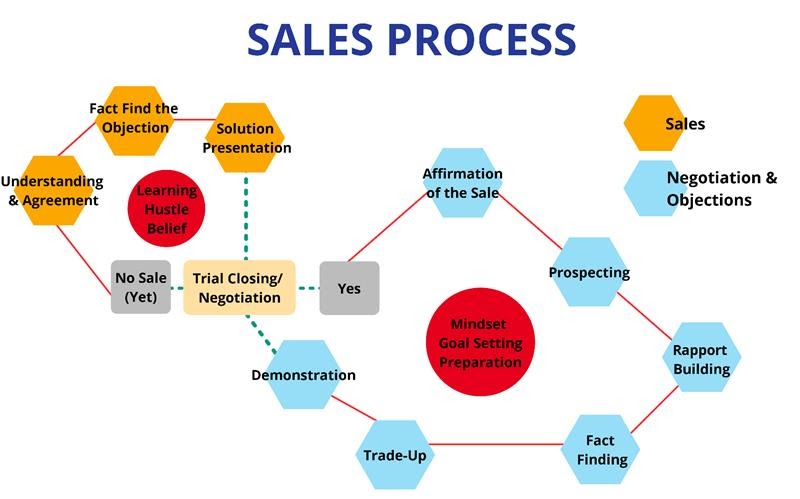 Start With A Sales Introduction
Introduce yourself, and provide a reason why you're there which will benefit the customer.
It doesn't matter how good your product is, or how good your sales techniques are, if you don't have an excellent sales introduction you won't get the possibility to use your sales techniques or show your product.
Prepare yourself with a good reason for the customer to listen to you. This has got to be an enormous possible benefit for them.
If your reason for being there's is that you are just a local business, think about what this implies to the customer. Also, what are the advantages to them being local?
Find out what they want (Fact-Finding)
Once you have introduced yourself you would like to understand what it's that the customer wants from a product or service like yours. So, ask them questions to establish their needs.
You should opt for structured questioning using a conversational style, and not firing one short question after another.
look for the benefits the buyer wants, not the features. You want to understand what's the top result the customer is searching for.
Imagine you're an accountant selling your service to a brand new prospective client.
Remember, the customers are not looking for an accountant, they are looking for what the accountant will do for them. The result of the service.
Present What You Can Offer
Show them how you can give them what they want by presenting your proposal to the prospect.
You have asked the questions to verify what they need, and either remembered or noted down their needs. Now you should utilize your sales techniques and skills to present a sales proposal that will meet their requirements.
So, make the presentation specific to those needs. Don't bore them with other details that they're not inquisitive about.
Ask Them If They Want It
Just ask the customer 2 basic sales training questions in your own words:
Has the proposal I have presented met your requirements.

Would you wish to travel to the subsequent stage of the sales process?
No tricks or fancy sales techniques. No manipulation, bullying, or high-pressure sales skills.
The next stage can be signing a form, agreeing to a trial of your product, or an extra meeting with others involved in the buying decision.
This is where sales objections normally appear that I have already explained above.
Close the sale, sign up the agreement to buy, or move on to the next stage of their buying process. Deal with all the sales objections.
Note: Always prefer to use sales funnel software to increase your sales about which I have mentioned in my other blog.
Example of Retail Sales 101
THE iPad's STORY
The technology for tablets was already in existence long before Apple introduced its iPad.
Apple came out with the iPad, and they backed it up with a story that is analogous to that of the previous tablet but with a definite modification.
Apple's story was that the iPad also enables content creation even when you're on the move. But there's a twist to their story and it's the unique selling proposition of Apple for this product: it's also for content consumption.
Users can also download apps, music, media, and other content directly on the tablet and store them for future consumption.
This story resonated with more people, and it's further cemented Apple's status as a pioneer in tablets and similar devices.
In this example, it's clear that the purchasers didn't concentrate on the product itself or perhaps the technology. 
The customers are already accustomed to the tablet, and that they also are tuned in to the capabilities of a tablet.
Please have a look at Steve Jobs' introduction of the iPad and listen to how he connects to the audience and reminds them about their iPad needs.
THE DE BEERS' STORY
DeBeers is one of the most recognizable names within the diamond industry, engaged in diamond exploration and mining to diamond trading and retail.
At first, the diamond was nothing over a "rock that shines".
And then it happened in 1916 when it came up with what has been declared because the best advertising slogan of the 20th century: "A Diamond is forever".
In this marketing strategy, DeBeers weaved a story that portrayed its diamonds as a logo of affection and commitment.
Diamonds are being sold by other companies, but it had been DeBeers that created that plot twist that convinced the market to buy diamonds, even at a large premium.
So, the two examples discussed above clearly demonstrate that sales aren't really about the merchandise or service that you are selling, but the story that you are telling about that product.
Sales Functioning 
Pre-Sales
Sales Development
This is the act of interacting with leads and filtering out/in those who should get sales attention. Including, but not limited to:
Inbound: qualify leads from any source for sales attention (SAL).
Outbound: potential leads to pitch the product and qualify them (Prospect->SAL, maybe even SQL), called "prospecting".
Set meetings for sales representatives or sales engineers. They will hold titles like "account executive", "solutions executives", "solutions", "sales", etc.
Discovery: learning information about the lead, such as tech stack and competing products being used or evaluated. This is a qualification activity.
Doing demos: how in-depth these get depends on the type of the product.
Inside Sales
Engaging in sales with leads that are. Inbound.
In practice, this typically means a marketing-driven funnel where various programs and tactics "cause" people to go to the website, fill out a contact form, start a free trial, etc.
In big organizations with separate, specialized sales teams, you may have Inside Sales Reps (ISRs).
And SDRs (Sales development representatives) might specifically be part of the Inside Sales team. And you would possibly have AEs who sit "above" the ISRs.
In big organizations, leads are generated along a human pipeline that looks like Marketing > SDR > ISR > AE > AM.
Outside Sales
Engaging in sales with leads that are.. not inbound.
In practice, this typically means an outreach-driven funnel where marketing and/or sales engage in outbound tactics to reach out to prospects to convert them into leads. Including, but not limited to:
Mining

LinkedIn

to seek out prospects that seem like existing customers or existing leads, etc.
Buying lists of contacts who fit firmographics, demographics, etc.
Using outsourced firms with proprietary lists to do the above.
Business Development
Sometimes this is just outbound sales. But more often it's jargon for developing sales partnerships such that a 3rd party, a sort of consulting company, either helps to sell or directly sells the product.
Strategic Sales
Strategic Sales is usually a specialized function for managing very large accounts and deals where the sales cycle ranges from many months to years, involves multiple departments and geographies, and many levels of contracts and negotiations.
Hence, this generally requires some specialized experience.
Enterprise Sales
In big companies, there are often dedicated enterprise sales teams or representatives.
Therefore, the sales cycle tends to be long, and addressing large accounts, with multiple layers of individuals to convince and procurement hurdles to leap through, generally requires some specialized experience.
Channel Sales
Sales channels include:
Selling with a partner: In this, a partner sells your product & you book the sales. Or the partner sells your product then turns around and buys it from you at a discount.
Selling to a partner, and then the partner will resell your product.
Selling via a marketplace, wherein marketplace takes some part in marketing your product and picks up some margin on each transaction.
 Post-Sales
Account Management
Account Management is the process of ensuring a decent experience for a lead after they've become a customer and maintaining the customer relationships, i.e. ensuring the customer doesn't churn. Including, but not limited to things such as:
Onboarding

Technical support

Access to roadmaps and engineers

Managing renewals and expansions

Selling additional products/services into the account
Customer Success
Sometimes "Customer Success" is simply a renamed Account Management function.
Other times, Customer Success is a specialty with its team that doesn't report into Sales and is not measured or rewarded on revenue generated — but rather on some measure of customer happiness or health.
Renewals and Expansion
Exactly what it sounds like: this is the method of keeping tabs on an account to make sure that it renews, or to pursue expansion opportunities within an account.
Sales Support
Sales Engineering
These sales reps don't seem to be typically technically adept, so, this engineering provides the technical knowledge needed within the process of selling. Practically, this includes things like:
Doing demos.

Answering technical questions.

Helping with technical onboarding, e.g. installing and configuring some code needed to do a proof of concept — although this can be sometimes a specialized function with varying titles like "Integrations Engineering" or "Customer Success Engineering", etc.
Solutions Architecture
Solutions Architecture is the post-sales part of Sales Engineering.
These Architects provide some part of technical expertise to existing customers to assist with the technical aspects of account management and solve specific use cases with the products available.
But it could even be delivering new product requirements from existing customers trying to handle novel use cases or producing novel "solutions", sort of a combination of an existing product plus some specialized customization.
Therefore, "solutions" roles are sometimes both pre-sales and post-sales.
Sales Enablement
Sales Enablement is providing all the training, documentation, and assets needed to help within the sales process. Including, but not limited to:
Sales education on products and features (ongoing).
"Assets" like datasheets, product comparisons, and case studies.
Tools such as business case generating spreadsheets, pricing calculators, and objection handling docs.
So, sales Enablement is typically a product marketing function but can have been its role within the sales team.
Sales Operations
Sales operations are the operational and technical aspects of running a sales pipeline.
This includes selecting, buying, building, operating, scaling, and replacing (when necessary) all the tech and processes related to running a sales process. Including, but not limited to:
Customer Relationship Management (CRM) tools.
Sales Automation: call routing, email automation, calendar scheduling, secure document storage and sharing, lead routing, lead attribution, lead qualification, campaign attribution, data sanitation, marketing automation integration, document signing.
List building and buying.
Reporting: Tuning, KPI establishment, tracking, visualization, and report generation.
Sometimes sales compensation plans and tuning.
Models
There are a couple of various, typical sales models in use in software, especially B2B SaaS (my area of expertise).
Self-service / Product-led
This is where leads transform into customers totally on their own. Moreover, your SEO, ads, website, free trial, etc., do all the selling for you, and customers put in credit card information to buy directly.
Depending on the product and business model, pure self-service is usually impossible. Thus the arrival of chat bubbles on websites and pre-sales "success" teams or bots to staff them.
Sales-led
Sales staff promote leads through the funnel and convert them into customers.
Land and Expand
Aiming to close small deals & then grow usage or sell additional things into an account over time.
Whale Hunting
This frequently involves convincing entire companies or teams to begin using your product or wholesale to replace something else with you. So, sometimes synonymous with "Enterprise Sales" or "Strategic Sales".
Field Sales
Convincing individual users and using that as a symbol point to convince an entire team or company.
This is the SFDC case where the expense limits of individual salespeople were base upon the priced product. After that when there was enough individual usage, a package bringing all those licenses was sold to the management.
Top Down
Convincing management that a product should be used and so having it chosen for his or her team, i.e. imposing it from above. Closely related to Whale Hunting.
Conclusion
Many remodelers struggle with sales, but it's an important part of the duty. To have any hope of surviving, coupled with thriving.
It's not enough to know how to do the work—you need to know how to convince people to pay you for it.
At a time when traditional values of honesty, truthfulness, integrity, caring for the wants of others, and professionalism seem to be in short supply, people who exemplify them are needed more than ever.
With AI Based Assessment Tool, Mitigate Your Risk And Test Your Startup Investability Score Now