How much do consultants REALLY charge??? This Question is always up in the air. Consultant salary is the most frequently asked question when people research about it. Many people hear numerous insane figures. But do they really make it big?
The answer is both YES and NO. The real question should be- Do they really create that much value for the amount? 
Consulting business is not only about how much a consultant earns. Instead, it's more about how much value a Consultant creates for their clients.
Stepping into Consulting Business and focusing only on charges is a short-term vision. Successful Consultants prioritize value creation for long-term survival in the market.  
Generally, there are two types of consultants in the market. A consultant employed by international consulting agencies and others is independent contractors or consultants. 
Both the consulting roles start with the same motto- Value Creation and Charging Right Rate for the value.
In this article, you will get detailed information about the earnings of firms and independent consultants & How to charge consulting rates by adding value to the clients.  
Besides this, we have brought up a  method to calculate your consulting rate and list of profitable consulting niches.
Let's dive in… 
Firm Consultants:
Firm consultants get employed in a consulting firm or agency. A Consulting firm targets company executives and assists in achieving industry-specific targets.
Many Consultancy firms come up with strategic deliverables to accomplish the suggested recommendations.
Earnings of Firm Consultants:
A Consultant working in an agency or firm gets a salary ranging around $500k-$5M. In top tier firms a consultant's salary is subject to get impacted by three factors :
A Consultant Firm has Multiple levels of partners with varied base salaries. Generally, there are two levels of partners i.e Junior Partners and Senior Partners. 
A Junior Partner takes up $350 – $500K as a base salary whereas a Senior Partners cost ranges around $500 – $650K. Despite variation in base salary, there is no par to how much bonus a consultant earns. 
A firm has different methods to calculate a consultant's bonus amount. Some of the basic drivers that determine a bonus are as follows:
Size of business:
How much business did you bring in? What kind of business did you bring in? Most of the firms give huge importance to this factor. However many eminent firms put less emphasis on this factor.
Performance/Output: How the business is working? How is the year? Is it performing well? This aspect is a predominant factor in a Consultant's career. 
Partner Collaboration: Firms admire when partners collaborate for a case.  So, they set a lot of rewarding benefits for partner collaborations.
Is the partner in Strategy? Or in implementation? The numerous niches in the industry have an impact on final compensation.
The salary of Firm consultants varies depending on the experience and position. The average salary per year of a consultant in top-notch consulting firms is- $83,982 in Deloitte, $113,340 in EY & $91,605 in Accenture. 
In 'The BIG 3 Firms' average base pay for a fresh graduate receives $83,500 whereas an MBA hire receives $149,000 as a base salary.
Here is an in-depth dissection of salary earnings of an Undergraduate and MBA or Experienced individual in Mckinsey, BCG & Bain.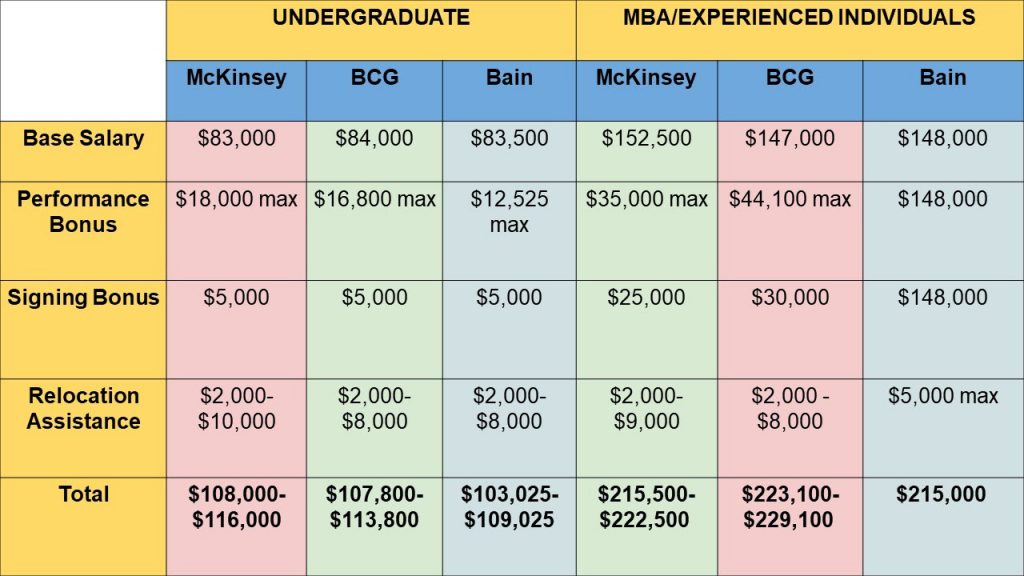 From the above table, there is a slight variance in the base salary offered by the three firms. The base salary for Undergraduate and MBA hires has a considerable gap.
The 2020 salary report conveys that the salary standards of the Top Three firms collectively known as BMM have risen enormously. This is in reflection to compete with other organizations for talent.
Consulting Firms pursue the brightest and best talent from top colleges and firms. They aspire for a candidate with tangible experience, quantifiable achievements, and goals.
Besides, they focus on candidates with prodigious critical thinking and presentation skills. Moreover, they expect to have quick adaptability and problem-solving skills in the candidate.
Therefore an Individual possessing these skills is bound to pick up and excel in the firm.
Independent Consultants:
The independent consultants are self-employed individuals. Many successful independent freelancers earn the same amount as a firm consultant. 
Check out this detailed guide to starting your own consulting business in 33 days.
Their lifestyle has another word "Complete Freedom'. They are their own BOSS. They enjoy everything that a dream career looks like. 
High Pay & Work Flexibility

Personal Independence.

Full Freedom- No Restrictions to their money grow.

Personal Satisfaction.
Let's understand how much an Independent Consultant Earns.

Earnings of Independent Consultants:
As per the study, 19.8% of Independent Consultants earn more than $100,000 per year and the market is growing at a faster rate. Independent Consultants set their Consulting rates and have unlimited earning potential.
Various marketing and business factors get considered while deciding a rate. A study of 25000 Consultants says that 21.86% of consultants have the least monthly earnings of $2000-$5000.
Approximately 2.27% draw $45K-$100K per month to $250K+ per month of 0.76% the most.
That's Colossal !!!
Stepping up in the market with the right rate is of utmost importance for consultants. Low rates affect the authority whereas High rates will cause hindrance to capture new target clients. 
The right rate communicates expertise, keeps a client happy, and is good on accounts to serve you well.
Also, an Independent Consultant has the following Five strategies to decide their Consulting Fees: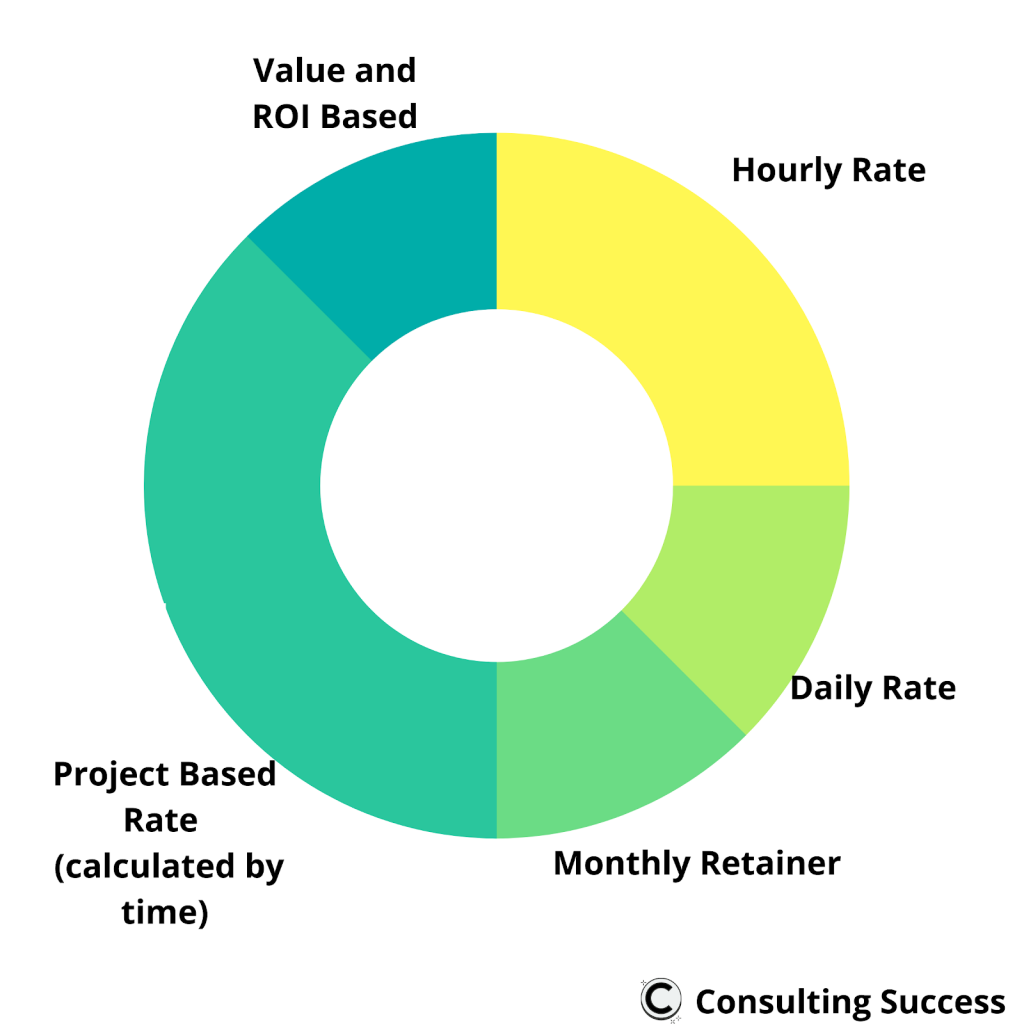 As per the study, 23.38% of consultants charge by the hour.
A consultant charges an average of $100 for every hour. Your Hourly fees are the First Impression of your experience and the value you create.
So, charging an hourly rate is not advisable but goes well if it involves lots of meetings and in-person work.
How to calculate Hourly Rate:
Take the yearly salary and divide it by 50 and further divide it by 40
 Here, 50 is the number of weeks in a year deducting 2 weeks for vacation & 40 is total working hours per week.
For eg: Your Yearly salary is $ 50,000. On dividing by 50, you get $1000.
This amount is the weekly earnings of yours. Now divide $1000 by 40 to get $25 per hour. 
The trick here is not to charge $25 instead you will be charging the THREE TIMES of your employment hourly rate.
 Thus you will be charging $75 to the client on an hourly basis. 
If the average market rate is $90-$100, charging $75 as a neophyte will be lucrative. Hence, you can still pull off the bar while you build a strong portfolio and add the right value proposition to it. 
Instead of asking $100 on an hourly basis, one can simply charge $2000 for the entire project. 
It's a WIN-WIN !!
For the Project rate, calculate the charges by estimating the time for each stage. Consider, you need an hour for analysis and topic research, next few hours for reviewing the client's goal.
It may need 4-5 hours for the first draft and a few hours for edits. Add some extra contingent time to calculate the final duration against the hourly rate. 
Here comes the formula,
(Estimated work hours + 20% extra hour for contingencies) x Hourly rate= Your Project rate 
Value and ROI based rate:
The value and ROI-based rate is a performance-based payment method. This method has high risk but high returns if succeeded.
Consultants get paid only if they generate expected results. Moreover, the method is more befitting for a consultant with a highly experienced and strong industry relationship profile. 
In a monthly retainer rate, the consultant charges every month along with initial fees. This is the appropriate method for beginners.
As with no portfolio and social proof, one can start with the small initial fee for consulting engagement and can charge a monthly ongoing consulting fee.
Instead of charging a $50k fee, you pitch $10k + $5k. The latter charges can be less overwhelming than the former for a client.
This is essentially the best method along with the Project-based method.
Check out this guide on how to sell consulting services that share great tips on selling high-priced and valuable consulting services.
Top 17 Highest Paid Consultants in the Market (2020)
Marketing Consultant
The Average Salary of a Marketing Consultant is $58,768 per year. A Marketing Consultant is an Expert professional who understands consumer behavior and marketing trends.
They understand how to engage and capture the target market audience. A marketing consultant analyzes the current business model, examines the market potential, and develops a plan of action to accomplish business objectives.
Throughout the process, the marketing consultant tracks results measures success and adheres to the company's goals and objectives. 
HR Consultant
The Average Salary of an HR Consultant is $75,618 per year. An HR Consultant offers advice on areas of employee engagement, Human resource policies.
Compensation, employee management during mergers and acquisitions, etc. They assist in streamlining the company with the latest and upgraded compliance policies and procedures.
Generally, there are two roles for HR- Expert resource Consultant, suggest solutions to recruit the right employees and talent for the company and People Consultant, assists in implementing the right strategies to raise creativity and growth of the employees.
Small Business Consultant
The Average Salary of a Small Business Consultant is $75,499 per year. Small Business Consultants assist small business owners in planning, advising, implementation of strategies to improve business performance.
Tax Consultant
The Average Salary of a Tax Consultant is $63,647 per year. Tax Consultants offer assistance to taxpayers with complex personal finances and noteworthy assets in understanding and filing complicated corporate taxes.
With Extensive financial knowledge, they encourage clients to make sound financial decisions. They collect information on the client's financial situations to frame promising strategies that ensure limited tax liability.
They guide towards taking full advantage of tax credits and deductions while complying with Tax policies.
Investment Consultant
The Average Salary of an Investment Consultant is $90,417 per year. An Investment consultant provides investors investment portfolios through extensive market research and comes up with lucrative investable products and portfolios. 
So, they plan comprehensive strategies to accomplish the financial goals and aspirations of the future.
Environmental Consultant
The Average Salary of an Environmental Consultant is $77,035 per year. Environmental Consultants play a significant role in protecting natural resources.
They plan strategies for environment-friendly business decisions. Hence, they work on a contractual basis with private and public organizations to conduct scientific environmental assessments and address numerous environmental issues. 
Associate Consultant
The Average Salary of an Associate Consultant is $69,244 per year. An associate consultant is an entry-level consultant who works with their assigned supervisor.
They work according to management's direction and assist the head consultants. So, they are also required to contribute to each project's success to walk up the career ladder.
Management Consultant
The Average Salary of a Management Consultant is $106,710 per year. Management Consultants are expert individuals trained to plan profitable business strategies, structure, and management.
They offer services to improve the effectiveness of management processes. Their in-depth industry experience helps clients to solve complex business and management problems.
Also, they work towards improving the health of business organizations.
Security Consultant
The Average Salary of a Security Consultant is $85,442 per year. Security Consultants are security experts of Information and Technology in business organizations.
They oversee business security systems, potential breaches, and supervise solutions. In the era of cloud computing and Software as a Service (Saas), Security consultants play an integral role to protect the interest of business organizations. 
Senior Consultant
The Average Salary of a Senior Consultant is $102,865 per year. Senior Consultants handles a team of junior or associate consultants to ensure the effective and efficient achievement of organizational goals and objectives.
In addition, they are the upfront leader to handle client meetings, generate more leads, plan strategies, generate profits, revenue, etc while the team focuses on operational activities.
Sales Consultant
The Average Salary of a Sales Consultant is $69,441 per year. Sales Consultant with extensive experience and knowledge assist clients to scale up the sales strategy and generate maximum revenue and organizational profits. 
Hence, they have strong knowledge of creating brand awareness that drives leads and paying customers for the organizations. 
Financial Consultant
The Average Salary of a Financial Consultant is $92,234 per year. Effectively managed finances promise the long-term survival of business organizations.
Financial Consultants devise strategies to extra costs, reduce risks, and increase business cash flow. So, they assess clients' financial situations to provide guidance for sound cash management, increase revenues, and reduce potential financial risks.
Strategy Consultant
The Average Salary of a Strategy Consultant is $98,168 per year. Strategy consultants assess the business process and situations to advise high-level strategic decisions.
They work with top executives to plan Key strategies that adhere to the company's vision and mission. Moreover, they work in a wide range of organizational fields and assist with catering to the right resources and strategies.
Operations Consultant
The Average Salary of an Operation Consultant is $69,810 per year. Operation consultants analyze and audit business operational activities.
They assist in solving operational limitations and challenges to speed up business growth. So, they oversee external and internal organization operations to cut costs, make optimal utilization of resources, and increase productivity. 
Medical Consultant
The Average Salary of a Medical Consultant is $69,244  per year. Healthcare firms appoint medical consultants to get assistance in handling business-related issues to prioritize their focus on patients.
In addition, medical Consultants or health care consultants facilitate clients in a wide range of company matters are like financial, staffing, budgeting, Insurance compliance, patient confidentiality, etc. 
Restaurant Consultant
The Average Salary of a Restaurant Consultant is $60,000 per year. Restaurant Consultants help restaurant owners to help in the various business aspect of restaurants.
Hence, they assure the smooth running of restaurant activities. They guide in various aspects of restaurants like staffing needs, financial planning, menu development, Restaurant designing, etc.
IT Consultant
The Average Salary of an IT Consultant is $1,16,729 per year.IT consultants possess extraordinary knowledge of Information and Technology systems.
They work in partnership to improve business processes, meet organizational objectives, and provide solutions to systems problems.
Besides, they assist in forming strategic guidelines to enhance the utilization and efficiency of IT infrastructure in business organizations.
So, they gear up the latest Tech opportunities to maximize benefits and streamlines the global growth of the organization. 
Conclusion: 
Pricing is the consulting condition accepted by both parties. A consultant has the freedom to increase the price with more demands and can decrease it if struggling to get clients. 
A consultant's pay varies depending on firm policies, performance, skills, level of expertise, and skills. One can earn massive dollars whereas one can gain moderate earnings.
The core characteristic of performance-based pay makes it more lucrative than any field. Want to start your own consulting business? Looking to establish your own consulting firm?
With AI Based Assessment Tool, Mitigate Your Risk And Test Your Startup Investability Score Now