You got the seed of a big idea for your startup. The time has come to find the best way to grow and nurture the seed into a healthy and cheerful green tree. How to do it? Does having an idea enough to launch a startup? The answer is NO.  
There's more to launch a startup than having an idea or product/service to sell. The true backbone is the Right Business Model for the startup.
The strategy you chose to earn profits, to decide the target market, maintain the cash flow, etc influences the startup business model. 
A startup business model in its entirety describes the key tasks that are essential in running a startup. It defines a systematic way to create and deliver value to the market with enormous benefits.
Why does a Business Model for a Startup matter?
Choosing the right business model for your startup is essential as it is a blueprint to launch a startup with a strong foundation. It refers to a summary of the startup structure and determines the key activities to make it a success.
It briefs out the needful tasks to execute the idea and answers all the questions about how to take it forward. Further, it let founders understand the pathway to discern the success of a startup idea.
As you hold your "startup idea" on one hand, it's time to design your own "Startup business model" with another hand.
So let's do it !!!
Designing a Business Model for Startup :
To design the business model for your own startup is to make your own customized outline. This guide will usher a smooth runway for an easy take-off of your startup. So take your notepad and get started.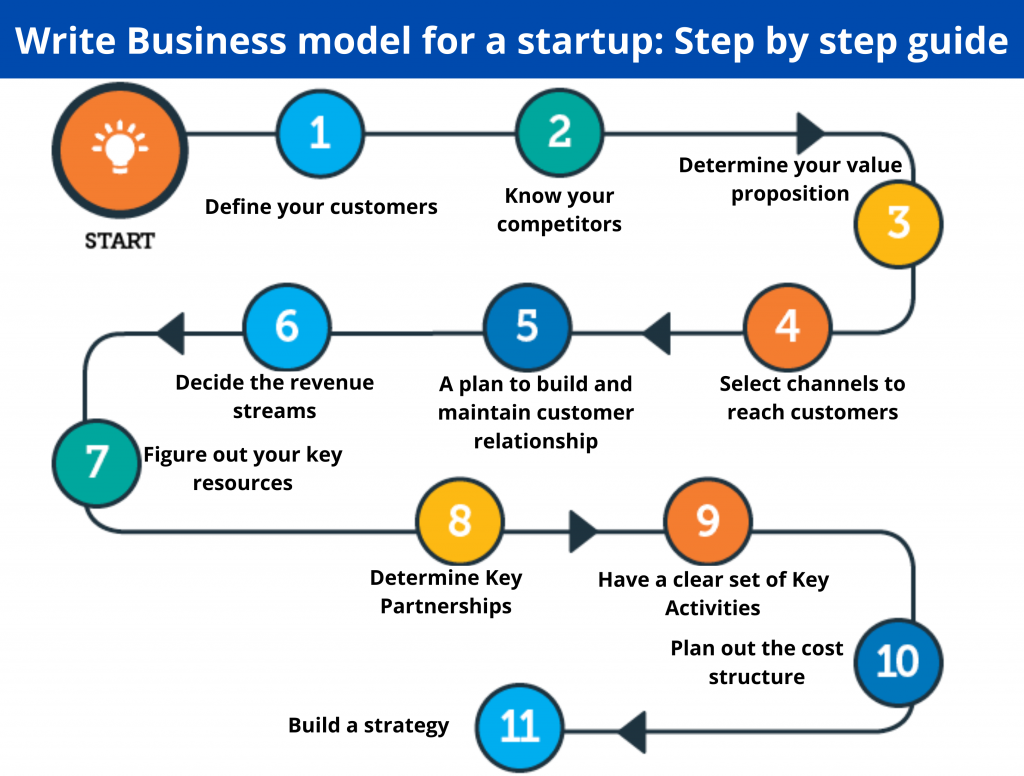 Firstly, Who are you aiming to serve? Define your customer segment based on needs and attributes. This criterion includes customers whose pain points your startup aims to relieve.
For eg: Airbnb segmented its customers into Guests & Hosts. Guests are travelers who are looking for a great lodging experience while traveling. Hosts are property owners that provide accommodation on their own property.
As you step into a specific market, it's vital to understand the presence of other players. Examine how many players are in the same market, and how successful they are.
Then ask yourself- Can you do better than them? What differentiates your startup from them? How unique a value can you create in the market?
Hence, facing competition in the market validates the business. But, it's not suggested to step into an oversaturated market where the competition is both high and tough.
Check Your Business Worth And Get The Highest Price For Your Business
Determine your Value Proposition:
The value proposition is a distinct value to differentiate your startup from competitors. A startup provides its value through newness, reduced prices & costs, accessibility, convenience, etc.
For eg: Airbnb has a different set of propositions for its guests and hosts. The main focus for Host- secure property listing, and 24 * 7 customer support.
Similarly, for guests- affordable lodging, easy to browse, easy to book, secure payment, etc are important.
To validate that your product/service proposes the right value to the customer in the market. Therefore, check out  Value Proposition Canvas, a framework to ensure the product-market fit.
Select Channels to reach customers:
Generate a list of channels that will take your product/service to the customers. So, an effective channel delivers the product/service at an efficient, and cost-effective rate.
For eg: Uber Cab's primary platform is their app while leveraging social media, digital ads, media coverage, etc.
A plan to build & maintain Customer Relationships:
Building a relationship with customers ensures the survival of any business. Hence, you must address questions on how to get new customers and keep current customers to grow more revenue.
For eg: OYO enhances customer relationships by 24*7 customer support, social media, etc.
Decide the Revenue Streams:
The big idea that made you decide to build a startup is the prime source of revenue. Focus on this ultimate revenue source at the start.
As the startup grows, the sources of revenue generation broaden. A founder should adopt new revenue streams depending on the prevailing market conditions.
For eg: Amazon's primary revenue source is the Commission and Transaction Fees. Bezos introduced new products/services- Amazon Web Services, Kindle, Media, and Content.
Figure out your Key Resources:
List down the resources that will need to build your startup. These are the key resources for startup survival and supporting the founder to build it.
Hence, this includes raw materials, buildings, transportation, storage facility, machines, human & financial resources, etc.
Determine Key Partnerships:
It implies relations that your startup will create with external business entities. It can be between your company and suppliers, manufacturers, business partners, government, etc.
Building partnerships with outside entities reduces the competitive risk for the business. For eg: Key Partners of Airbnb hosts, corporate travel partners, professional photographers, etc.
Have a clear set of Key Activities:
Decide the key activities needed to run your startup. These are the significant actions that your firm needs to perform to operate in the market. For eg: Uber's key activities- App development, Marketing, Sales promotions, customer support, etc.
Plan out the Cost Structure:
Performing key activities comes with the task of estimating the cost structure. The cost structure describes the monetary consequences of business operating activities.
Figure out the cost structure of your startup by taking into account your key activities. For eg: Airbnb's cost structure- app development cost, customer acquisition cost, etc.
It's time to build a strategy to ensure the systematic and sustainable growth of the startup. Build flexible strategies to understand what works and discard what doesn't work.
Moreover, have a realistic set of goals and targets to run a successful startup.
Conclusion:
Hence, having an idea is easy but turning it into reality is where the real game began. Before getting drowned up in the excitement, it's important to take a few steps back to plan out things.
Thus, these above steps are the moving parts that will help a startup to take off. Be diligent and realistic at each step to take your startup ahead.
So, follow these steps to plan out your startup success strategy.
You can also use our Venture Capital Pre Screening Assessments to evaluate your business and design a business model. This will also help you in getting funding for your business in just 5 steps.