Starting your own consulting business is breaking the shackles of a 9 to 5 job to build something of your own. One can build their own consulting business and can replace their full-time job
You may have come across plenty of "How to articles" that promise to "get rich quick" by consulting business just by a few steps.
Beware. That's a no-brainer.
This article is the most comprehensive guide to let you know the nitty-gritties to start your own Consulting Business in 33 days.
As per the Forbes study,  the consulting industry is worth $100 billion per year and is expected to grow around 80% each year over the next few years. 
That's MASSIVE. 
Once you understand our comprehensive Consulting business guide of 25 steps thoroughly and implement it to get started, soon you will be one of them adding to the millions.
This guide is for every newbie- who doesn't know anything but still wants to build his/her consulting business, for experienced individuals who want to start their full-time consulting business.
This will help you to get known to more deets that are missed, for the one who wants to kickstart a side business to earn some extra money.  
So Let's Began,
Step#1: Decide your Niche
Before anything else, Deciding your niche is the first task, to begin with, your journey. It's about asking yourself the "Dream Career questions" to get started. Let's categorize the process to decide your niche.
Know the favorite industry:
An experienced individual can determine his/her niche by considering their qualifications and previous work experiences.
Do you have qualifications for an industry?

Have you previously worked in one area of business?
 We all have certain skills ingrained in us that let the idea of building a business
So What skills do you have?

What problems can you solve that no one else couldn't?

To whom your knowledge is most beneficial?

You can even turn your specific hobby into a successful niche.

Is there any business that has always fascinated you and you read about it extensively?
Therefore, jotting down the answers will help to get clarity about the ideas that are forming in your brain. 
As you are ready with your set of new ideas. It's crucial to understand the market needs. As you have all the skills and have come with a niche but does the market really need your skills or something more than that?
Your expertise and skills should be a pain killer for the clients. So, explore more and brush up on your current skills. Upgrading yourself with the latest trends will always keep you a step ahead.
Step #2: Generalise or Specialize?
As Caroline Waxler says, " If you are a consultant, you are in the business of expertise. It's your #1 task to stay a category expert."
In the consulting business, the one who specializes has more advantages than the General consultant.
It's about Jack of none and master of one.
Expertise always has higher pay than the generalist. At the initial stages of exploring the market in starting a consulting business, one can work as a generalist for the short term but the higher vision should always be to work as a specialist.
In other words, that's where the big money is.
Step#3: Define your Power Value: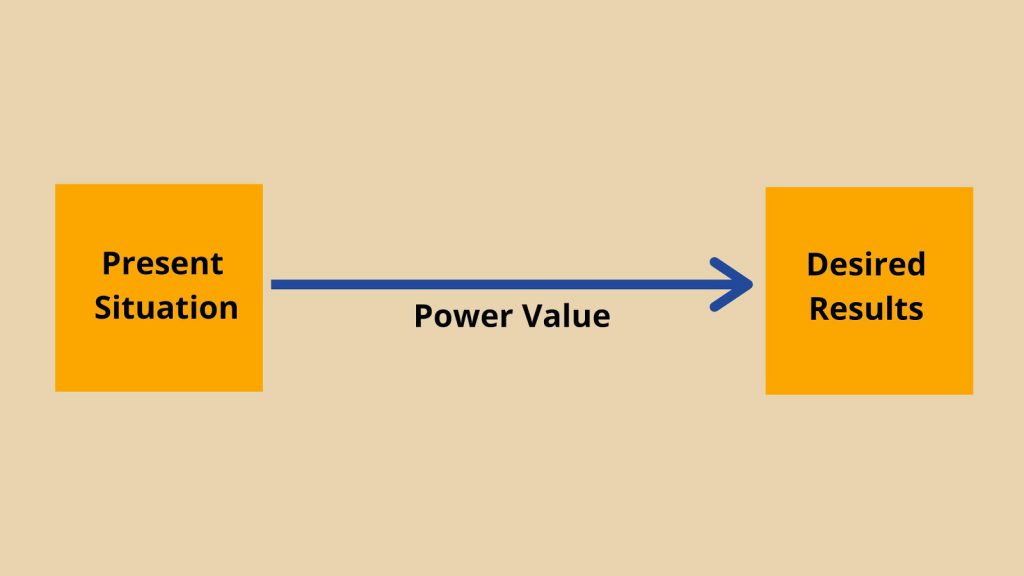 Being a consultant. Your expert advice and skills should be of Power Value to your clients. 
It's on your advice they depend on to make their next strategic move to get the desired success. Your Power value bridges the gap between the current situation of clients to get the desired. 
Clients always pay you happily if-
You help them to reach their goals faster.

They were unsuccessful to do it on their own.

You solve all their pain points.
Build your own power pact value proposition that makes your business unique and sets you apart from your competitors.
Step#4: Validate your service offerings before stepping up:
Entering the market with a service offering that has no market is a BIG LOSS. 
There should be a need for your skills in the market and the clients should be willing to pay for your expertise. So it's time to validate your ideas.
Look out for individuals who are in a similar expertise business like you.

Scout over professional platforms or gig sites, to validate your niche and understand the market needs
This will help to validate your offerings or can brush it up to mark it more relevant to be in the market.
With AI Based Assessment Tool, Mitigate Your Risk And Test Your Startup Investability Score Now
Step#5:  Tap your Target Market:
Be specific about the market that you wish to enter. Pinpointing your target market is the key to get better clarification about the market pain points. Thus, it ensures the right delivery of skills at the right place.
Your Target could be large or small businesses, non-profit organizations, marketing or healthcare firms, IT or financial Firms, etc.
Step#6: Build a Client profile:
Building a client profile helps to focus on the right market. It gives a direction to find the right clients for your business.
An ideal client profile has numerous variables to be considered. The basic client profile has the following variables.
Industry

Size

Location

Seniority

Job Title
This is how it looks when filling the blanks, 
Name: Jenny Johnson

Industry: Health Care

Size (employees, revenue): 100-300, $10M-$30M

Location: U.S.A.

Seniority: Executive, C-Suite

Job Title: CEO
By following this client profile strategy, you can take on board the characteristics of the clients. Thus further, you can reach out to more clients with similar characteristics.
Step#7: Articulate your Price offerings: 
Pricing your own services is a difficult task. If you charge high, potential clients will close their doors and if the prices are low they may don't trust your authority or can turn suspicious about your legitimacy. 
The trick is to audit your competitor's offerings and rates and keep your offerings within a similar range along with introductory offers or additional benefits to having an edge as compared to competitors. 
The five ways that a consultant use to charge for their services are as follows: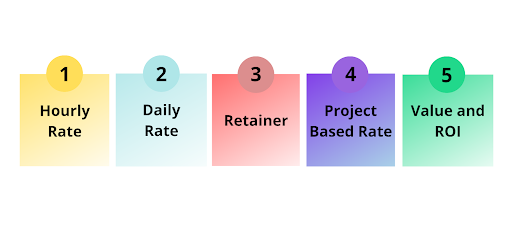 Pricing the services on basis of the time that is spent on the client's accounts. The crucial task in this approach is tracking the hours. If the hours get delayed than promised, the client has the whole right to question it.
Pricing the clients each day they work until the completion of the project
This rate is applied when you work to provide an ongoing service to a client. Similar to employee work-structure with a recurring payment but without employee benefits such as tax, funds, etc.
Pricing the services based on the completion of each project. 
The value rate is charged based on the value provided to clients instead of focusing the payment on the time you spend. ROI rate is to have a share of the earnings that you create for the client 
A recent study by Consulting Success, says that nearly 31.37% of consultants use project-based rate the most whereas retainer and the daily rate has the least preference with 15.40% and 12.55% respectively.
The Pro-tip is to have offers and additional benefits with packages to have an advantage for client attraction in the market.
Step#8: Figuring out the registration and licensing needs.
Many consultants provide services from their place of residence. Depending on your vision to run the business one can start as a single proprietor or personal brand which is the most inexpensive one to later progress into Partnerships, LLC, or Corporations. 
Spend some time studying how you aspire to start the consulting business. Moreover, focus on which structure is the most helpful to accomplish your personal as well as professional goals.
Step#9: Make your own Consulting Business Plan:
A study shows that entrepreneurs with business plans are 2.5 times more likely to follow it to take their business at high levels. 
Instead of rushing to start a business take a step back to form a business plan to avoid a crash later. Hence, having your own business plan is to have a crystallized and clear view of the idea. 
For in-depth insights about business, plans read this definitive guide to create your own business plan. 
Step#10: Create your own Brand:
Brands aren't just for big organizations. So, as you step to build your consulting business, projecting yourself as a brand is what will set you apart from the competitors. 
The first step in creating your brand is to build your website. Your website will be the face of your business.
It will represent all the information about you and your business- Your previous work, list of services, your package structure, pricing, your value proposition, a gateway for your potential clients to request your services, etc.
The digital era has made possible access to the crowd of potential clients smooth and effortless. But at the same time, it has made it more competitive.
Therefore, choosing the right platform and using it efficiently will benefit you in creating the brand. As you read along, you will be introduced to the right platform and strategies to leverage it. 
Step#11: Market your Brand
Starting a business is easy (Yes, it is) but running it successfully and staying in the market is the most significant task. 
Here comes the marketing step for starting a consulting business.  So, as you aim to build your own brand to stand apart, the process of marketing it continuously also comes along. 
A survey of 37k consultants, states that over 50% of consultants claim to have a higher income as they invest more in marketing.  So, a marketing investment of $5k is making them earn more than $150K per year.
Here are the various marketing methods that one can adopt:
Blogging

Social Media Marketing

Digital media Marketing

Cold Calling and Emailing

Networking and Events

Referrals

Podcasting & Webinars.
Networking and events are proven to provide the most results by getting more clients. 
Some of the methods viz, Blogging, SMM, DMM, Podcasting & Webinars are not direct sources for revenue generation instead it's most beneficial for awareness and establishing your expertise in the Domain market. 
As you start to build a consulting business, your marketing efforts should be more inclined towards going to your clients rather than expecting the clients to come to you. 
The Pro-tip is don't hesitate to start a conversation with whom you want to work. Start by reaching out to people. Improve your reaching out plan structure with each client.
Step#12: Leveraging LinkedIn the most:
Leveraging Linkedin means using the most inexpensive way to get in front of your potential clients. It's the most effective tactic to market yourself as a brand that also helps in getting leads for your business.
What Should you do?
It's simple. Be YOURSELF but be STRATEGIC.
Here are a few tips to optimize your Linkedin profile the best:
Have a professional profile photo & background photo

Have a descriptive headline(Not a tagline)- Most people consider

Tagline = Job Title,

but

the headline is the description that appears beside your name and acts as a quick attention driver from the clients.

Craft the best words that describe you and use the full limit of 120 characters.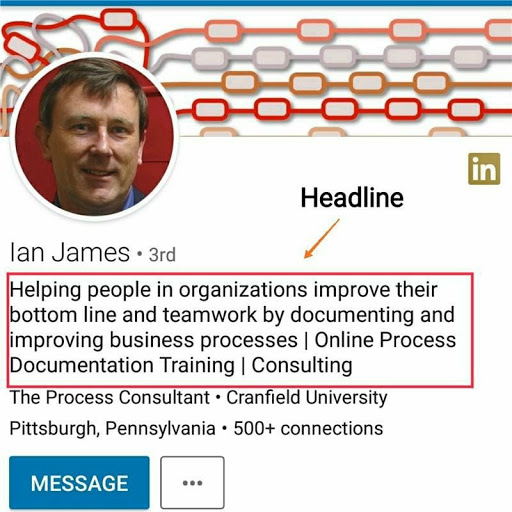 Have a good profile summary. A good summary should be created from a prospective client's point of view- what problems and pain points you solve, also explain why do this to help the clients understand you better.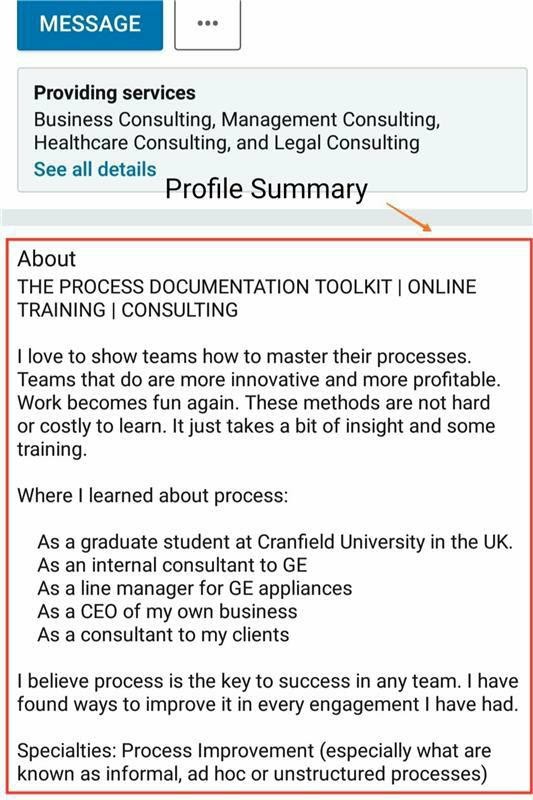 Add your background experience. If you have a list of clients you can add it to the projects. 
Add relevant skills and try to gain endorsements at the initial stage.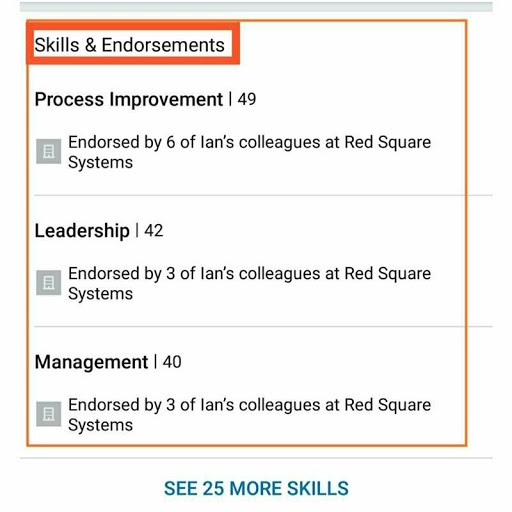 Try to gain the initial few good recommendations to build authority and credibility.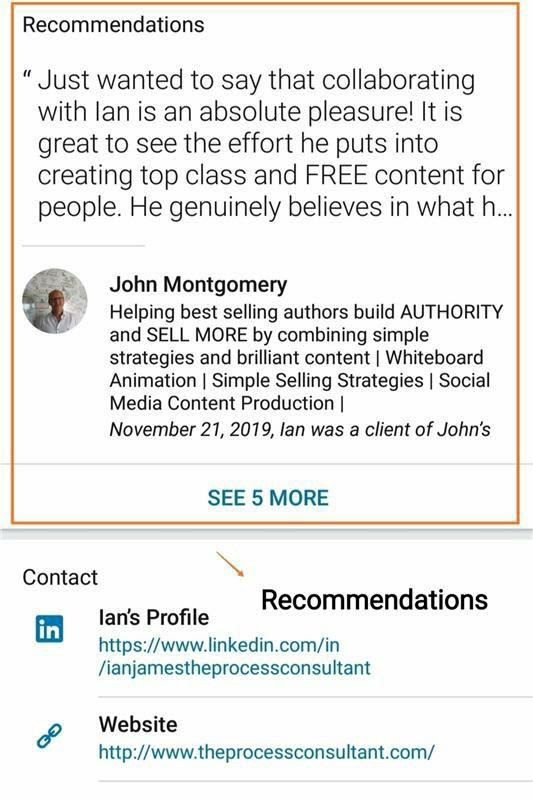 Pro-tip:
Always keep the client's perspective ahead as you make your profile. Be consistent on LinkedIn and post 3-4 times weekly.
Step#13: Set your best elevator pitch:
It's good to have the right skill set but being unable to close a deal will make those skills go in vain. Elevator pitch is the convincing process that consultants follow to choose their clients.
It's a small pitch that one can deliver to ride the elevator with the stranger. Your elevator pitch should be a short, sweet, simple explanatory paragraph that sets you apart from the crowd. 
For eg: 'I harness the forces of Mother Nature and put them to work for you. I'm Arnold Karman; I'm an architectural consultant with a civil engineering background, specializing in building bridges, roads, and other thoroughfares. I help you get where you're going safely and expediently!'
Step#14: The 3Ps of Creating Proposal:
Your proposal is a demonstration of your services to solve clients' problems. It's a final step in the process of getting a client. Thus an integral tool in your business. 
An ideal Proposal has the following three characteristics: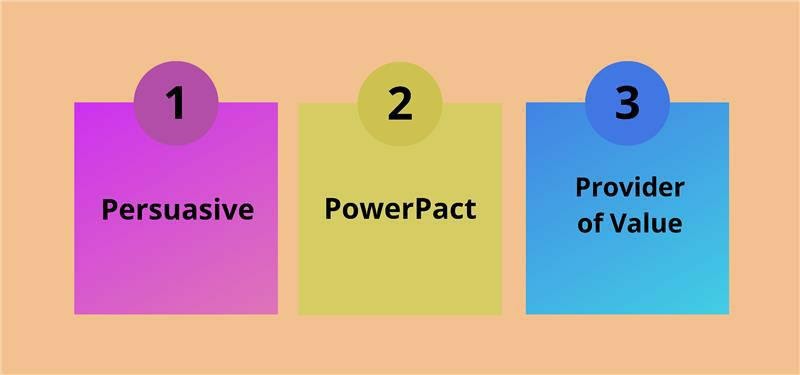 The proposal should be persuasive enough that makes the clients believe that you do their job well.

A power pact proposal is formed when you address the client's problems and pain points, thus making it more personalized for the clients.

It depicts what value you can create for them that catches their eye and keep them away from your competitors.
Step#15: Don't miss out on the pre-proposal Steps:
As we began to learn about writing a proposal here are some key steps that shouldn't be ignored.
Have a Successful initiation on the phone call or meet the client. Many requests for the proposal without any prior conversation, the chances of converting these clients are very low.

Understand the client at the complete level to write a proposal that addresses their problems. Speak their words in the proposals thus helping it to make you look empathetic towards their pain points.

Be SPECIFIC and avoid stuffing with fluffy jargon. Keep it simple and effective.

Evaluate the Scope, Timeline, and Value by sending a client questionnaire and following up with a phone call.
These pre-proposal steps will be a great aid to start and grab the clients.
Step#16:  Beware of asking wrong questions to clients.
Before you start offering your ideas it's crucial to ask relevant questions to the clients. Asking relevant questions will make you appear as an expert in the domain. 
Focus on asking deep questions, such as Can you tell me what your ideal client looks like? How old are they? Where do they live?
What is their income level? What is their problem or desired expectations?"  instead of "who is your ideal client?"
Hence, be as specific as possible. Asking short questions will look like an amateur and will be red flags for clients. 
Step#17:  Build that Powerpact Proposal:
An ideal proposal comprises of the following key elements:
The cover page of the proposal with your / company's name, client's name, project name, and date.
It is to summarize the entire project on a single page while mentioning the key highlights of the project.
Project outline/scope of work:
A clear and Specific outline of the project. It states what and how you will provide your services.
The outline of the end product that you'll be delivering to the clients. 
It comprises the start and the end date of the project to avoid any further extension of work. 
It's to clearly specify the fees, due date for payment, payment methods, levels of payments, etc. 
A proposal's expiry date will make the clients act quickly to avoid delay in closing the deal. This minimizes the waste of time which can be invested in searching for other potential clients.
The proposal helps to avoid any additional pop-ups from clients and thus makes you stick to the outline that's already mentioned and accepted by the client. 
You can build your own consulting proposal for starting a consulting business by using these templates 
Step#18: Manage your Finances tactfully
Managing your finances is to manage your cash, accounts, book-keeping tactfully.  So, this will ensure that you don't overspend more than you aim to earn. 
A Consulting business requires the least expensive amount for set up. So, it costs around 50$ /100$ to 1000$, as a single proprietor whereas to set up a partnership or big agency it can go up to 30,000$ to 5,00,000$.
Managing finances helps to avoid overspending and helps to keep the expenses in check.  Therefore, reviewing the finances monthly will help to maintain the cash flow in the business.
Step#19: Build Healthy Client relations:
Many consultants forget their current set of clients after deliverables as they get busy with new clients. Avoid this Trap.
Getting leads and delivering the service is not the end of the process. A healthy client relationship will make them your continuous service gainer.  Thus decreasing the costs of getting new clients. 
Just a follow-through and extra efforts will show that you care for them. Thus creating a big impact on the client.
Step#20: Referrals are real golden fish:
A study shows that nearly 37% of consultants have benefited from "referrals" the most to get new clients. 
A word of mouth and a positive experience with each client will spread your brand like a fire. Hence, an effective way to encourage referrals is to give rewards or gree gifts for every referral that your client gives.
Step#21: Growing the network naturally
Growing the network naturally is to have an organic method to search for clients. Attending seminars & events is the most natural way to grow the network.
It helps to build new clients as well as get to learn new things from the competitors. Participating in online communities and sharing your advice on social platforms will build your expertise.
Thus ensuring the natural and organic growth of your network. 
Step#22: Remember these Key Tips:
As you step into this journey of starting a consulting business, you are bound to make mistakes. In other words, it's completely alright to make mistakes unless you learn to improve them.
The few mistakes that are made and can be avoided are:
Start small that helps to deliver your skills without being committed to the long-term and expensive projects.

Never underpromise and over-deliver.

Always create precise and well-written proposals that are agreed upon and signed.

In the B2B world, the payments take weeks or even months to get clear. So always plan out for late payments.

Similarly, don't hesitate to leave unprofitable, or unproductive clients.
Step#23: Be Organized and Updated:
Being organized and consistent will help to deliver your best and high-quality results, meet deadlines on time, Consistent check on clients, etc. Thus ensuring a gradual growth of the business.  
So, update your knowledge with the latest business trends to keep yourself relevant in the competitive business world. As you achieve your goals and stay organized while maintaining consistency, you will strive for the long run.
Step#24: Don't hesitate to dream big:
Over a period of time, one can build their own consulting agency as you grow gradually and your clientele base increases. Don't hesitate to make it big. 
Organizations can also analyze their financial requirements. They can then come up with appropriate solutions using the tools.
Step#25: Never Stop learning to stand above the rest:
Along with the expertise and effective clients have the drive for excellence which makes them stand out. Therefore, keep learning every day. Make yourself better each day to stand above your competitors. 
Constantly, keep filling up the knowledge gaps, challenge yourself, learn to handle tough situations, it isn't a cakewalk but it's worth it to guarantee success. 
Keep assessing your strengths and weaknesses and address them, earn from the masters, and already established professionals.
No matter how experienced or new you are, whether you want to set up a side business or want to work as a full-time consultant, starting a consulting business has its own set of challenges that one faces as one begins to work with clients. 
Brace up yourself with continuous new learnings as you face the business contingencies as they show up. But as you begin to work as a consultant, you are opening yourself up to a bunch of new opportunities and experiences. 
This 25 steps checklist will guide you to build your own consulting business right from scratch. Hence, it's the most precise game plan to consider as you step in to build your business. We are the largest capital venture firm, come grow with us!