The business world is accelerating toward a software product economy. Your IT team needs to speed up to keep pace with digital transformation. One way to do so is by creating technology-enabled services. 
These services help to get your developers' desired outcomes. This is rather than just providing tools (on-premises or SaaS). So, those tools force them to create outcomes independently.
Firms providing tech-enabled services bundle humans and software. Their turnkey solution is "superhumans-as-a-service."
These companies leverage their own employees. In addition, they combine it with machine learning and AI. It helps to scale the number of users they can serve.
Microsoft's CEO Satya Nadella had said that "every company will become a software company."
McKinsey's analysis says that using technology to improve innovation could create new revenue. It can increase from $166 billion to $477 billion. Additionally, it could also generate $8 billion to $25 billion from margin expansion. 
This trend lies at the core of digital business transformation. It will continue to gain momentum in 2020. It will be a significant disruptor for both on-premises software and SaaS providers.
So, companies have no option but to pursue tech-enabled innovation to get a share of this growth.
This article examines how much value could be created by technology-enabled services. It identifies the vital digital levers and enablers companies need to have in place. In addition, it suggests how they can capture a fair share of the value at stake.
What is a technology or software-enabled service?
In IT, an application is viewed as a service. The IT organization delivers software applications to support and improve the business process. 
SaaS is a delivery model for apps in which software is rented. Further, it is applied to improve its ability to support customer needs.
In a digital business, technology, or software-enabled services (SES) are the business's products. They generate valued outcomes for customers—and revenue for your company.
The stack of technology-enabled services businesses includes various services. So, these are platform as a service (PaaS), infrastructure as a service (IaaS), and software as a service (SaaS).
The "as a service" delivery model transforms most businesses. Therefore, these are firms that design and sell technology or consume technology as input.
See the transformation taking place:
| | | | |
| --- | --- | --- | --- |
| Category | Value Proposition | Legacy Model | Tech Enabled Model |
| Software | Application Features | On-premise software | Software as a service (SaaS) |
| Computing | Processing Power | On-premise servers | Cloud Computing (IaaS) |
| Data Storage | Information warehousing and access | On-premise storage | Cloud Storage (IaaS) |
The value proposition was delivered to the customer in the form of a one-time sale/license of a product. So, this was either physical goods or on-premise software. 
SES is disrupting the software industry. Additionally, ride-sharing services such as Uber have disrupted the taxi and car-rental businesses. That is not to say that application software or SaaS is going away.
SaaS (rented software) may still be used to run core factory processes. Therefore, developers will use IaaS and PaaS services to create their digital products.
And IT must provide (Uber-like) SESes that speed up the development lifecycle. So, they must ensure product quality and improve time-to-value for the business's customers.
List of Services Offered by Tech-Enabled Companies
nCino

– Cloud-based bank operating solution
andcards 

– Technology to manage a flexible workspace
An Ecosystem Play
New investments in the cloud go way beyond the traditional Saas, IaaS, and PaaS layers. But there are opportunities within each of those categories.
Each of these layers will need its support ecosystem to achieve its full potential. So, these are often referred to as enablers.
Enablers are exciting investment opportunities. This is because they enable the investor to play the momentum of a category.
Existing Value Chain Is Threatened
Vendors sell to the service providers instead of users in a service value chain. For an investor, there are two implications.
The first is that product firms just lost access to the end customer. The second implication is more threatening.
The services business is one of the economies of scale. The result is that sub-scale service operators cannot compete.
So, this squeezes the margins of the suppliers to the service providers. 
Implications for Venture Capital
Services businesses can be quite capital intensive. This is true even if the market responds well to the service.
Thus, investing in services is not for the faint of heart.
Early success indicators prevalent in the product world are harder to identify here.
Therefore, it takes a tremendous amount of patience. In some cases, a stubborn conviction to be successful in services investing.
Search Active-Investors Across The World At One Place and Get Funding For Your Startup Today.
Tech-enabled services make for attractive investments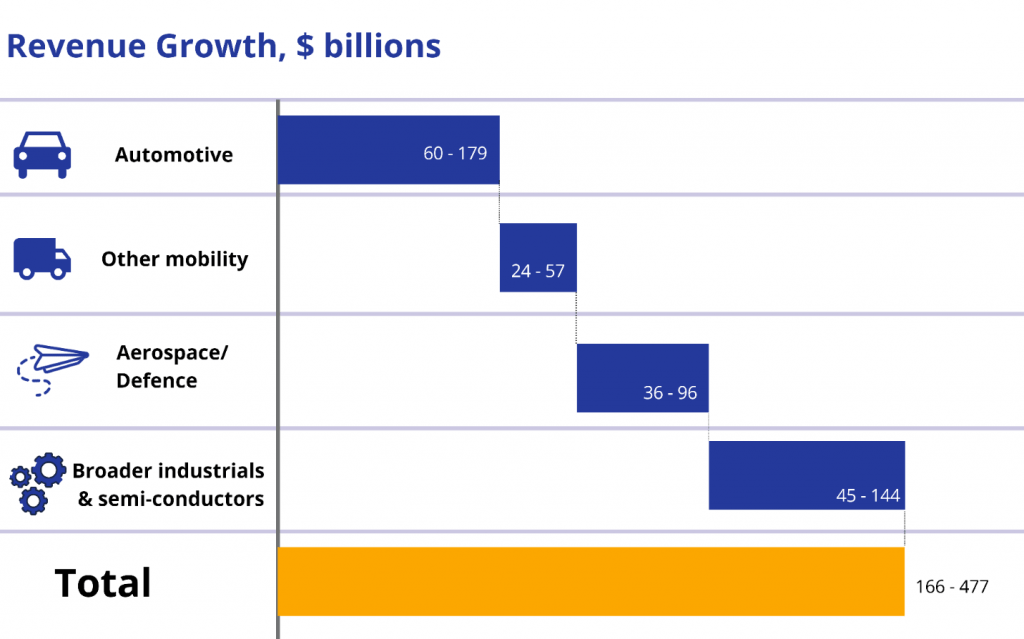 Tech-enabled services can create significant value. So, they have to find a durable product-market fit in a large market segment.
The recurring revenue models of tech-enabled services ensure predictability. So, it allows for greater business scalability.
The model includes transactional and subscription-based billing. Hence, this ensures that revenue increases proportionally with the increase in user base.
Technology is the primary input into tech-enabled services (rather than labor). So, tech-enabled businesses enjoy gross margins between 60 and 90 percent.
Investors are always on the lookout for firms with strong operating leverages. Hence, the high gross margins of tech-enabled services are very attractive for investors.
Technology-enabled services businesses can scale to become significant in size. This is because they serve users from a shared and relatively homogenous infrastructure.
Such scalability ensures the long-term viability of tech-enabled services businesses. So, investors seek long-term security. Thus, they flock to such tech-enabled services.
Tech-enabled businesses can expand into adjacent markets by adding more products and services. So, these complement a core product offering.
Adjacent market opportunities add potential growth opportunities. Therefore, it is beneficial for an already highly scalable and attractive business model.
Benefits of technology-enabled services
There are some major benefits of technology-enabled services.
Tech-enabled services are more capital-efficient than their traditional delivery model counterparts.
With TES, users do not have to make up-front purchases. Instead, the customer pays to access the service offering.
This is because the service is consumed over time. 
The operational burden is shifted to the TES provider. The provider should be purpose-built to be an expert at these functions.
Significant efficiency is gained in the process. Cost savings add up through the TES provider's achievement of economies of scale. So, no IT department can achieve it independently.
Accelerated time to benefit
It is faster for a customer to install a technology-enabled service. This is in comparison to traditional hardware or on-premise software implementation. As a result, the customer can enjoy the features of the technology-enabled service faster.
Flexibility and integration
Technology-enabled services are typically more straightforward, cheaper, and faster to configure. Also, technology-enabled services are very flexible.
Technology-enabled services are now being deeply integrated with other technology-enabled service platforms. Well, this is being done through standard web-based API sets.
Technology-enabled services, particularly SaaS, feature browser-based accessibility. Moreover, this makes them accessible from anywhere where there is an Internet connection.
The accessibility of the systems presents security challenges in some use cases. But the benefits typically far outweigh the downside.
Technology Enabled Services vs Software as a Service (SaaS)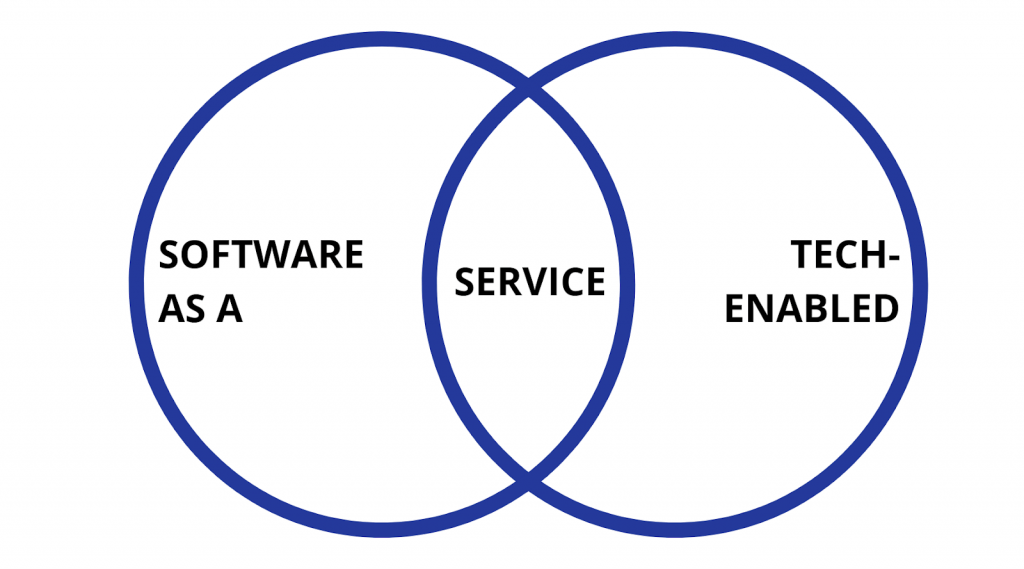 One Problem, Many Solutions
Tech-enabled services have three solution types:
Process — a codified series of steps
Third-party tool — software from an outside source
First-party product — software from the company
By contrast, the solution in SaaS is always the first-party product.
That is not to say SaaS companies do not buy and use other software products, of course. But the third-party tools stay in service to the first-party product.
Therefore, not with a tech-enabled business.
With software, everything is trackable. You can see what users are doing, how the system is performing, etc.
There is no such guarantee in a tech-enabled service business.
A tech-enabled service firm's metrics are either difficult or impossible to track. Hence, the lack of data makes informed decision-making difficult.
Economic vs. Temporal Efficiency
Temporal efficiency is when machines reduce the time it takes a human to do something.
In addition, there also exists economic efficiency. It includes division of labor, comparative advantage, firms.
Many services already take advantage of economic efficiency. An example is that oral hygienists, not dentists, clean teeth.
So, tech-enabled service businesses should focus on economic efficiency instead of temporal efficiency.
Human Flexibility Is a Double-Edged Sword
Tech-enabled service businesses start with little market risk. You already know people want what you are providing. Service-market fit is a given.
Unfortunately, tech-enabled firms lose in scaling. It costs Facebook ~$0 to add new users. But, tech-enabled firms have to hire more service providers for new clients.
Tension: Creative or Destructive?
Tech is radical. It comes up with novel approaches and moves fast. When things break, the consequences are small.
Service is conservative. It looks at problems from history, tweaks, and moves slowly. Therefore, when things break, consequences are often significant.
Practical Functioning of TES
The resource-centric or resource-as-a-service approach has some rules. So, the speed at which outcomes are achieved depends on four things:
The user's ability to engage a provider
The provider's ability to provide the resource
The user's ability to interact with the resource
The user's skills to use the resource to create the outcome
Contrast with a trip where you enlist Uber. As with a rental car experience, the engagement interface is software. But beyond that, the end-to-end process was software-enabled and provider-generated.
You were data to the app. The data was the trigger. The service created the outcome. So, this is how digital firms have to think in the 2020s if they want to compete. 
Real-World Examples: Virtual banks, food markets
Need other examples? Think about advancements in consumer banking services. Think about all the outcomes that are now achievable through SES.
You do not have to go into a bank anymore to create an outcome, such as depositing a check.
The adoption of remote deposit capture technology has boosted online banks.
And goods-focused markets are merging with SES. For instance, look at Amazon's entry into the grocery market. Its focus is on providing an end-to-end SES to get goods.
This trend is starting to disrupt software companies. In his book, The Software Paradox, RedMonk's Stephen O'Grady has noted something similar.
He says that the software is more important than ever, powering just about everything. But software revenues have been in steady decline.
As a result, he says that consumers want an SES (Uber), not just software as a service (rental car).
How to get started
Here are four high-level areas to focus on. This is based on our experiences with SESes in our software factory.
Understand your consumers and their objectives. This is important to determine your role in supporting them.
Keep your focus on the end-to-end lifecycle for the factory services. Additionally, use the IT4IT Reference Architecture as a superstructure.
It will guide to create an operating model, taxonomy, and tooling. Additionally, these are needed to manage factory services.
Showcase and reward those areas where people get on board. So, show the impact they are having.
Keep your focus on outcomes from the outside in
Attack the problem from the outside in through product development. Understand the problems they encounter and what outcomes they need to be successful.
Identify patterns in use cases that you can then model into SES. Hence, these will speed up product development outcomes.
Results turn motion into a movement
Work iteratively. Identify and modeling a few services at a time. Codify them to "good enough," and rapidly release them for consumption.
Delivering rapid results drives adoption. Therefore, as service adoption grows, good things happen.
E.g., you can reclaim equipment and software licenses from abandoned environments. You can then apply them to the service system.
The people, process, and technology foundation will improve with each iteration. Then, you build on the good enough to get to better and best over time.
Do not try to turn everything into SES
Embrace a hybrid approach. Accept that there will be a mix of capabilities, traditional IT services, and SES.
Too often, service-centric efforts fail. This is because people are trying to brand everything as a service. They attempt to do this even when some things are either not ready or unable to be delivered that way.
So, understand the approach required to get the outcomes needed in creating digital products. This is critical to advancing your organization's maturity when it comes to using SES.
Conclusion
For software companies and IT organizations, the shift to SES is a trend. So, it will keep on maturing over the next several years. It is a software disruptor.
To move forward:
Work on your culture and structure.

Consider adopting the IT4IT Reference Architecture as your operating model.

Take an outside-in planning approach.

Implement a service-centric ecosystem to power service delivery.
In other words, focus on process, people, and technology. Your firm will be well on its way to digital transformation.
Search Active-Investors Across The World At One Place and Get Funding For Your Startup Today.