Every startup and its founder knows how crucial Venture Partners are for their firm. Venture Partners are individuals or firms that provide private equity capital to startups. Their investment preference ranges from early-stage startups to companies with long-term growth prospects. 
With new records of investments being made every day, an ample amount of funding is offered to new startups. In this blog, you'll get to know the active venture partners to keep your eye on for 2021. This will shorten your process of finding the right Venture Partner for your startup. So here is the list of the 21 active Venture Partners to look for in 2021:
#1 ACCEL
Accel, an American venture capital firm was founded in 1983, with its main headquarters at Palo Alto, California. The company is actively operating in London, Bay Area, Bangalore & Emeritus. In December 2020, Accel led France's largest-ever Fintech round by closing $131m in the Series B round for Lydia. The company works to prioritize its investments in seed, early & growth-stage investments. 
Some of the successful investments of Accel Capital Consultants are Slack, Flipkart, Spotify, Lynda.com, Fab Hotels, etc. 
Key Individuals: Mahendran Balachandran, Luca Bocchio, Phillipe Botteri, Andrew Braccia, Etan Choi. 
Focus Industries: Consumer, Infrastructure, Media, Mobile, SaaS, Security, Customer care services, Enterprise software, E-commerce.
#2 ANDREESSEN HOROWITZ
Andreessen Horowitz, also known as a16z was founded in 2009 by Marc Andreesen & Boro Horowitz. The firm has its headquarters at Menlo Park, California. The company offers its investment to early-stage and established growth companies. 
Its active portfolio includes companies like Airbnb, Bioage, Buzzfeed, Camp4, Do not pay, Honor, Mixpanel, etc. And Some of its successful business exits include Asana, Facebook, Groupon, Github, Instagram, etc.
Key Individuals: Alex Immerman, Alex Rampell, Ali Yahya, Ariana Simpson, Angela, Strange, etc. 
Focus Industries: Biology, Cultural Leadership, Fintech, Cryptocurrencies & Blockchains. 
#3 ALCOR FUND
Alcor Fund is a Global Private Equity Firm run by Harvard alumni. Their core focus is – Buyouts of Financially distressed funds. The investment firm has launched its "Smart Startup Fund" specifically for early-stage investments. 
This new launch is an Artificial Intelligence Assessment tool that has analyzed 200,000+ companies till now. It also encourages investment in business ideas that have a high potential for scalability.
Key Individuals: George Molakal, Art Holbrook.
Focus Industries: SaaS, Supply Chain, Enterprise Software, Consumer, Healthcare, Fintech, etc. 
#4 BESSEMER VENTURE PARTNERS
Bessemer was founded in 1911 by Henry Phipps & Carnegie Steel. The company as its main headquarters in San Francisco & has raised $525 million in November 2019 for growth Stage companies. The company has its core focus on seed-stage, early-stage & growth-stage private companies.
BVP has invested $23 Million in Aspen RxHealth(HealthTech) & Syndio (EquityTech) in January 2021 to boost up the technology in Health and Equity Finance. Their investments are in the most recognizable and proven brands like Pinterest, Shopify, Linkedin, Yelp, Wix.com, etc. 
Key Individuals: Kent Bennett, Charles Birnbaum, David Cowan, Talia Goldberg, Byron Deeter, etc.
Focus Industries: Consumer, Technology Enterprise, Healthcare.
#5 KLEINER PERKINS CAUFIELD & BYERS
Kleiner Perkins was founded in 1972 in California by Eugene Kleiner, Thomas Perkins, Frank J. Caufield, Brook Byers. New York described it as "Silicon Valley's Most Famous Venture Firm." 
Initially, its main focus was to invest only in late-stage growth companies but over the period it has started investing in early-stage startups as well. The company has a record of 1100 investments & 240 successful IPOs. Their portfolio includes firms like Amazon, BuddyBuild, Duolingo, Coda, Kinsa, Twitter, etc. 
Key Individuals: Annie Case, Josh Coyne, Monica Desai Weiss, Mamoon Hamid, Bucky Moore, etc. 
Focus Industries: Hardware, Software, Healthcare, Mobile, Internet, Enterprise Software & BioTechnology. 
Check Your Business Worth And Get The Highest Price For Your Business
#6 NEW ENTERPRISE ASSOCIATES
New Enterprise is 40+ years old, an American-based venture partner firm. To date, the firm has invested in around 1600+ companies, has over 50 portfolio companies under IPOs, and over 300 portfolio companies under acquisitions. 
The venture partner has its offices in China, New York, India, Boston, San Francisco, and Baltimore. The company gives preference to the firms across all stages right from seed investment to growth investment. Their portfolio includes firms like Coursera, WebMD, MongoDB, Uber, Built Robotics, Enigma, career Builder, etc. 
Key Individuals: Forest Baskett, Ali Behbahani, Carmen Chang, Tony Florence, Liza Landsman. 
Focus Industries: Healthcare(Biopharma, Devices, Services) Technology(Software & Services, Systems, Consumer & Internet, Energy)
#7 SEQUOIA CAPITAL
Sequoia Capital, founded in 1972 is near to complete its half-century. The venture partner specializes in offering their investments in the startup stage, seed stage, early-stage, growth-stage, and incubation programs. The venture capital firm provides funds to Indian Startups from $1Million in the Seed Stage to $100 Million in the Growth stage.
It has invested in more than 1000 companies including Apple, Google, Oracle, GitHub, PayPal, Linked In, Stripe, Bird, YouTube, Instagram, Yahoo!, PicsArt, and WhatsApp, etc.
Key Individuals: Bogomil Balkansky, Roelof Boetha, Josephine Chen, Bill Coughran, Jim Goetz, etc. 
Focus Industries: Financial Services, Healthcare, Outsourcing & Technology, etc.
#8 BAIN CAPITAL VENTURES
Bain Capital Ventures is a Venture Capital firm of the parent firm Bain Capital. Founded in 1984, the venture partner offers investment from seed to late growth-stage startups. It manages $5.1 billion of committed capital & has 70 active companies under its portfolio. 
Some of its remarkable investments are Linkedin, Fingerhut, Thumbplay, SurveyMonkey, Vonage, Tokbox, etc. 
Key Individuals: Ajay Agarwal, Michael Chagnon, Tiffany Chao, Wil Chockley, Yumin Choi. 
Focus Industries: SaaS, Infrastructure Software, Security, Fintech, Healthcare, Commerce, & Consumer Tech
#9 BENCHMARK CAPITAL
Benchmark Capital is a San Francisco based Venture Capital firm. Founded in 1995, the firm's most notable investment is $6.7 Million in eBay. Since then, it had invested in more than 250+ startups. The Venture Partner is known for taking risks with never before implemented business ideas. 
To this, some of their successful investments include- Dropbox, Twitter, Uber, Snapchat, Instagram, Discord, Yelp, Zipcar, etc. In the recent Jan of 2021, benchmark capital has raised funds to fund their shrimp investment. Thus giving a boost to Aquaculture Health, Nutrition & Genetics Business.
Key Individuals: Matt Cohler, Peter Fenton, Bill Gurley, Mitch Lasky, Eric Vishria, Chetan Puttagunta.
Focus Industries: Mobile, Marketplaces, Social, Infrastructure, Enterprise software, etc.  
#10 FIRST ROUND CAPITAL
First Round Capital, founded in 2004, provides investments to the firm in the seed stage & focuses on the growth of portfolio companies up to 18 months. Their 2012 launched "Doom Room Fund" offers funds to startups founded by college students & in 2019 it launched Graduate Fund, to encourage students from recent graduates of undergraduate or master's programs.
Their list of portfolio companies includes 9GAG, Abra, Airlift, Altitude Learning, Blue Apron, GroupMe, Hotel tonight, etc.  
Key Individuals: Todd Jackson, Alex Marshall, Molly Fowler, Hayley Barna, Vikram Ramakrishnan, Megan Kelly, etc. 
Focus Industries: They follow the rule of – Not just one Sector.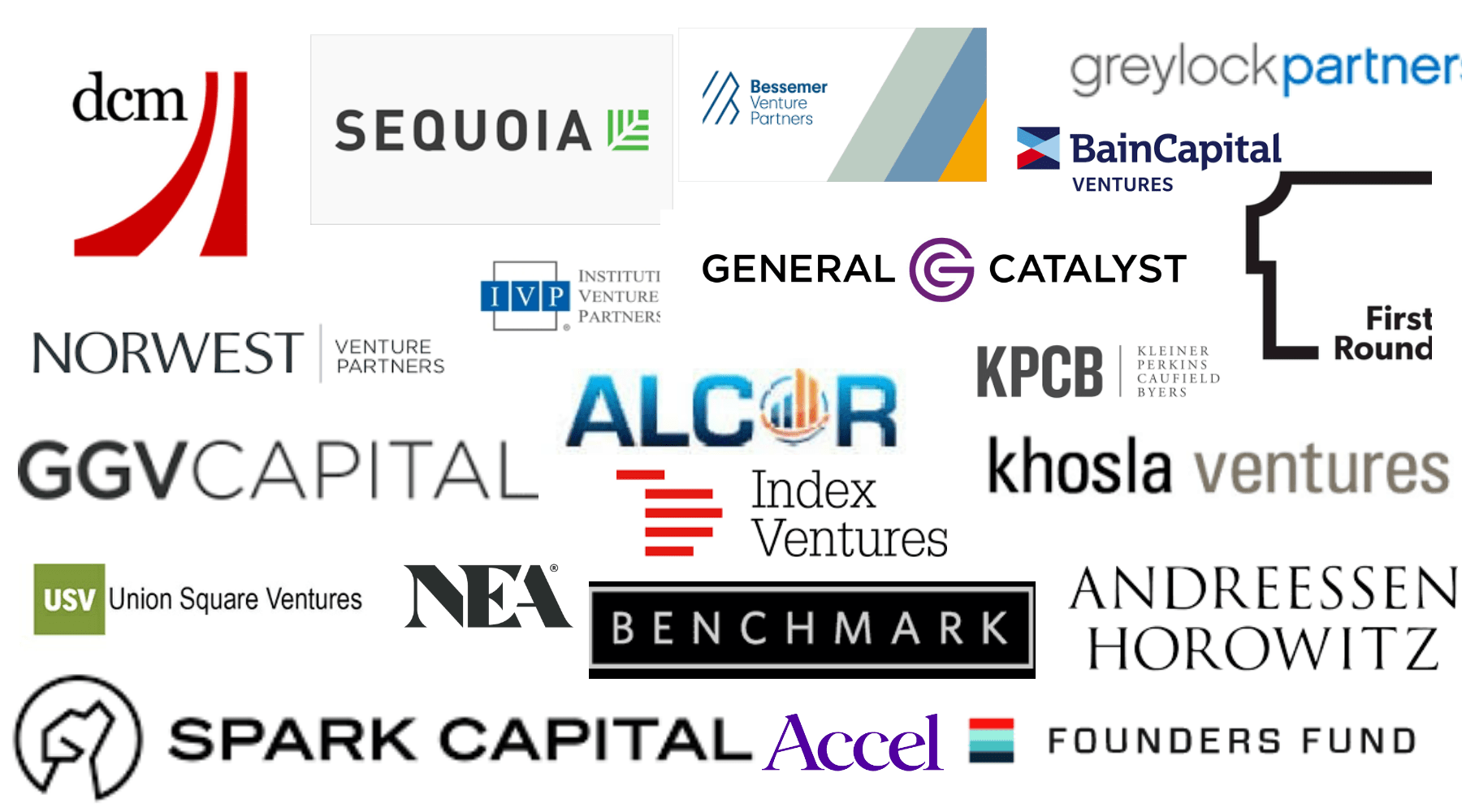 #11 FOUNDERS FUND
Founded in 2005, Founders Fund raised $50 Million as their first-ever fund since its inception from individual entrepreneurs & angel investors. And from then in 2020, they raised their seventh flagship amount of $3 Billion in new capital & $ 6Billion as the firm's aggregate capital.
The company doesn't have limitations in choosing one stage or any one sector. They offer investment to startups at all stages and all sectors. With Healthcare & Mobile being the most popular industries.
Their portfolio includes successful brands, namely, Spotify, SpaceX, Facebook, Lyft, Airbnb, DeepMind, Oscar, Stripe & more.
Key Individuals: Peter Thiel, Brain Singerman, Keith Rabois, Lauren Gross, Scott Nolan, Trae Stephens, etc. 
Focus Industries: All Sectors
#12 GENERAL CATALYST PARTNERS
General Catalyst Partners, an American-based firm was founded in Cambridge in 2000. It offers investments for the early stage and growth of the startups. The Venture Partner also runs an incubation program for companies, along with sponsoring various student-led firms for example-  Rough Draft Ventures. 
Few of their Notable investments are Brainly, Grammarly, Hubspot, CoachUp, Snapchat, Boxee, etc. 
Key Individuals: Joel Cutler, David Fialkow, Larry Bohn, Phil Libin, Adam Valkin, David Orfao, Hemant Taneja, Steve Herrod, Niko Bonatsos. 
Focus Industries: Consumer & Enterprise Software. 
#13 INDEX VENTURES
Index Ventures is a European Worldwide VC firm with its origin from a Swiss bond-trading firm. Their first-ever fund was $17 million and followed by $180 million in 1998. They raise funds for startups with needs at the early stage till the growth stage. 
The Venture Partners' notable exits include Bird Company, Dropbox, Etsy, Facebook, MySQL, Skype, Trello, Zendesk, etc. 
Key Individuals: Nina Achadjan, Chris Ahn, Molly Alter, Julia Andre, Demir Becirovic, Dino Becirovic, Sarah Canon, etc.
Focus Industries: Data, Entertainment, Financial Services, Healthcare, Media, Mobility, Talent, Security, Retail, Open Source, and Business Applications. 
#14 NORWEST VENTURE PARTNERS
Founded in 1961, Norwest Venture Partners is a prestigious Venture Capital and Growth Equity Investment Firm. They have $9.5 billion of capital under their firm to invest in startups. The firm has invested in more than 600+ companies and has around 150 active+ companies across various sectors. 
Some of their notable investments are Opendoor, Udemy, Plaid, Kendra Scott, Vouri, Gong, etc. 
Key Individuals: Bill Myers, Brian Moon, Casper De Clercq, Chris Sondej, Connor Pike, Dave Zilberman, David Su, Dawn Timan, etc. 
Focus Industries: Cloud computing, Information Technology, Internet, Software as a Service, Business and Financial Services, Consumer, Healthcare, etc.
Search Active-Investors Across The World At One Place and Get Funding For Your Startup Today.
#15 GGV CAPITAL
Granite Global Ventures or GGV is a global venture capital firm with its headquarters at Menlo Park, US. It has approximately $6.2 billion of assets under management. With its offering to seed to growth stage, it is based in other force places – San Francisco, Beijing, Shanghai, and Singapore.
The firm has invested in more than 200+ active companies, out of which 56 of them have raised over $1 billion. Some of their investments include Grab, Hello, Alibaba Group, Affirm, Buddy Media, Byredance, etc.
Key Individuals: Jixun Foo, Jenny Lee, Hans Tung, Glenn Solomon, Eric Xu, Jeff Richards. 
Focus Industries: Social/Internet, Enterprise Tech, Smart Tech. 
#16 IVP (INSTITUTIONAL VENTURE PARTNERS)
Founded in 1980, IVP has around $7 billion as its committed capital. The Venture Partner offers investment to the later-stage venture capital and growth equity firms. The firm had invested in more than 400 companies and 115 of them are now public.
A few of the notable investments under their portfolio are Aiven, Amplitude, Business Insider, Datadog, Discord, Github, etc.
Key Individuals: Gina Bauman, James Black, Todd Chaffee, Somesh Dash, Christopher Esqueda, Becca Faust, Norm Fogelsong, etc. 
Focus Industries: Consumer & Enterprise Technology.
#17 KHOSLA VENTURES
Khosla Ventures is based in Menlo Park & founded by Vinod Khosla in 2004. In 2015, it proved to be one of the five largest and active investors in the space sector. With its prime focus on early-stage startups, the Venture Partner has made around 700 investments & 96 of them made it to the IPO stage. 
Thor investments include in firms like Square, Okta and Big Switch Networks, Fundera, Gitlab, etc
Key Individuals: Adina Tecklu, Alex Morgan, Alice Brooks, David Weiden, Evan Moore, Hesam Motlagh, Justin Kao, etc. 
Focus Industries: 3D Printing, Advertising, Agriculture/food, Big data, Chemicals/fuels, Consumer, Education, Efficiency, Enterprise, Financial Services, Health, Materials, Power, Robotics/AI, Space, Storage, Transportation.
#18 DCM VENTURES
DCM was founded in 1996 with offices in Silicon Valley, & Tokyo. The Venture Partner has around $ 4 billion assets under management & has created $25 billion in aggregate market capitalization. 
It is ranked at 6th position by Red Herring Globally & has won the VC Firm of the year in China by Venture Capital-Journal. It focuses on seed, early and mid-stage start-ups.
Few of their investments include Button, Caavo, Caring.com< Folio, Cloudcar, Loki Studios, etc
Key Individuals: David Chao, Osuke Honda, Jason Krikorian, Kyle Lui, Kenichiro Hara, Kanoka Honda, etc.  
Focus Industries: Communications & Infrastructure, Components, Internet & Digital Media, Social & Gaming, Software & Services. 
#19 GREYLOCK PARTNERS
Greylock Partners is a 55-year-old Venture Capital firm. The Venture Partners give their prime focus to early-stage startups. Founded by Bill Elfers & Dan Gregory, the firm has total assets of $3.5 billion under management.
Their list of invested companies includes Dropbox, Workday, Pandora, Linkedin, Musical.ly, Facebook, Discord, Coinbase, etc. 
Key Individuals: Asheem Chandna, Jerry Chen, Mike Duboe, Sarah Guo, Reid Hoffman, Christine Kim., Saam Motamed, etc. 
Focus Industries: Consumer, Enterprise Software & Infrastructure, Semiconductor, Advertising, Commerce, Gaming, Media & Mobile Sector. 
#20 SPARK CAPITAL
Spark Capital is known for its early-stage funding in outstanding startups like Twitter, Tumblr, Oculus, Warby Parker, Cruise, Slack, etc. Its first-ever fund was $ 265 million and one of their recent funds was around $450 million.
 It focuses on both early-stage and growth-stage startups. One of their recent Growth Fund amounted to $900 million in 2020.
Key Individuals: Alex Finkelstein, Arnav Sahu, Bijan Sabet, Clay Fisher, James Kuklinski, Jeremy Philips, Natalie Sandman, etc. 
Focus Industries: Consumer, Enterprise, Hardware, Fintech, Frontier Tech, and Marketplaces.  
#21 UNION SQUARE VENTURES
Union Square Ventures is founded to foster and encourage the development of early-stage startups. It is a regular Venture partner firm under the top lists of Red Herrings. 
Some of their early-stage startup investment includes Meet Cute, Juro, Leap, Headgum, Bolster, Sora, Jam, etc.
Key Individuals: Albert Wenger, Andy Weissman, Bethany Crystal, Brad Burnham, David Gabeau, Fred Wilson, Gillian Munson.
Focus Industries: Adtech, Commerce, Consumer, Cryptocurrency, Data, Environment, Fintech, Food, gaming, Hardware, Health, Infrastructure, etc.
To Wrap Up:
Before you approach a Venture Partner, keep a few things in mind such as the development phase of your firm, the name, and reputation of the venture partners, the industry of the firm under which you specialized, the location of Venture Partners and the most important the amount of capital you require for your firm.
Once you select the Venture Partners, then be all ready with your best pitch that might change the destiny of your firm.
With AI Based Assessment Tool, Mitigate Your Risk And Test Your Startup Investability Score Now