Introduction
To understand the concept of small business plan examples, let us go through a scenario. We know you're starting a new business or moving to expand and want to stay focused on the positive and the last thing you want to talk about is a failure. 
Have you ever thought about why businesses fail? For almost 70% of business companies, failure is the reality, and the primary cause is a lack of planning. 
Let's suppose you and your family want to go to Paris next summer. When the day comes, you pack up your things, get into the car/bus/airplane, and go there. 
Two weeks later you are well-rested, your phone is full of fun photos, and you can't wait to get back to your hometown and tell everybody about the great time you had.
So, can you imagine doing this without any planning ahead of time? Do you even want to imagine what that vacation would look like?
Plans might be boring to look at and read, but without them – things can go wrong. And if this applies to fun things in our lives, imagine how much it should apply to start a business.
All businesses, big and small, start with an idea. But it's only when that idea is put down on paper and formulated into a business plan that it gets a chance to become a reality.
In this post, starting with a short description of small business plans with small business plan examples, Furthermore, I will discuss 9 Small Business Plan Examples for students and organizations and will help you analyze which one works for you.
"Going into business without a business plan is like going on a mountain trek without a map or GPS support- you"ll eventually get lost and starve" 
                                                                                                        -Kevin J. Donaldson
How do I write a small business plan?
Writing a business plan is extremely important for your new start-up because it will determine if your business will be able to succeed in this competitive business world.
Preparing a business plan is like outlining an itinerary for a picnic. It does not have to be overly detailed, but shouldn't be too simplistic either. 
Similarly, you would need to have a simple orientation plan stating where you want to go, how it is going to be achieved with the potential and market competition for your startup. 
You have to demonstrate an objective and bright map that you can follow step by step while developing your business. 
Further, I  will explain how to outline a business plan, based on the 10 components that will help you stay organized and to guide you through the process.
What are the 10 components of a business plan?
Although the exact structure of business plans varies based on your business requirements, Hence, I will help you with the 10 basic components that you should include before starting a new business.
Mission and vision statement so you articulate what you're trying to create.
Description of your company's product or service.
Description of how your product or service is different from all the rest in the market?
Marketing research that discusses the market you're trying to enter, competitors, where you fit, and what sort of market share you think you'll secure;
Description of your management team, including the experience of key team members and their previous successes.
How do you plan to market the product or service through different sales channels?
Analysis of your company's strengths, weaknesses, opportunities, and threats, which will show that you're realistic and have considered opportunities and challenges.
Develop an income statement so you can understand your present and future needs.
Revenue projections through the management and operational plans.
Summary/conclusion that wraps everything together ((this also might be an executive summary at the start of the plan).
Why do you need a business plan?
There are many reasons why you would like a business plan, although these reasons vary by the sort of business you're starting and the way you plan to use your business plan. So, Let's go through some of the reasons::
A business plan is required if you are going to pitch your business to investors, apply for a bank loan, or bring in a business partner.
You won't truly be able to qualify your business idea without understanding your target market, conducting a feasibility analysis, and researching the competition.
A good small business plan not only outlines where you're and where you would like to be but also helps you identify the precise actions you would take to get there.
A business plan can provide essential background information on your strategy, business, and culture to employees such as managers and staff, as your business grows.
The financial section of your business plan can be a useful tool for managing cash flow every month and based on your business budget.
Business plan examples
Houses on the Lake
Executive Summary :
Houses on the Lake will create a competitive model. This model will be for vacation houseboat rental on Lake Shasta in Northern California.
Rather than purchasing houseboats, the business will offer rentals to families and young couples of small (up to six persons) houseboats on loan from existing owners.
So, the business will become profitable in its second year and quite profitable in its third, because the owner and founder, Robert Hopkins, expands the offering from three to eight houseboats.
Rental rates will be on the low end for the market, starting at around $600 for 3 days during an off-season.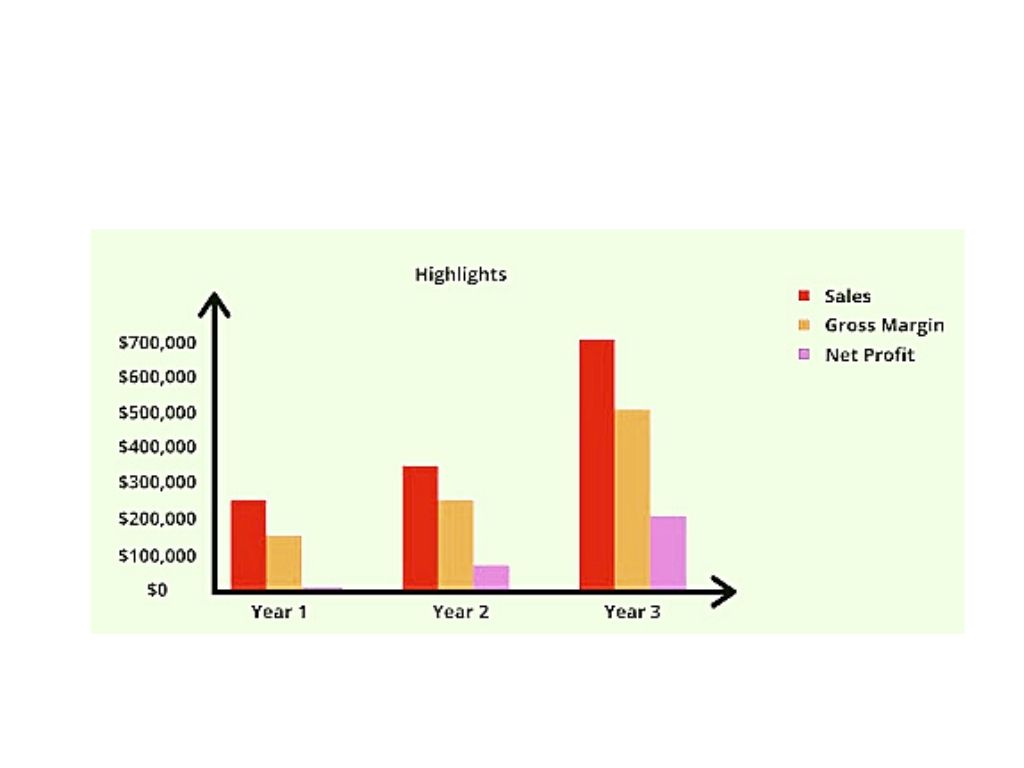 Objectives
Houses On The Lake will launch its business with three vacation houseboats and has the following objectives :
Rent land for marina and marina facilities.

Create a pool of eight houseboats from current owners interested in renting them out.

Steadily increase revenues each year.

Achieve a 50% retention rate of customers from 2-3 years.
Mission
Houses On The Lake will offer competitively priced vacation houseboat rentals for families and couples. Hence, the business will provide families and couples the balance of relaxation & excitement they seek by providing options for activities to suit both groups & individuals.
Keys to Success
Keys to success in the vacation houseboat business include :
Impeccable upkeep of the rental boats to maintain the luxury of the accommodations

A wide variety of activities and services to promote and suggest to families

Seasonal pricing to boost year-round utilization of the boats
Company Summary
Houses On The Lake was founded by Robert Hopkins, a previous bed and breakfast owner who relocated to California after twenty years running his business in Vermont.
Houses On The Lake offers a vacation to large families and groups of families. The business was incorporated in 2009 and launched in 2010 upon funding. 
Company Ownership
Robert Hopkins established Houses On The Lake as a Limited Liability Company. Robert will retain a 100% share of the company and will receive a loan to make up additional capital.
Services
The standard House On The Lake houseboat will vary in its amenities with the features as : 
Sleeps a complete of 6, with a minimum of one private room

1 full bathroom

Fully equipped kitchen (refrigerator, freezer, range/oven, etc.)

Central air and heat

Gas barbecue

Generator  
Market Analysis 
The U.S. vacation houseboat market includes vacationers who are both local and from afar, including other countries. So, the market is primarily segmented based on age and family status.
The key market segments for houseboat rentals are described below as :
Young Couples:  Aged 21 to 39, young couples without children search for romantic getaways also as high-energy activities.
Older Couples: Aged 40 and up, although some within this age group seek quieter activities like fishing, light hiking, etc.
Families: Couples or individuals with children require a mixture of relaxation for folks and high-energy activities for youngsters.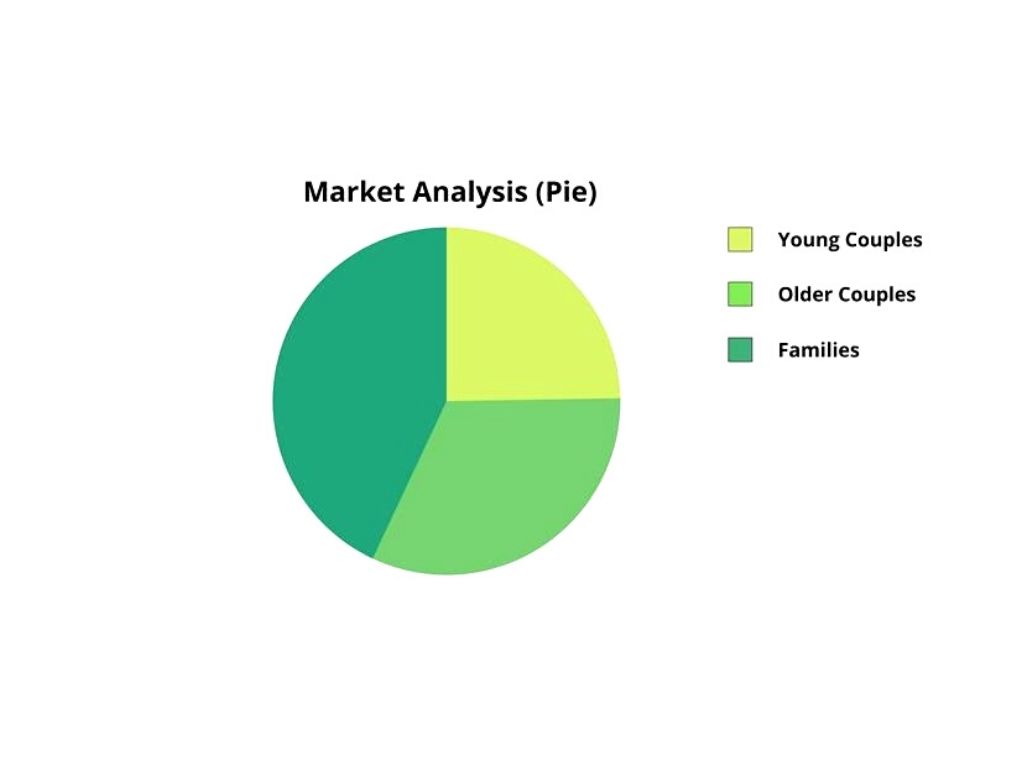 Competitive Analysis
Competitors in the Lake Shasta region include:
Shasta Marina Resort:

Offering ski boats, and three 14 or 16 sleeper houseboats, they provide dock hands and full services. Marketing for his or her business focuses on a mixture of older groups, twenty-somethings, and youngsters.
Antlers Resort and Marina:

Offers 8 houseboats, watercraft, and other cabin rentals. The business is forty years old and is the largest of the tiny resorts on Lake Shasta.
Holiday Harbor:

Also offers 7 houseboats, camping, toy rentals, & RVs. Offers much equivalent information on its website because of the others, with little differentiation.
Houses On The Lake features a competitive edge up the hospitality experience of Robert Hopkins. The effect of this edge is going to be a high customer retention rate.
Marketing Strategy
Houses On The Lake will offer an excellent deal of data both for potential renters/vacationers through these marketing strategies.
Website Marketing
The website will target young couples and families curious about Lake Shasta vacations and current houseboat owners on Lake Shasta through the subsequent :
Banner ads on travel-related websites

Google AdWords text ads

Listing in houseboat rental databases for Lake Shasta

Search engine optimization is undertaken by the initial Web developer and an ongoing SEO firm.
Travel Agents
Reaching out and building relationships with travel agents who are going to be offered discounted rates to bundle with packages for his or her clients.
Sales Strategy
Houses On The Lake's sales are going to be managed by Robert Hopkins. He will receive reservation requests from interested customers, approve them by email, respond by phone to answer specific questions raised, & pursue business through partnerships with travel agencies.
So, this will include offering a reduction to travel agents so that they can provide travel packages to their customers. Therefore, sales will depend in large part on the web reservation request form to shut business.
The website will prepare customers with information so that they are better informed before reserving. Robert Hopkins is going to be paid a base salary and compensated for sales through the profits of the business.
In other words, he will have the authority to vary from the advertised prices but will use this at his discretion to book dates. He will also update the rates offered on the website and therefore the availability calendar as required.
Milestones
The milestones table illustrates the key marketing activities around the launch of the business.
Management Summary
Houses On The Lake will be managed by Robert Hopkins. He will be personally responsible for operations, sales, and marketing.
Robert will sell additional services to renters who arrive and personally greet them all to find out how he can help them with recommendations.
So, he will also run the marina, provide renter orientations and support, schedule, and supervise boat cleanings by a contracted cleaning service, repair, and maintenance.
Financial Projections
The business will grow from three boats offered within the first year to eight offered within the third year. However, this can be done without expanding the marina, as these will all be relatively small boats.
Robert Hopkins will provide the bulk of the equity investment from the proceeds of the sale of his bed and breakfast business.
Credit cards will provide a small amount of current borrowing. Additionally, a three-year loan will be taken out for the remaining financing.
Hence, gross margins will improve in the summers and future years as the cost of sales are at a lower rate during summer when rates and prices are higher.
Website marketing includes $1000 per month for ongoing search engine marketing, $750 per month for search engine optimization, and $250 per month for website hosting and maintenance.
Rent is set at $2,000 per month and utilities at $150 per month in the first year.
Hence, based on these projections, the business will have a loss within the first year and move to profit within the second, with significant profit within the third for Hopkins as the number of boats under management increases.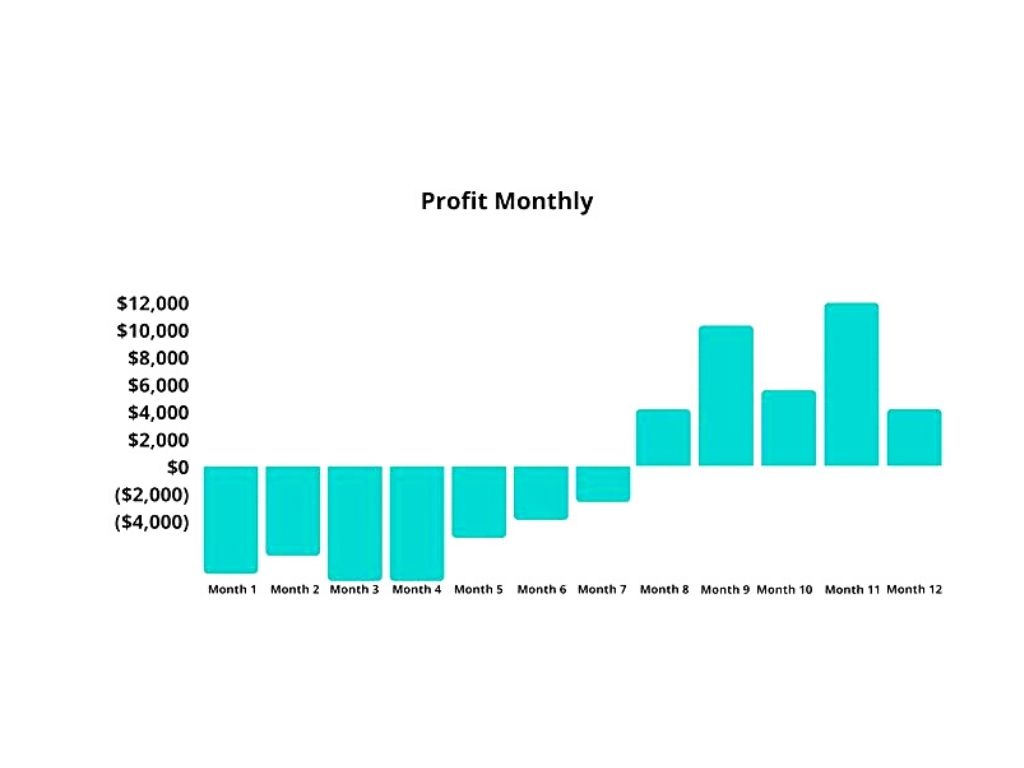 Fressen Catering
Executive Summary :
Fressen Catering is a catering company that serves the Philadelphia market. It offers creative, colorful, and various food options for kosher and traditional standbys.
After that, Catering service will inject new life into the kosher catering market, leveraging Chef Susan Cheflly's culinary skills to induce creative new catering options. 
Susan's industry insight, advanced skills, and excellent market opportunity will allow Fressen Catering to succeed in profitability by month 11 and generate $395,000 in revenues for year three.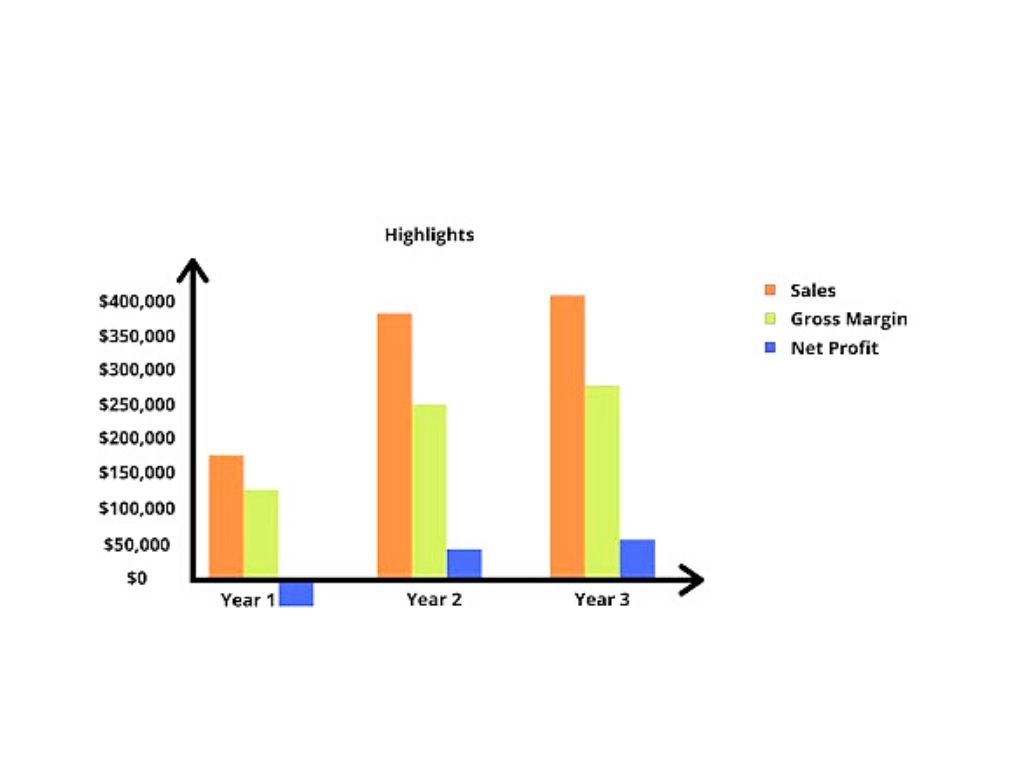 Objectives :
The objectives for the primary three years of operation include:
Develop a service-based company whose primary goal is to exceed customer's expectations.

Increase the number of clients served by 20% per annum through superior service.

Develop a sustainable start-up business.

To develop enough income to pay all salaries also as grow the business.
Mission :
Fressen Catering's mission is to supply the customer with the best kosher catering. We exist to attract and maintain customers. When we adhere to the present maxim, everything else will fall under place.
However, our services will exceed based on the expectations of our customers.
Keys to Success :
The key to success is to satisfy and exceed the customer's needs in terms of quality of food and excellence of service. 
Company Summary
Fressen Catering, located in Philadelphia, will offer high-end kosher catering to the Philadelphia community. Therefore,  Fressen Catering will serve parties of 25-300 people.
All of the food and drink items served will be done under the strict supervision of the Orthodox Rabbinic authority.
Startup Summary :
Fressen Catering will incur the following start-up costs:
Two commercial stoves with ovens.

Dishwasher.

Two sets of cookware.

Two sets of dishware.

One van with rolling racks built-in (a rolling rack may be a wheeled rolling cart system that's insulated for both hot and cold food).

Assorted serving trays and utensils, knives, and cutting boards (two each). 

Desk and chair.

Computer with printer, CD-RW, Microsoft Office, and QuickBooks Pro.  

Copier and fax machine.
The following items which are considered assets to be used for more than a year will be labeled long-term assets and will be depreciated using the G.A.A.P. approved straight-line depreciation method.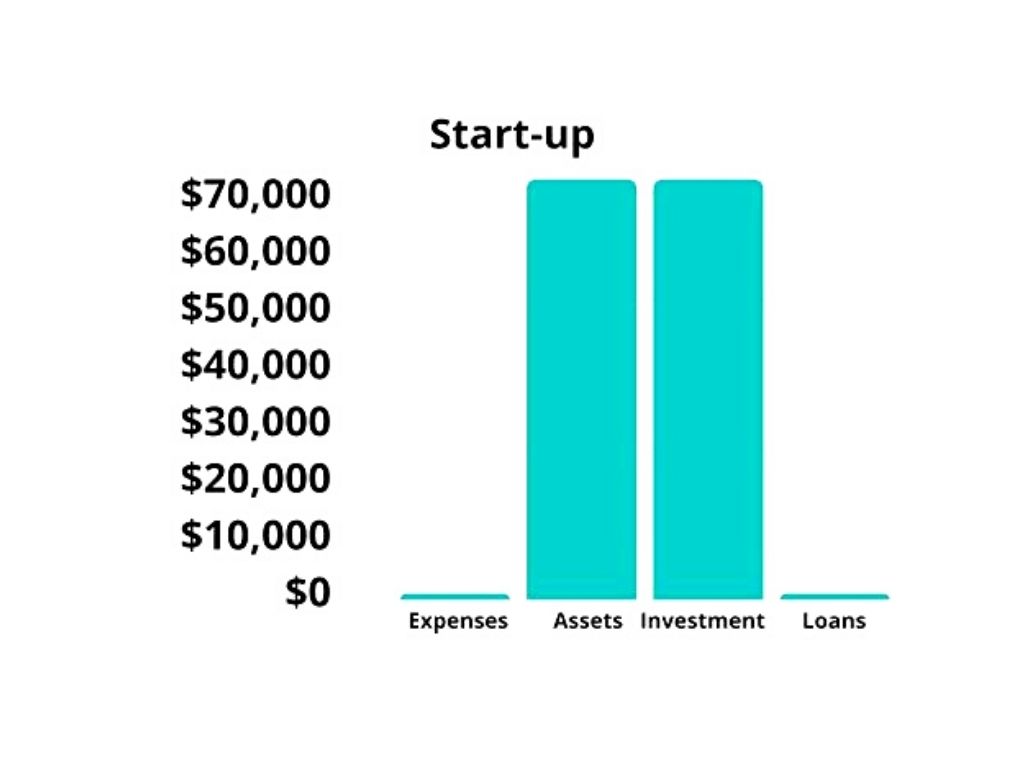 Company Ownership
Fressen Catering is a sole proprietorship that is owned by Susan Cheflly.
Services
Fressen Catering will provide catering for weddings, Bar/Bat Mitzvahs, and other assorted parties. So, one of the major tenets is the prohibition of meat and dairy in the kitchen together.
Fressen Catering will serve a good sort of dish. This is offered for two reasons.
The larger repertoire of menu items is a benefit to the customers.

A large selection is required because meat and dairy can't be mixed within the meal, so, in essence, you've got to possess two different menus, one with dairy and one with meat.
The ingredients cost more, also because of the additional equipment that's needed to eliminate the blending of dairy and meat products. Per person, costs range from $45-110.
Market Analysis
Several caters provide services that are quite almost like one another in terms of price and menu options.
Fressen Catering has two distinct target populations:
Middle-class kosher clients-
This group of individuals doesn't have huge amounts of income. It is costly to sponsor a kosher banquet, and is willing to incur the expenses, but will attempt to minimize them.
Upper-class kosher clients-
This group is characterized as a wealthy one throughout their lives and willing to spend whatever it takes to throw a high-end kosher dinner function.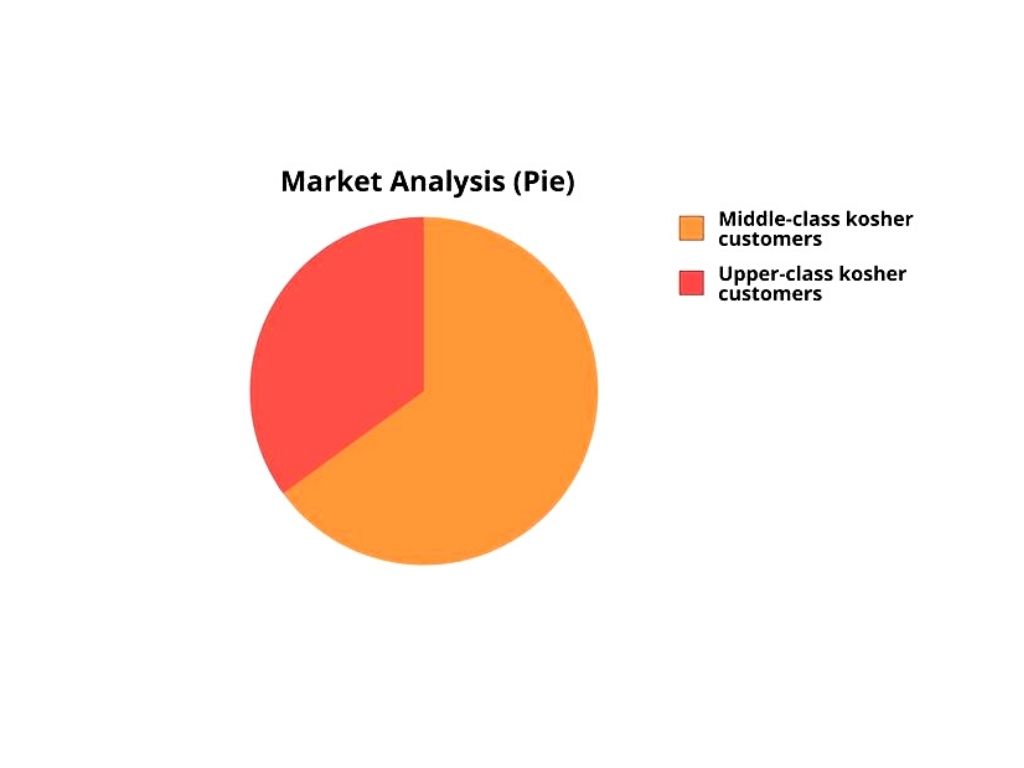 At the low- to mid-price point of the cost spectrum, there are four other kosher caterers.
These caterers tend to serve the part of the market that has kosher food served at an occasion due to religious beliefs, & struggle to continue the value variance between standard and kosher catering.
There is one high-end caterer who will compete with Fressen. They do not provide their clients with upper-end service.
However, this company isn't a robust competitor due to their overpriced service offerings relative to the service provided. Moreover, their business has been declining over the last few years.
Strategy and Implementation
Fressen Catering will gain market share within the kosher catering market by leveraging its competitive edges like attention to detail and innovative nouveau cuisine kosher meals.
These areas have been ignored in this market for some time now. These competitive edges will be Fressen's game plan for increasing its market share.
Marketing Strategy
Fressen's marketing strategy will be accomplished in two ways. The first method is a targeted advertising campaign. 
Advertisements will be placed in various Jewish and a few Synagogue-specific newsletters. These advertisements should yield a fair amount of service inquiries since they're fairly targeted toward the target population.
The other marketing strategy that may be a smaller amount formal is a networking campaign. Susan has been a lively member of the Philadelphia Jewish community for five years.
Therefore, Susan will leverage her contacts within the Jewish community to boost awareness for her catering activities. It costs far less & the relationships that it builds will be far stronger.
Milestones
Fressen Catering will have several milestones early on:
Business plan completion will act as a blueprint for the organization. This will be an important tool for the continued performance and improvement of the corporate.

Kitchen and office set up.

The first catering job.

Profitability.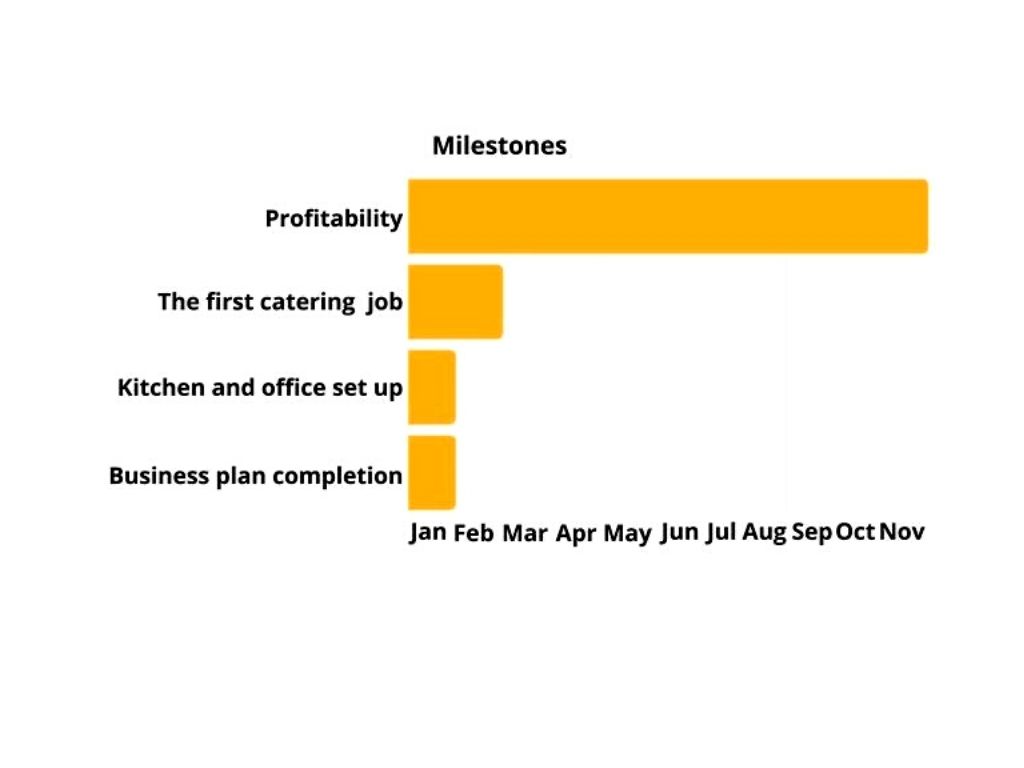 Sales Strategy
Fressen's sales strategy will be based on superior customer attention and a comprehensive repertoire of dishes for the menu.
Susan recognizes when a prospective customer calls to urge information about Fressen. She will do this by spending as much time on the phone as necessary.
Additionally, for the basic kosher dishes, Susan will provide many innovative nouveau cuisine kosher items that she has learned during her years spent in the culinary industry.
Sales Forecast
The first month will be utilized to set up the office & kitchen. There will be no sales activity during the initial month. The second month will see a couple of catering jobs, but still won't be a big source of income.
Months three and four will see a gentle increase in sales. Therefore, throughout the year it's forecasted that sales will incrementally grow in size until profitability is reached toward the top of year one.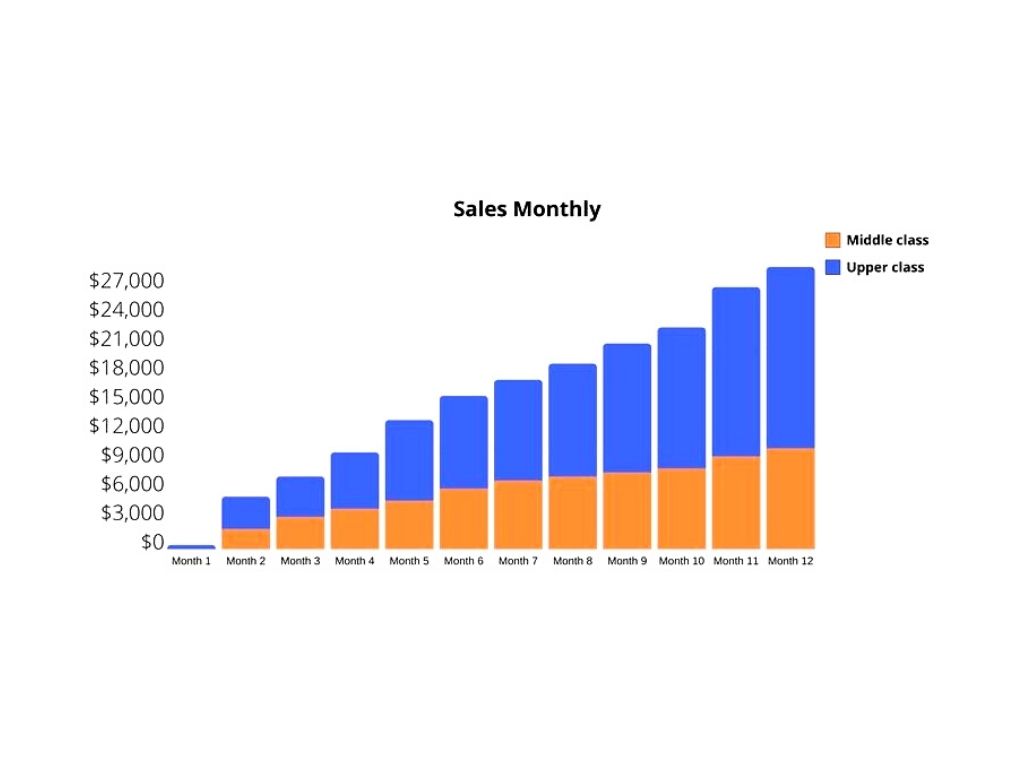 Management Summary
Susan Cheflly, the founder and owner of this company received her Bachelor of Arts from the University of Pittsburgh. After college, Susan decided to work in the restaurant industry. 
While serving at a famous restaurant in Pittsburgh, Susan befriended one of the chefs there who began to show her cooking techniques.
However, after six months of this tutoring, Susan decided to enter the Pennsylvania Culinary Institute. Susan completed the one-year program and graduated.
Financial Plan
The following table details important financial assumptions.
| | | | |
| --- | --- | --- | --- |
| | 1st Year | Year 2 | Year 3 |
| Plan Month | 1 | 2 | 3 |
| Current Interest Rate | 10.000% | 10.00% | 10.0% |
| Long-Term Interest Rate | 10.000% | 10.00% | 10.0% |
| Tax Rate | 30.000% | 30.00% | 30.00% |
| Other  | – | – | – |
Projected Cash Flow
The following chart and table will indicate the projected income.
Projected Profit and Loss
The following table will indicate the projected profit and loss.
Business Plan for Startup
So, you know you need a business plan. The next question to consider is what kind of business plan is the best fit for your small business. There are many types of business plans.
 Each of these types of business plans has different objectives. So let's discuss the various business plans with their examples to succeed.
1. Traditional Plan (Simple/Standard business plan)
Traditional Plans are also known as "Simple or Standard Business Plans". This type of plan is very detailed, takes more time to write, and is comprehensive.
So, the most standard business plan includes an executive summary, product, or service it sells, the targeting audience, marketing strategy, and finances.
When and Why should you opt for traditional plans?
Lenders and investors commonly request this plan. So, you need to show this plan if you are seeking loans or investments. Also, keep in mind, Traditional plans are ideal for businesses that need a road map to prepare for the future.
For example, plans for seeking outside investment should include a discussion of an eventual exit for investors, and the planned use of the invested funds.
So, plans supporting a loan application might include projected ratios the bank wants to ascertain, like debt to equity, quick or current ratios.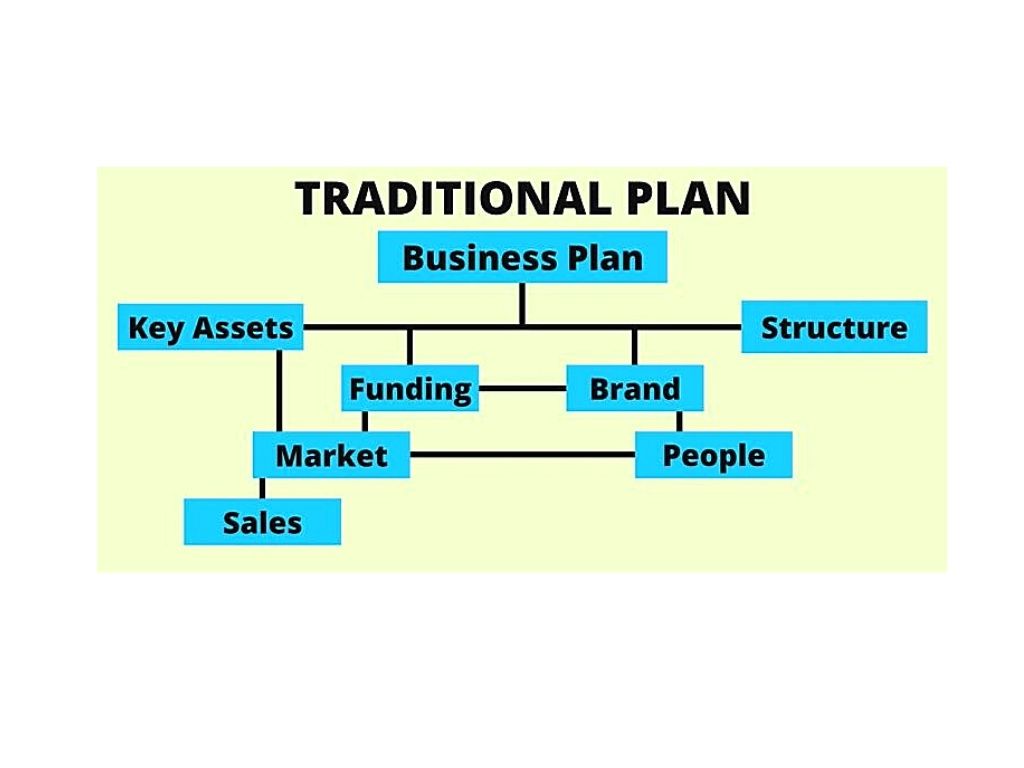 2. Internal Business Plan
An internal business plan is written with a detailed map of finances, personnel, resources, sales forecast, performance expectation, and prospective investments or partners for a company. 
Therefore, these plans are only for internal stakeholders of the business. Remember, Internal plans aren't intended for banks, outside investors, or other third parties.
When and Why should you opt for Internal plans?
An internal business plan should be adopted if you are into a startup business or a small enterprise as they are in pursuit of further expansion and enlargement and need a pattern to follow from time to time. 
In other words, this plan deals with possible scenarios like what you're doing is working, or do you need to consider a change?
Are you sliding backward or moving forward? So, the goal of this sort of business plan is to form your business run as smoothly as possible.
For example, pick a revenue target and choose the date you would like to achieve. In addition, have a clear understanding of exactly what you need to do to get there and for whom you are going to do it. 
So, you can have several objectives, just make sure they are all in alignment with your mission and vision.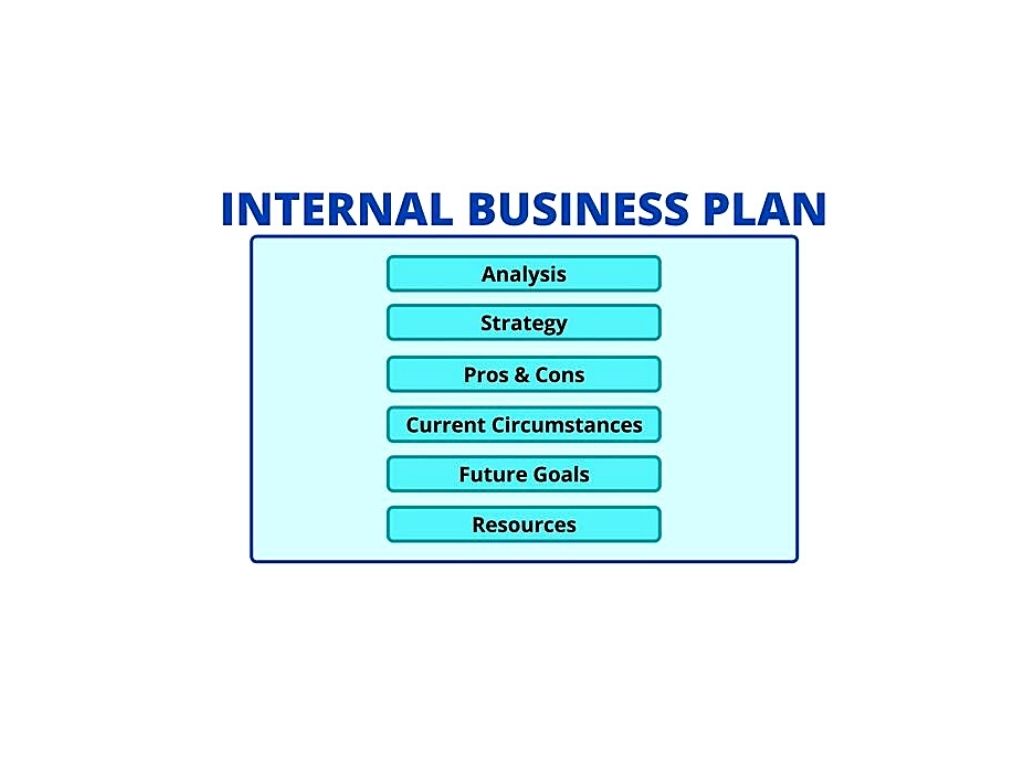 3. Strategic Business Plan
The strategic business plan comprises business vision, mission statement, strategies for achieving objectives, success factors, and implementation schedules. 
Larger enterprises use strategic plans, in which teams of high-level management and sometimes expensive consultants develop a broad-brush, high-level strategy.
When and Why should you opt for strategic plans?
When it comes to strategic planning, whether you are in the first few days or if you've owned your business for a long time, it's not too late to sit down and think about the current status of your company and where you want to be in the next five to 10 years.
So, the primary purpose of the strategic business plan is to carve the way to go ahead and answer the questions like What are you going to get and How do you intend to go about it.
For example, if you have a goal of increasing sales by ten percent in the next year, you can track this by measuring sales numbers. Equally important is having an action plan to achieve these goals and objectives. 
For this, you can pursue more marketing and social media outreach as part of your action plan.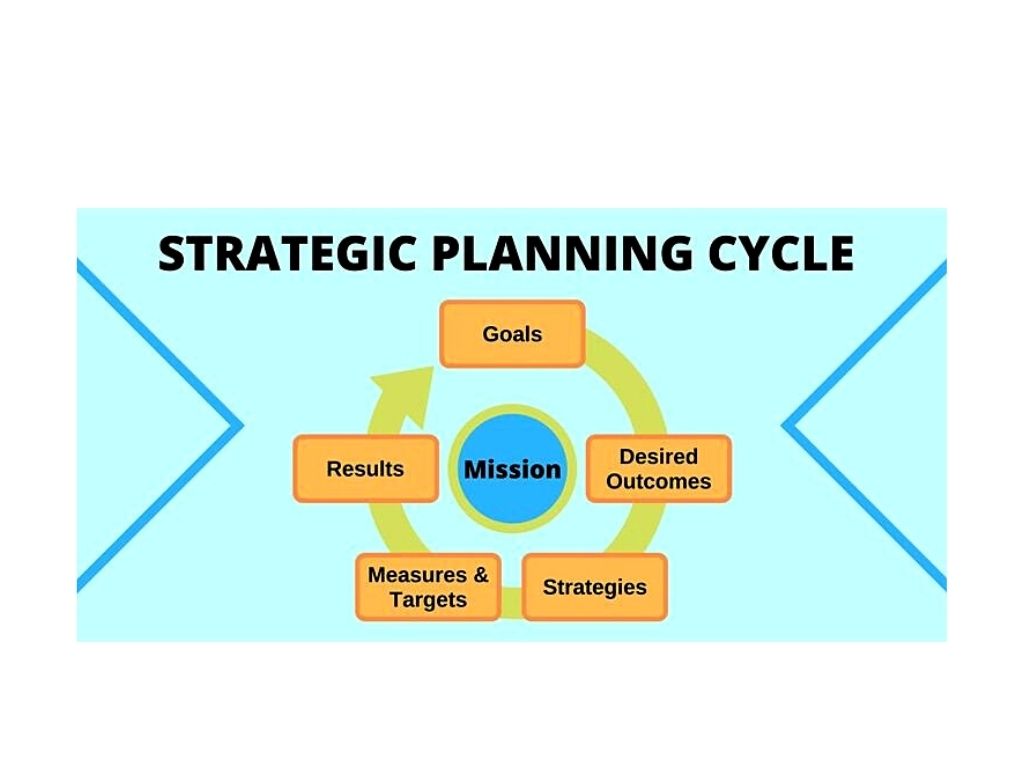 4. One Page business plan
One Page business plan includes problem statement, solution, business model, target market, competitive advantage, management team, financial summary, and funding required. 
When and Why should you opt for One Page Business plans?
If you're looking to start an easy product or service business as a sole proprietor or one-person corporation you do not need a 50-page business plan. A shorter plan will suffice.
So, one page business plan explains who your customers are, what problems they are facing, who are your competitors, how many resources you have, and who is on your team.
For instance, if you are writing a plan to seek investors. Talk up your collective expertise as justification for why investors should buy into your operation.
Is your business model truly disruptive? Demonstrate why it is and how your audience will benefit from it. 
5. Lean Business Plan
A lean business plan does what every aspiring startup & business owner must manage tactics, strategy, execution, and essential business numbers. 
Remember, this plan mainly attracts investors, so it relies more on graphics and charts than long-written facts.
When and Why should you opt for Lean Business plans?
Lean plans should be adopted if you're trying to grow your business and want to use it as a tool to track your financials and milestones against what you projected so you'll answer opportunities and react to challenges quickly.
For instance, Startup business plans are typically lean to help launch companies quickly and allow for easy changes as the company grows. They only include essential information like your customer base, finances, and infrastructure.
6. Annual Business Plan ( Operational Business Plan)
An operations business plan will include an explanation in detail about your company's objectives, goals, procedures, and timeline. It is also termed as an "Annual Business plan" & as the name suggests that plan is for the annual purpose.
When and Why should you opt for Annual Business plans?
Annual business plans are more important for startups. They attract the initial investors at the very beginning of the business. So, these business plans give you the chance to show investors you know how you want your business to run. 
Let's consider an example if a train manufacturer develops a plan to expand revenue by fifty percent that plan will include operations, marketing & sales components. 
However, the operations components of the plan would include manufacturing, procurement & logistic strategies that enable the firm to boost production to support revenue growth.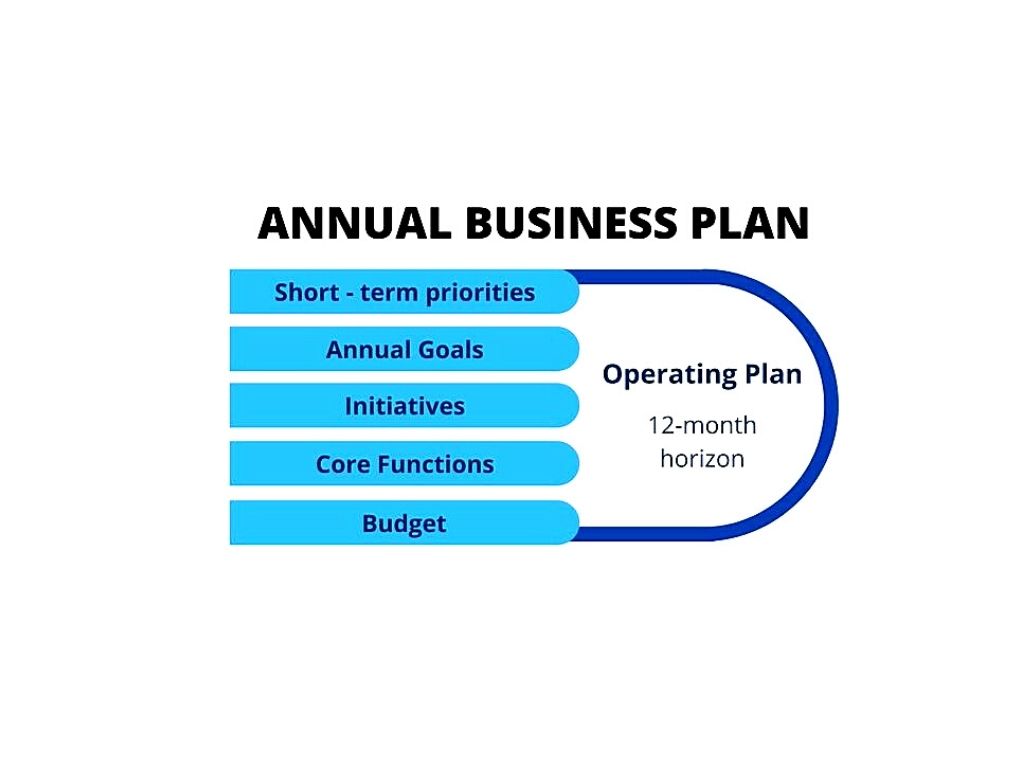 7. Growth Business Plan (Expansion Business Plan)
Growth business plans are referred to as "Expansion business plans" as it involves the expansion of a new location or launching a particular product thereby expanding the merchandise portfolio.
When and Why should you opt for Growth Business plans?
These types of business plans are generally used when the funding has been done internally or the product is being launched within the company.
So, the main purpose of growth plans is to write them with investors in mind. Investors want an overview of how your company plans to create sales within the coming months.
For instance, If your business requires a retail presence, outline where you would possibly seek to open additional shops and what your geographic strategy is going to be.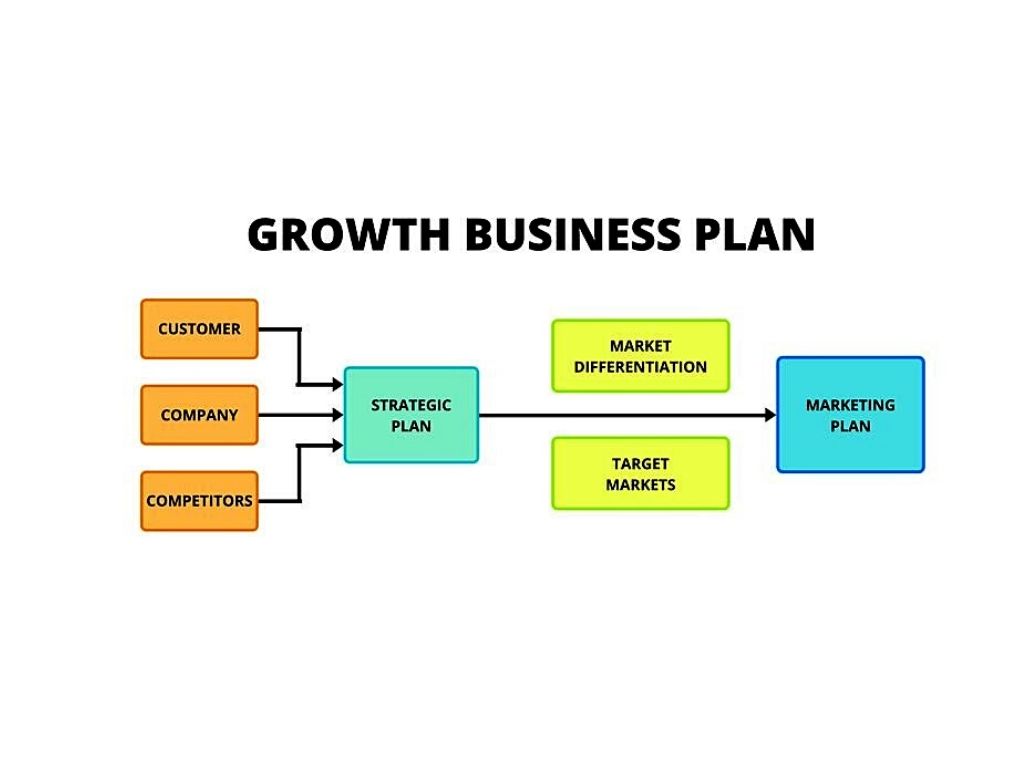 8. Feasibility Business Plan ( What if Plan)
A feasibility business plan is a study conducted before initiating a business plan. Sometimes called a "feasibility study," or a "What if Plan" includes sections describing proposed growth, target demographics, market analyses, and capital needs.
When and Why should you opt for Feasibility Business plans?
You would create a feasibility plan if you're thinking about growing, offering a new product, or tapping into a new market.
A feasibility business plan answers two primary questions on a proposed business venture: who, if anyone, will purchase the service or product an organization wants to sell, and if the venture can turn a profit.
For example, the feasibility plan for a new kind of brick kiln might include the steps to establish a working version in a laboratory, then a small prototype in the field, and then a first working product.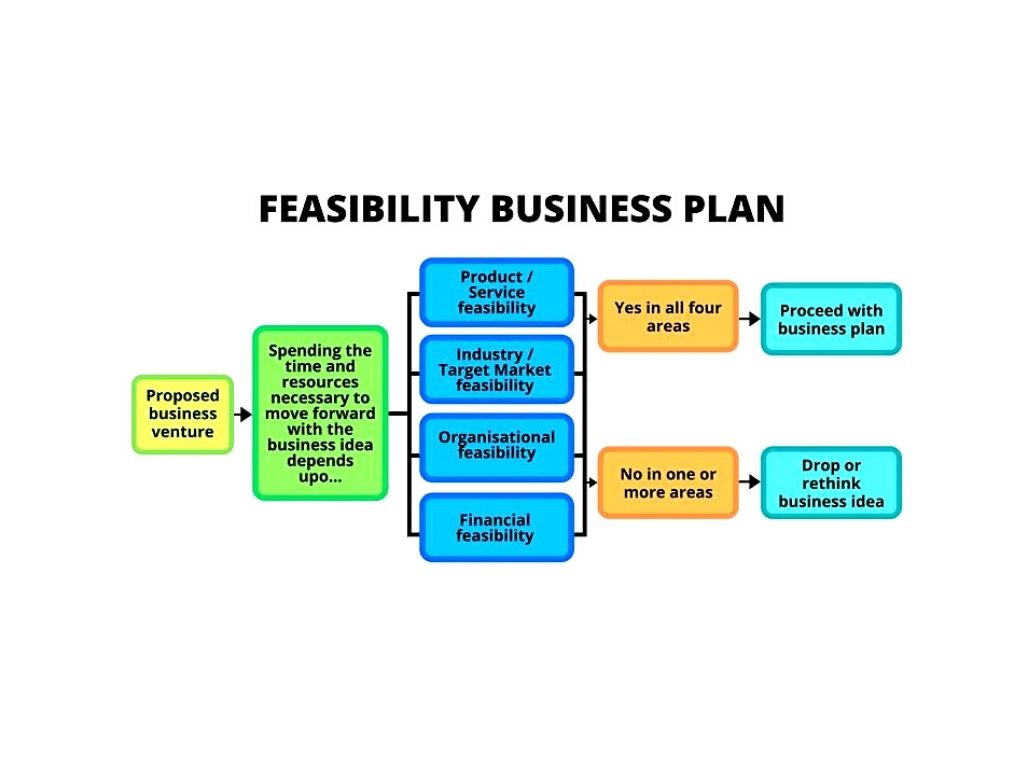 9. Startup Business Plan
A startup business plan represents a well-written document that describes your startup business, its strategies, objectives,  financial forecast, and the market that you're targeting.
When and Why should you opt for Startup Business plans?
Startup business plans come after established companies launch a new product line or cater to an entirely new business segment in the market. 
Hence, the startup plan's purpose is to lay out the steps and details of getting a new venture up and running,  providing a framework for the successful future of your business & to secure funding from outside sources.
For instance, if you want to set up a restaurant & you do not have enough capital to start the business. So, the alternative is to obtain financing with a business loan through a bank.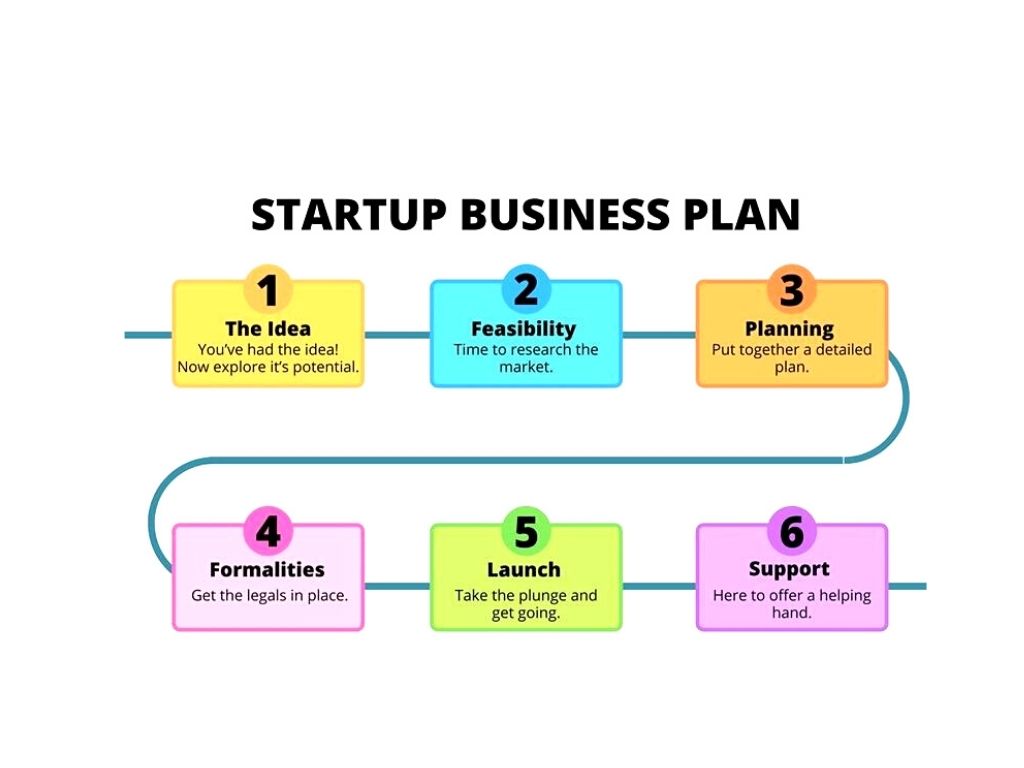 Tools to create a business plan
Creating a business plan will take you undivided time and a spotlight, but there are business planning tools available to assist streamline the method.
There are templates available are as :
And let's not forget about all-in-one online tools like :
There are also many business plan tutorials available, including video business planning tutorials.
Conclusion
                                       "A Goal without a plan is just a wish"

                                   -Antoine de saint-exupéry
One last tip, I would like to mention is about the mistake many small business owners make while creating a business plan, and then completely forgetting about it. 
Therefore, the best place to start is to thoroughly research your industry, competitors, and financials so that you'll have the bulk of information you'll need to reference and include in your business plan.
Once you have created a business plan, consider it as an internal tool you use on an ongoing basis in your business. 
Remember that an Executive summary is an important part of all the components of a business plan. The executive summary has only one objective: get the investor to read about your business plan.
So, the most effective small business plans act as a living document in the business to help guide decisions and keep your business on track. 
With AI Based Assessment Tool, Mitigate Your Risk And Test Your Startup Investability Score Now