Introduction
Business Model and Business plan are interrelated to each other. Lets see a brief difference between business model vs business plan. Business Model acts as a centre for the business plan.
A business model is a framework used to design and depicts how a business might create and capture value. The business plan is a document explaining how a business might become profitable.
A business model is made to be tested while a business plan's primary goal is to gain investments. If I talk about stages, designing a business model comes first, then we create a plan.
This plan describes strategies involved to build the business and match the plan with the business model.
In this blog, I will start with the difference then some key considerations involving why we should opt, how to write, and some examples of business models and business plans.
We would also be covering components of the business model that can be used while designing a business model canvas. The business model canvas is a tool which helps you to understand a business model in a clear and structured way.
What are the main differences between the business model and the business plan?
Most entrepreneurs start with a strong vision to work on a perfect ideal plan. Instead of chasing an ideal plan, begin with a written description. This description should include who you are, what your ideas are, and why you are in that particular business.
Let's take an example: If you are selling jewellery online, e-commerce is your business model. Your business plan is to sell jewellery.
Business Plans can be long and time-consuming. So, we need to format the plan properly. A business plan is a document containing detailed future projections such as tactics, goals to cover.
Business Models are structured proposals of a business containing an outline that is easy and less time-consuming. A one-page business model explains how an organization is working with the main idea.
This makes a business model fast, concise, and portable. I will discuss the critical difference from two perspectives:
External resources including stakeholders, investors, and other parties

Internal resources including top management, owners, and shareholders
External Resources: Business model vs Business Plan?
If you want to attract investors and grow your business through external resources, a detailed plan is needed. This allows investors to understand the several parts of your business.
If I talk about the main ingredient of a business plan is a set of projections for three-five years. The interests of investors depend on whether your business model is scalable or not.
While investors will also want to know what kind of business model you want to build. The main idea is to show your business future projections and to address the kind of resources needed to get there through a business plan.
So, for external subjects to know about your business and invest in it, the business plan is the best tool.
Internal Resources: Business plan vs Business model?
To understand your business, a business model is one of the most effective. For instance, in a start-up phase, the business model canvas and the lean startup canvas are the most suited.
Each of those tools will help you to build a different kind of business. If you want to understand or design a business model that can help you grow, the business model frameworks are the most suited, vs business plan.
According to  Alan Gleeson, who is the General Manager of Palo Alto Software, Ltd recently answered the difference between business model & business plan in a guest post on TechCrunch: –
"It is worth clarifying the business model vs business plan. A business plan details the business opportunity in a document whereas a business model represents a one-page visual representation or a simple verbal description".
So if you are a technology-based startup who is looking to raise venture capital, then your business plan should focus on the Venture Capital with a PowerPoint slide deck and an executive summary.
However, if you are a coffee shop looking for a modest investment then the information should include a simple business plan.
Modern business planning is agile, flexible, concise, and more about goal setting than bound physical documents.
This planning process brings numerous benefits for the entrepreneur, such as an ability to look at the operations, to ensure internal focus and cash flow management.
Business Model Canvas vs Business Plan
Business Model Canvas and Business Plans are useful for an organization to grow. It depends on which stage of the project your company is working in.
Let us discuss the difference between the two and when they should be prepared for the growth of the business.
Business Model Canvas and Business Plan serve a very different purpose. If you are still checking and testing out different ways to roll out your business, BMC is the right place to start.
But, if you are looking for a loan from a bank or an investment for your business, a BMC is inadequate. Rather you should have a business plan. Business Model Canvas helps you, the founder, to figure out the business model and design it accordingly.
Business Plan is for an external stakeholder to analyze your business. The Business Model Canvas functions as a guide. It helps in quick communication between the owners of the business and its stakeholders.
So, let's take an example of a startup business to understand it clearly. In the startup world, everything is highly changeable. Your business model or target audience can be changed in a month after you started.
And, can you imagine, you spent 3-5 weeks to write a full Business Plan & now you need to rewrite it again because some of the core points have changed? So, for a Startup business model canvas is highly preferred.
If you're working on a project for more than one year and you're thinking of asking for funding to an investor, you should work hard to write a great business plan, including an investor pitch.
Business Model
Purpose of Business Model
Business Models are necessary for the smooth functioning of every organization. They help in maintaining a close relationship with the customer.
Business Models focus on customer feedback that includes the problems and needs of the customers once the product or service is distributed to them.
How to write a Business Model?
A good Business Model describes the marketing, operations, and distribution strategies of a company. It also includes the analysis of the organizational structure and amending them to sustain a competitive edge.
1. Operational Outline- Design a pictorial view of business operations on a flip chart with circles and labels.
Define the interrelation between them to promote sales, distribute products, target customers, and revenue generation for your team as shown below.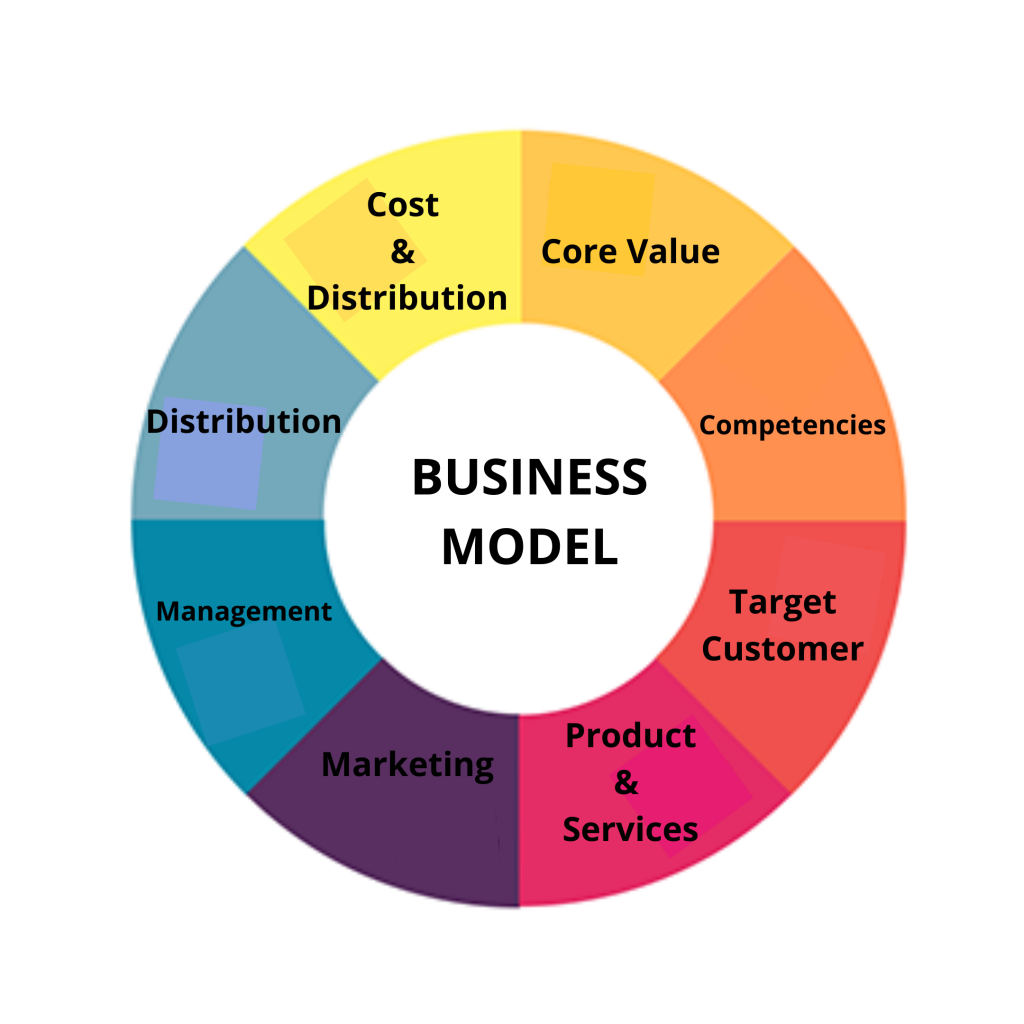 2. Formatting Business Model– Format your business model on a template. You can include the details about different types of customers and how your products and services are valuable to them.
Prepare the total cost incurred for production, employees, and material. Further, prepare a  list of suppliers and partners involved in your business.
3. Operational Business Model– Adopt the "Bricks and Mortar" Business Model to attract local customers who want to choose the products and services provided by your store.
If the customers are from different geographical regions, then target the audience through the Internet. Also, plan to utilize company resources and maintain business profits. Focus on getting new customers and potential risks or threats to the business.
4. Additional Add up Values– Recognize the different methods for serving your customers with products and services. Maintain customer relations based on various segments and target potential customers.
Business Model Example
Let us discuss the different Business Model Examples in different segments.
1. Advertising- Advertising model includes content creation and displaying it in the visual form of advertisement to the readers and viewers. Examples are YouTube, New York Times.
2. Affiliate- Affiliate model uses links embedded in the content through the internet. Examples are TopTenReviews.com, TheWireCutter.com.
3. Brokerage- Brokerage models are mainly used by real estate agencies that involve brokerage transaction fees levied either to the buyer or seller or both by the brokers. Examples are century 21, Orbitz.
4. Crowd sourcing- A large number of people are contributing content for your site in exchange for access to other content. Examples are YouTube, Dell.
5. Freemium- Freemium provides free primary services and charges for premium services. Examples are LinkedIn, Mail chimp.
6. Franchise- Franchise is selling a methodology for starting and running a business. Examples are McDonald's, Allstate.
Check Your Business Worth And Get The Highest Price For Your Business
Components of Business Model  Canvas
There are different components and elements of a business model. These are known as the main building blocks of a business which provides information regarding customers, finance, infrastructure & offers related to business.
1. Customer Segments- It defines the customer according to the segment based on the products and services offered to them.
2. Value Propositions- These add up the value to the products and services offered to the customer based on their performance, brand status, design, costing, accessibility, and newness.
3. Distribution Channels – They act as a medium between the customer and the organization. A quick, easy, and the most efficient channel is always for the distribution of products and services.
4. Customer Relationships- It helps in maintaining customer relationships according to segments to achieve financial success and stability.
5. Revenue Streams – This strategy provides a way in which a company can engage its customers to buy its products and services.
6. Key Resources- Key resources such as human, financial, intellectual, and physical provide value to the customers.
7. Key Activities – Relevant Key activities are necessary for every business as they help in maintaining revenue streams to make an efficient business model.
8. Partnerships- Partnerships with high-quality suppliers and partners reduce the risks to maintain efficient and streamlined operations.
9. Cost Structure – Cost structure is the total cost that will be incurred for the establishment of a particular business.
Business Model Canvas  
Business Model Canvas is a pictorial representation that provides a brief idea about your proposed business. They also include a visualizing description of business models and their values.
Business Model Canvas comprises all business components such as customer segments, value proposition, revenue streams, channels, Customer relationships, Key resources and activities, Partners, and Structure of Cost.
Business Plan
Purpose of the Business Plan

The main purpose of a business plan is to focus on achieving business goals, secure outside financing, mapping growth, and including the right talent for the organization.
It acts as a blueprint for expanding and running a business in the right direction at every step. It also prepares for the future with clarity about the goals and achievements.
Every company should adopt a business plan as it acts as a decision-making tool by formatting the business goals and its intended audience.
How to write a business plan?  
Business Plan provides a road map for the growth and success of every business. It also helps to find investors and business partners. It  includes some components as
1. Executive Summary- It is the brief of the business plan that includes mission and statement, primary information, products and services, location, and employees.
2. Company Description- This includes detailed information about a company such as customers, business problems, nature of products, and services catered.
3. Market Analysis- It helps in understanding the target market, its trends, the potential for growth in the existing market.
4. Organization and Management- This depicts the organizational chart with vision and mission regarding the department and functioning of the company.
5. Marketing and Sales- Marketing involves different marketing strategies required in the business while the sales are responsible for covering the return on investments.
6. Funding Requests- Funding requests can be online or in a substantial manner.
7. Appendix and Glossary- Every business should provide appendix and glossary for the supporting documents and references to the data.
Business Plan Examples
Let us discuss some business plan examples in the different sections of the business.
Construction and Engineering

Travel and Transport sector

Hotels and Hospitality

Children's Education

Computers and the Internet

Consulting, Health, and Beauty

Food and Farming, Medical and Healthcare

Personal Services, Non-Profit Organizations

Manufacturing and Online business.
For instance, let us consider a business plan for the Manufacturing sector. The manufacturing is mainly adopted by the companies who want to start new manufacturing, production, or fabrication business.
This plan helps in knowing the business profile and description, detailed investor information, risk factors involved. It also includes products, and services to be used, market research, sales and marketing strategies, operations, and financial analysis.
Types of Business Plan  
There are various business plans adopted by organizations depending on their nature of business.
1. Startup Business Plan- It is for the enterprises that want to start their business. This mainly includes market evaluations, products and services provided, financial analysis, and projected management team.
2. Internal Business Plan- These plans describe the operational costs and profitability, the company's actual position, marketing, hiring, and technical costs.
3. Strategic Business Plan- This plan includes the company's goals in the form of implementation schedule, objectives, and critical success factors and how to achieve them.
4. Feasibility Business Plan- It consists of the description of products and services, required capital, and target demographics.
5. Operations Business Plan- They are part of internal plans that include the company's main operations with employee responsibilities.
6. Growth Business Plan- This plan provides an in-depth description of the proposed growth plan and investment for its potential investors.
Sum Up  
So, the difference between a Business Model and a Business Plan is that they are both parts of an effective Strategic Planning process. A business model is all about VALUE!
What value are you creating, whom are you creating this value for, how are you delivering this value to said target?A great business plan is contingent on RESOURCES – time, infrastructure, manpower, technology, competences & capital.
They both help a business to grow. Using the right one means that your company can have a clearer process and better products and services.
As I said above, the business model is like a destination, and the planning is how you will reach your destination. So, let me add that the planning I recommend isn't just a map or a route; it's a GPS, real-time traffic and weather information.
And in that analogy, the business model is the destination. Hence, having an effective Strategic Plan is a powerful business advantage that dramatically increases the odds of success.
Alcor private equity and Venture capital firm also empowers founders and businesses to grow their companies at all stages.