Managing a technical team effectively is like growing and taking care of a plant every day to yield tasty fruits in the future. And it's not an easy task.  Businesses are not just about one person – it's about a team of people. A business cannot control external influential factors. But they have the full privilege to control one of their internal activities – Hiring the talent & Unifying them into a great team.
A team will turn and scale your business into a successful venture. A thriving team always works with harmony & coherently towards the company's goals. If the team is a performer then the leader is the Maestro. 
Managing a technical team is dissimilar to the non-technical team. Along with its facets of managing humans, it comes with the task of handling technicalities of the field as well.
And if you are a new manager with new responsibilities for managing a Technical team. Then you are reading the right thing.
This blog explains how to build a technical team with strategies to manage and lead a technical team effectively. 
Steps to Build a Technical Team 
Understanding the company's requirement is to know the business model more intricately. Break down all the core activities of the business to further bisect the small task needed to perform it.
Are you looking for fast & iterative programmers? Or the one who is good at problem-solving and can build a product?
Be well-informed about the skills that are not present in your current teams. Identify the talent gaps that need to fill up for achieving your significant goals.
For an early startup knowing what you want can be difficult. Thus, you should hire candidates that value productivity and have an ownership attitude. 
Communicate with the Team Lead 
Involve the leader of the technical teams. As they have more experience and better knowledge about the right talent your team actually requires. 
He is the right person to guide you in building a team. He knows the budget allocated to the Technical department and how to make the best use of it by hiring the right talent. 
This is the decision-maker that will let someone get in, out of all the hundreds of applications you received. You cannot just have a verbal communication or questionnaire round with the engineer- to make him/her part of the team.
Have a structured roadmap of the levels of interviews, the questionnaires to be asked, the practical tasks to be performed, etc.
A roadmap should be drawn based on the skill gaps while keeping in mind the business goals.
This considerably edges off the chances of hiring unrequired talent that cannot be traced with a mere verbal interview.
Making the best use of your networks is a great choice for startups-thus those closely interacting with them to know if you can personally work with the individual or not.
Next comes up experimenting with hiring marketplaces, personalized outreach on Github & Linkedin, Job Boards & meetups. These are the best ways to look for good engineers to line up as the best option for startups. 
Upskill current employees
Upskilling your current employees is less expensive than recruiting a whole new human in the team. Evaluate your current team members. Train them to upgrade their skills. 
The training shouldn't be hard on your pockets. There is a whole pool of online courses and certifications from basic coding to javascript & from angular js to ethical hacking.
This will boost their existing knowledge and will save a bunch of time. Employees stick to the firm that offers career growth and knowledge enhancement.
Thus, upskilling them will boost their morale & will make them a better employee of the company. 
Strategies to  Manage & Lead Technical Teams Effectively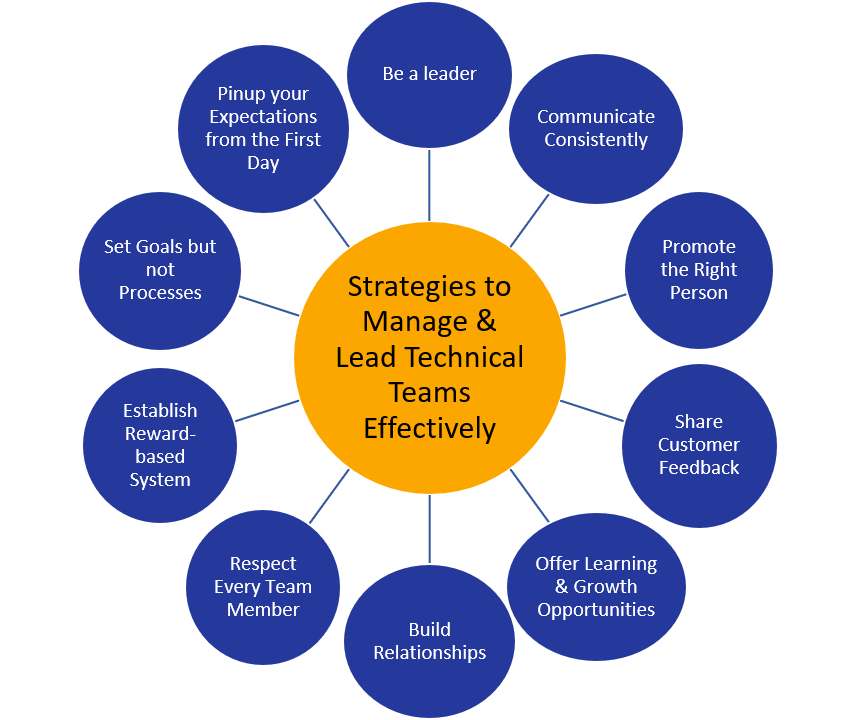 Pinup your Expectations from the first day
New employees enter the firm with an empty tray. They had left their previous work culture and work environment. They seek hints about how to operate in an organization.
This is a great opportunity for any manager to present their expectations. Do you want shared leadership, active team involvement, shared decision making, etc? Just let them know.

Instead of taking hints and misunderstanding the environment & acting accordingly- which may or may not be aligned with your expectations. This gives a great headstart to employees & in knowing the essence of their core activity.
Set Goals but not Processes
Good managers set individual goals for their teams that align with the main objectives. They delegate the key tasks to be performed.
But it is not their responsibility to prescribe the exact processes to be followed for achieving the tasks. Giving the exact follow process to teams will lead to restricting their skill sets and a hindrance to perform in a free manner.
Hand your team the freedom to decide their own process for achieving the tasks along with a deadline. So, a good manager sets the goals instead of processes accompanied by guidance & problem-solving assistance.
Establish Reward-based System 
Technical teams are the problem solvers. They love to solve technical complexities, make improvements, and provide upgradation.
Recognize this behavior. Reward the problem solver, reward the one who is taking the initiative to bring upgradation to the existing products.
Offering rewards through financial means or the use of an employee recognition platform will make the team feel- their ideas and solutions matter to the organization.
Therefore, the culture of a reward-based system will encourage the team for more independent future initiatives.
Respect every team member
Every individual is different in a team. Everyone has their share of stories about how they worked hard and made it here.

They have a good life outside the four walls of the company. One should not consider them as mere task performers.
Every employee that you hire may not have all the skills that you require- the great choice here will be to figure out their unique strengths & make use of them in your favor.
Managers should respect every individual, their qualities rather than enforcing a set behavior.
Hence, a manager should contribute towards maintaining the dynamics and honoring the differences of every team member. 
As Harold Geneen says- "Every company has two organizational structures: The formal one is written on the charts; the other is the everyday relationship of the men and women in the organization."
The formal will always exist as you step into the firm. When it comes to the latter one it has to be built. Initiate a one-to-one relationship with each individual.
Thus understanding their temperament, their core values, what they are good at & how better they can perform.
"People inherently do what they want, and providing people with what they want almost always results in getting what you want from them".
All this becomes a smooth activity when you build a strong and confronting relationship with every team member. 
Offer Learning & Growth Opportunities  
Technology is ever-evolving and dynamic. What's valid today will remain invalid tomorrow. And technical individuals seek a learning environment to maintain their validity in the market. 
As said in the previous point- "Give them what they want". Offer them opportunities to learn about new tools & technologies.
So, the more opportunities you give the chances of them staying with you or being retained in the organization increases.    
Technical teams are meant to solve customer problems and scale up the ROI for improved product delivery. Share with them how customers are engaging with the product.

Be in a constant loop with customers through the support team for gathering this information. Therefore, helping the engineers in seeing the gaps and improving the deliverables.
Promotions are the best way to reward individuals after recognition & financial rewards. Recognize the right person through track records and performance. 
Hiring a manager from outside can be expensive and risky. Thus, it should be a secondary choice. Instead, extract the one from the team who has the right capabilities and leadership skills.
Hence, this results in loyalty and empowers the individual to initiate bigger & better tasks.  
As Klaus Balkehnol quotes," There is a difference between being a leader and being a boss. Both are based on authority. A boss demands blind obedience; a leader earns his authority through understanding and trust." 
Subordinates can thrive more freely under a leader than in a bossy environment. To be a leader is difficult.
You have to understand what they want, what challenges them, and what excites them. Learn to maintain a balance between managing and coding.
Talking with peers, having conversations with team members and corporate meetups will help in keeping up with the latest software upgrades and technical trends.
Thus, keeping you in touch with the core work and at the same time effectively leading and managing the team. 
In a working organization, everyone wants to know are they performing well? Are the colleagues happy with them? Are they really meeting expectations?
The curiosity of where they stand in the team or organization always hits them up.
If you're not satisfied with someone's performance & don't let them know for a long time, it will blow their mind off when you suddenly give out the news of his/ her underperformance. 
So, be consistent with communication & keep informing each individual about how they're actually performing and where they are lacking 
These were the various strategies to lead and manage a technical team more effectively. 
Take Away  
The technical team has the potential to bring new innovative ideas to the business. Thus, it is the managers' responsibility to make a favorable environment where the team thrives and grows entirely.
A great technical manager is the one who supports, leads & motivates employees and resources in a way where organizational success lies. 
Check Your Business Worth And Get The Highest Price For Your Business