What is Crowdfunding? 
Crowdfunding is the practice of funding a venture or project by raising money from a large number of people who each contribute a small amount via the Internet. Crowdfunding for startups has the potential to increase entrepreneurship by expanding the pool of investors beyond the usual circle of owners, relatives, and venture capitalists.
Crowdfunders or backers are not technically investors. They do not generally receive a share of ownership in the business. And they do not expect a financial return on their money. 
Instead, crowd funders expect to get a "gift" as thanks for their contribution. Often, that reward is the product you intend to sell or other exclusive perks. This could be something like meeting the business owner or getting their name in the credits. Thus, crowdfunding is a popular option for people who want to produce creative works or maybe sometimes a physical product too.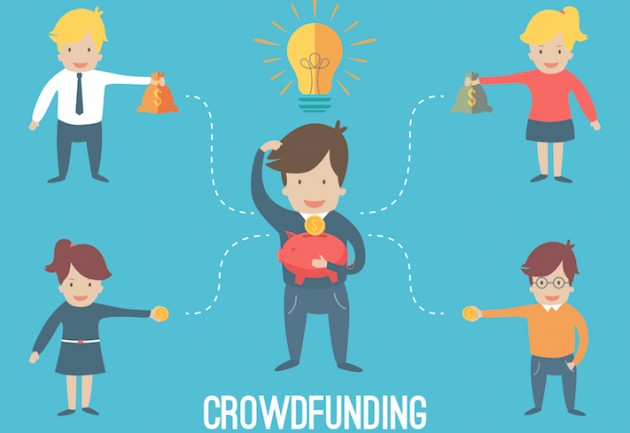 How Crowdfunding Works? 
Crowdfunding campaigns have a set of incentives and goals for those who invest. If the goal is met, the backers usually benefit from supporting that campaign.  
Many crowdfunded companies take the money as an advanced booking of the product. Fundraising individuals get their products as soon as the company completes the production.  
Most crowdfunding platforms including Indiegogo, Kickstarter, Fundable, and Patreon offer a trusted system.  If the company doesn't reach its goal, the platform will return all the money to all the fund-raisers. This happens through an automated system. And, this is what has led to an increase in crowdfunding in the last few years.  
Crowdfunding Statistics: Facts & Figures about Crowdfunding for Business 
On 

average, a successful crowdfunding campaign is around $7,000

 

It usually takes 11 days to prepare a successful crowdfunding campaign

 

If a campaign gets 30% of its goal within the first week it is more likely to succeed

 

On average, successful campaigns raise

 40% of funds in the first three days of the campaign period

 

The average amount for crowdfunding for businesses is $88

 
Types of Crowdfunding for Startups 
Reward-Based Crowdfunding 
In reward-based crowdfunding, backers contribute to your project for non-financial benefits. This type of reward-based funding is prevalent in creative projects. The backers receive a token of appreciation or gifts for funding the project. Sites like Kickstarter, Indiegogo, and many others operate on this business model. 
Donation-Based Crowdfunding 
Donation-based crowdfunding is for charities that are working for a social cause. One website that's famous for donations is GoFundMe. 
Users create a cause and then distribute the link of the campaign among their peers. They set a goal and all the amount collected is sent to the account of the person who has created the campaign. 
Equity-Based Crowdfunding 
Equity-based crowdfunding is meant to get a return on the invested amount. It is popular in the stock market. People buy shares of various stocks and redeem them when the prices rise. 
It is also a great way for startups to get money for their initiative. But they will have to sign a contract that they will provide equity to the shareholders. Money must be returned if the project fails. 
Debt crowdfunding is when backers provide money in exchange for interest or higher markup. The debt crowdfunding alternative is usually practiced by banks and lending companies. 
Advantages of Crowdfunding 
One of the benefits of crowdfunding for startups is that it doesn't involve any risks. You simply have to create a compelling campaign and bring it in front of the public. If they like it, they will fund it. Moreover, your product automatically gets exposed to a lot of potential customers. 
Get As Much Funding As You Desire 
Another benefit of crowdfunding is that you can set a goal for your funding amount. You can either give your backers discount coupons or gift items after the project concludes. 
Another great benefit of crowdfunding is that you can sell products in advance against the funding received. For example, your startup promises to sell shirts with tiny coolers. Now, each shirt is around $60. You can set a crowdfunding amount per user of $60 and you will give the shirt as a gift to them. When you collect the funding amount, you can start shipping the shirt to the users. This way you can test market feasibility. 
Disadvantages of Crowdfunding 
Sometimes you have to ship the products that you promise to the backers of your campaigns. If you do not deliver the products on time, the backers are likely to complain to the authorities. Some might also file lawsuits. 
No Payoff If Campaign Fails 
There are chances that you will not get a single dollar if the campaign fails. This means all the efforts you put into the campaign will go down the drain. You should note that more than 60% of crowdfunding campaigns fail. 
Search Active-Investors Across The World At One Place and Get Funding For Your Startup Today.
Some Prominent Crowdfunding Sites 
Fees: 5% if you meet your goal (not including payment processing fees) 
Kickstarter  is almost synonymous with "crowdfunding" as one of the most popular platforms where innovative ideas can support. The community has successfully funded over 156,000 projects. This includes physical products, movies, games, and more—for $4.1 billion raised. 
Kickstarter is a reward-based crowdfunding platform. Backers are offered incentives to support the project, from t-shirts to shoutouts to exclusive pre-order discounts. You can offer different tiers of rewards too; the more money a backer pledges, the better the rewards they unlock. 
Kickstarter campaigns are an all-or-nothing affair. This means that you only get access to your funds (and pay Kickstarter's fees) to meet your initial fundraising goal. If you fall short, then all the money remains with your backers. 
The result is that projects on Kickstarter tend to be high quality and novel—often creative or innovative enough to catch early adopters' attention and headlines from the press. These projects are also viewed as more trustworthy. This is because they do not pay unless the campaign succeeds. 
Fees: 5% if you meet your goal (not including payment processing fees) 
Indiegogo  is a robust, crowdfunding platform that supports businesses, artists, and nonprofits. While at first glance, it may sound similar to Kickstarter, it comes with its unique features and campaign options. 
The most significant difference is the option to choose a fixed funding goal (all-or-nothing like Kickstarter). You can also opt for a flexible funding goal for your campaign. With flexible funding goals, you receive your funds regardless of whether you have met your goal by its deadline. 
The flexible funding option is especially useful when you can fulfill your promise to backers even if you do not raise enough capital. It can be helpful when you are launching a new product line for an established business. 
Indiegogo In Demand  lets you continue raising money. This is true even after your crowdfunding campaign ends. You can raise money while you are in the production stage or getting ready to fulfill orders. 
InDemand is available to you on Indiegogo and other crowdfunding platforms.  BodyBoss  transitioned to Indiegogo InDemand right after their success on Kickstarter. 
Startups based in the U.S. might also consider  Indiegogo's equity crowdfunding  offering. Here you can submit your campaign for consideration to investors on the platform looking for a financial stake in your company. 
Fees: 5% (not including payment processing fees) 
Patreon  is one of the unique platforms on this list with a specific focus on the new wave of creators—bloggers, YouTubers, podcasts, cartoonists, musicians, live streamers, and their ilk. 
Most of the top crowdfunding sites support limited-run campaigns. But Patreon was made for creators and internet personalities with loyal audiences to generate recurring revenue through paid memberships. You can choose to let patrons pay "per month" for special community perks, or pay "per Creation" to incentivize you to create more. 
Patreon creators offer all kinds of exclusive perks based on different payment tiers, such as exclusive content, branded swag, sneak peeks, shoutouts, etc. If you are a creator who regularly ships new content and has a sizable online fan base, it might be worth creating a Patreon page. 
You can serve exclusive content and build a community of dedicated fans. This is through Patreon's  various integrations  that unlock based on the patron's membership tier. 
Crowdfunder (Shopify app) 
Fees: $29/month (not including your Shopify subscription) 
Suppose you already have a Shopify store and are interested in crowdfunding a new product through your website. In that case, the  Crowdfunder app  for Shopify is a great fit. 
You can transform your product page into a crowdfunding page with this app. This is complete with a progress bar, setting your goal based on a threshold of items ordered or money raised. 
It enables crowdfunding in its simplest form: accepting pre-orders from people to simultaneously validate an idea and fund production. Plus, you can avoid the commissions charged by third-party platforms in favor of a more predictable monthly fee. 
You can use it to test out new product ideas. You can also raise money for a cause or launch limited-run products. 
Fees: Free (not including processing fees) 
GoFundMe  is a free crowdfunding platform. It is built primarily for supporting individuals and causes. 
Because GoFundMe is suited to personal causes. Anyone can go about creating a campaign. Backers here tend only to support campaigns from within their networks and communities or are familiar with them. 
GoFundMe is not designed for commercial crowdfunding campaigns, like the other platforms on this list. However, suppose you are a small business owner who has fallen on hard times or needs to raise money to overcome a personal challenge. In that case, you can try leveraging this platform for support from your network. 
Fees: $179 per month during active campaigns instead of a percentage of total funds raised (not including payment processing fees). 
Fundable  is part of the Startups. co platform. It is among the top crowdfunding sites. It allows startups to offer rewards or equity in exchange for funding. 
According to their site, startups that offer rewards typically raise less overall (under $50,000) but get more backers. In contrast, startups that offer equity usually raise more capital from fewer investors. 
However, to succeed with equity fundraising, you need all the ingredients accredited investors expect to see: a track record of growth, a solid business plan, and a pitch deck, if not more. 
Fees: 7% of the funds raised if you meet your goal. 0.75% to 1.25% completion fee. 
Crowdcube  is a UK-based equity crowdfunding platform. It has a relatively small number of campaigns. However, companies that are approved and succeed with their fundraising goals on the platform can join Crowdcube's "Funded Club," gaining exclusive benefits from their partner organizations. 
You can promote your pitch to solicit investors from your network or appeal to Crowdcube's established investors' established community. 
Fees: Plans start at $299 per month to create a public profile and "deal room" to invite investors. You can create a deal room and a non-public profile for free. 
Crowdfunder  is another equity crowdfunding platform. Here you can raise capital through a "crowd" of accredited investors. Its network includes over 12,000 venture capitalists and angel investors for you to connect with potential and pitch. 
Crowdfunder offers monthly plans. This is in contrast to paying a percentage fee on the raised funds. The platform is ideal for startups that have already experienced some degree of validation. Deals can be made for revenue share, debt, equity, or convertible note. 
Fees: 4% of the fund for a successful project, and 8% for the project ended without reaching the financial goal. 4% of the credit card processing charge will also be applied. 
RocketHub is a popular station to fuel your project for launch. It boasts a 3-step simple process to upload your project. The progress and status of your project can then be tracked. You can go for FuelPad if you are just interested in crowdfunding. But RocketHub's winning feature is the launchpad. 
LaunchPad presents offers for RocketHub members. It helps them to work with top-notch brands, companies, and marketers. It helps them raise public interest and seek more potential opportunities for their projects. 
Prizes consist of photography exhibition venues. They also include 4-week media outreach campaigns with top marketers. An excellent plan for creatives such as artists, photographers, and musicians seeking rare opportunities and publicity. 
Fees: Razoo charges a low rate, an all-inclusive 2.9% of your total fund. 
Claiming to have raised more than $97,000,000 for thousands of worthy causes, Razoo is the next crowdfunding behemoth that you, as a fundraiser, should seek. The site focuses heavily on causes than profitable projects, but they have a dedicated section for nonprofit fundraising projects. 
Razoo divides fundraisers into four major categories:  Nonprofits,  Individuals,  Corporations, and  Foundations, and they each have their benefits. 
What is vital about Razoo is its technological advantage that helps you to spread the word about your projects effectively. With the old-school yet incredibly useful Donation Widget and Facebook Widget, you can create any donation section in any blog by embedding the widget into it. Razoo even has an iPhone app that enables you to manage your project and engage your donors. 
Are You Ready to Launch Your Crowdfunding Campaign? 
Crowdfunding for startups is great when a startup doesn't have access to investors. They can just launch a great campaign on a crowdfunding website. 
Crowdfunding is also popular because it is very low-risk for startups. In most cases, you get to retain full control of your company. Even if your plan fails, you're generally under no obligation to repay your crowd funders. Every crowdfunding platform is different. Make sure to read the fine print. Understand your full financial and legal obligations. 
Crowdfund will not sustain your business in the long term. You cannot get crowdfunding again and again for the same product. Once you have the funds, focus on making your business successful. Then deliver what you have promised the public against their money. 
Additional Resources 
Investors have a different mindset from sponsors. They look into the financial aspects of the business. So, organizations should go through a thorough financial analysis of their business. It will help them to plug any financial gaps and induce investors.
Attract Perfect Investors To Your Business, Get In Touch With Our Experts And Make Effective Pitch Decks