Consider a scenario to understand the concept of how to create sales funnel on Shopify.
People are coming to your Shopify store and leaving it without any purchase. You made the coolest-looking webpage for your Shopify store but yet you are failing to catch their attention.
You spent enough time and money but still, you aren't making 'Your First Sale'. Let's know more about how to create sales funnel on Shopify.
This implies your Sales Funnel is not in place. You've set up your store on the world's third-best e-commerce platform. Building an appropriate sales funnel is building a strong foundation for your Shopify store. 
An average conversion rate is 2.86% for an e-commerce platform. The Good thing is, a well-structured sales funnel and an optimized webpage will increase this figure.
A Sales Funnel is a process for creating a smooth walkthrough for your customers as they land on your website. It starts when potential customers hear about your store name and brand and ends at the final stage of making a purchase.
To define this in simple terms, it's a predefined few steps to guide and influence potential customers to make a purchase from your store. A better and compelling sales funnel strategy means more prospects turning into customers. 
The funnel representation implies that as prospects reach every level the size of it reduces considerably. At every funnel. the size of potential customers is very large to gradually decrease at a small amount that assuredly makes a purchase.
To know how to create sales funnel on Shopify and to successfully get your customers through every stage you need to understand each sales stage at the Shopify store. The sales funnel flow on Shopify looks like this: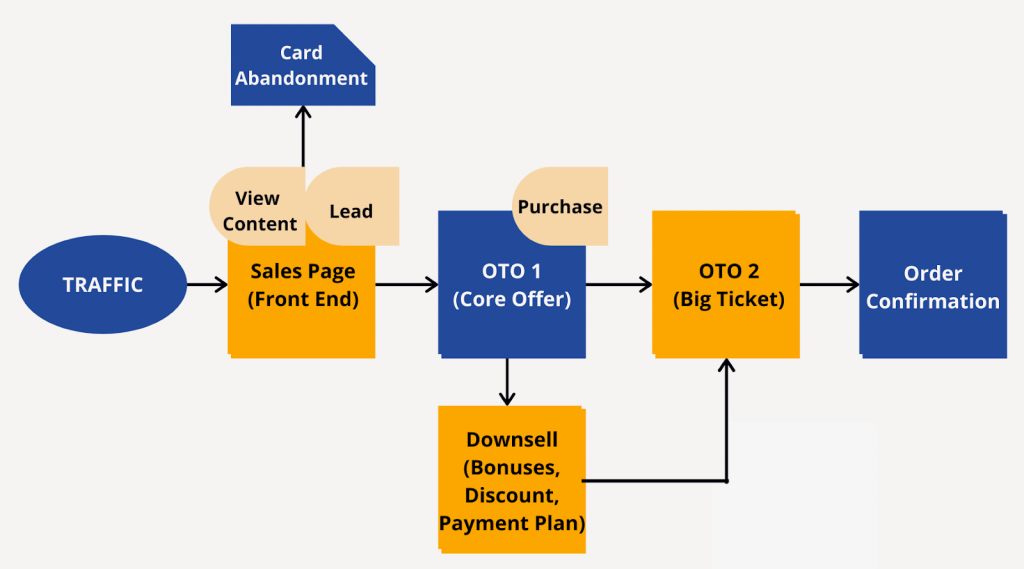 In this article, we have cut down each stage into simple actionable steps to make it easier to understand the nuts and bolts of creating sales funnel on the Shopify store.
So Let's Build Your Shopify Sales Funnel.
Step 1: First Build A Right Product
Yes, the first step on how to create sales funnel on Shopify is to have the right product. No matter how cool your product is or how brilliantly you market it.
If your product is not what people are looking for then definitely you are walking in the wrong direction. You won't make a sale ever.
The right product makes the customers swipe their cards to make their earnings. Customers buy what they need, what fascinates their mind.
Before purchasing, a customer calculates the benefits of purchasing your product, is it worth their money? Will it solve any of their pain points? etc.
The right product ensures a great delivery of customer value and has a wide customer base. It is the most crucial and strong pulling factor to make a sale. It proposes the right customer and market value and has a greater ability to scale and grow in the future. 
Once you have the right product to sell, it's time to take the second step forward: Building a storefront for your product.
Check Your Business Worth And Get The Highest Price For Your Business
Step 2: Power Pact Store Front Page
Once you are ready with the product that believes you to make a sale. It's time to build important aspects of the funnel. That is- Building a POWER PACT storefront for your webpage. It is the first step for the prospects to get into a sales funnel.
On that account, it has to be compelling and entrancing enough to get at the next funnel step. Here are some of the integral pieces to put together to build your Shopify storefront page:
Your first page should slide the curtains from your product. Once the prospects get in, they need not put much effort to understand what you exactly sell. 
A web user judges the website based on the first impression. To make the first impression last, have a clean and minimal website design with a strong professional appearance.
The voice of your product should be clearly audible through your compelling web page.
Spotlight Content to Grab Attention:
The digital era has shortened the attention span of humans. With a wide range of choices and sellers available in the digital space. It's tough to make them stay on your site for more than a minute.
But compelling content will do it all for you. Few short compelling paragraphs, a captivating product tagline, High definition images make a strong impact on Customers.
Quadlocks has a short content paragraph on their first page that clearly explains what the product is & what it does. The short video and tagline at the top of the page precisely explain the benefits of using smartphone mounting.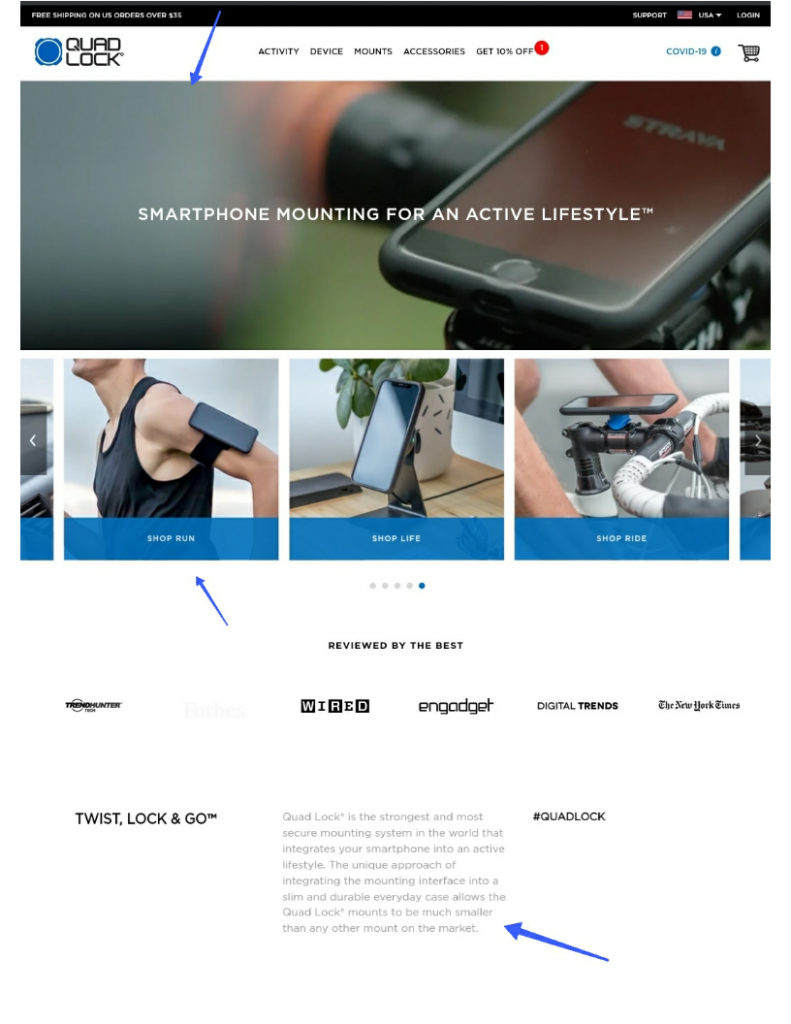 The video motion and compelling images that display the product benefits are adequate to create the desire for your product.
Social Proof Builds Trust: 
A survey shows that 58% of online consumers consider social proof before making a purchase. Consumer reviews influence the prospects to purchase the product and enjoy benefits like them.
Quadlock did this by adding the customer review section on the first page.
It displays the ratings, the name of the product, the customer's name, and a verified buyer tag to build credibility. It smartly shows the number of reviews that keep on increasing with every customer review.
These reviews are persuading consumers towards brand liking and ensure a worth buying product choice.
Have a Trustmark & Credibility Seals:
Using trust seals has a significant impact on conversion rates. Blue Fountain Media, shows a 42% jump in conversion rates due to trust marks.
Trustmark adds authority and a trust element that goes a long way in building confidence for your brand in the customer's mind.
In addition to this, showing payment credibility seals indicates that their card details are in safer hands. Thus, freeing them from all the payment strains.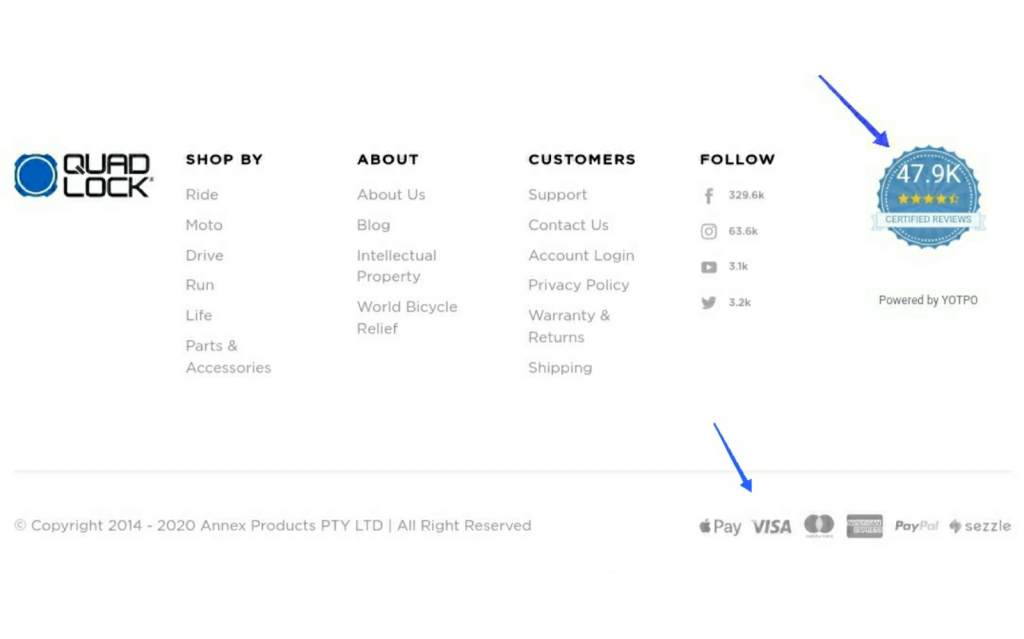 Gempages is one of the powerful applications for Shopify store owners. It let users design a beautiful homepage, landing pages, etc. Gempages has some predefined templates that build flexible and friendly web pages. 
So, it comes at an affordable rate of $15/month and a 10-day free trial. Therefore, it encourages building a high-converting store without the hassles of coding.
Another tool is Funnel Buildr, software to let users highly effective and high-converting Sales funnels.
Its impressive features let users integrate the website with Tag Manager, Google Analytics, Facebook Pixel, Aweber, Mailchimp, Drip, Klaviyo, etc.
Step 3: Generate A Lead Magnet
A lead magnet is the top element of the funnel. It will either break or make the Lead generation process a success. A lead magnet is you giving your visitors value in exchange for their contact information, specifically email addresses.
For example, QuadLock offers a 10% Discount in exchange for emails.
The Ultimate Goal of Lead Magnets is- Maximum Target Leads
It's a more powerful tool to build an email list than a simple newsletter or sign-up. It comprehends pop-up and sliding opt-in forms for people to signup and receive offers.
A lead magnet has persuasive and laser-targeted design and content for potential customers.
There are various forms of Lead Magnets such as Free guide, freemium, discount offers, ebooks, pdf, etc. Here are some of the coolest examples of a Lead magnet: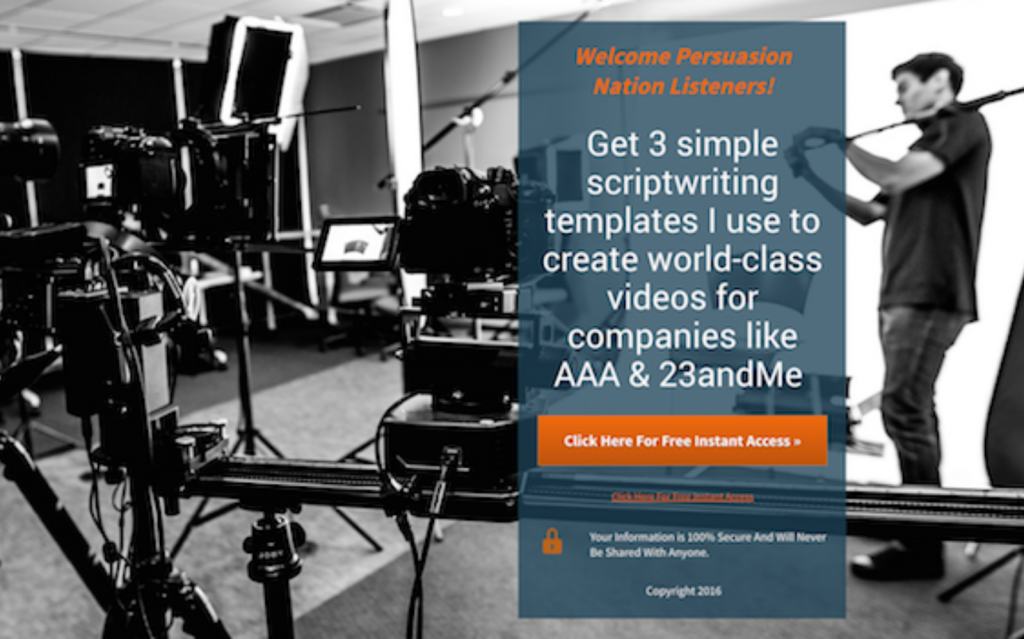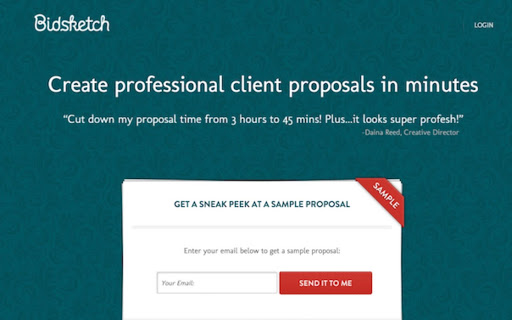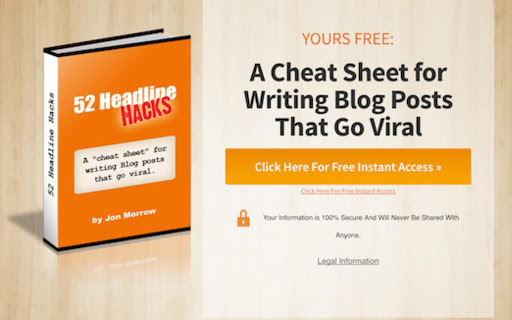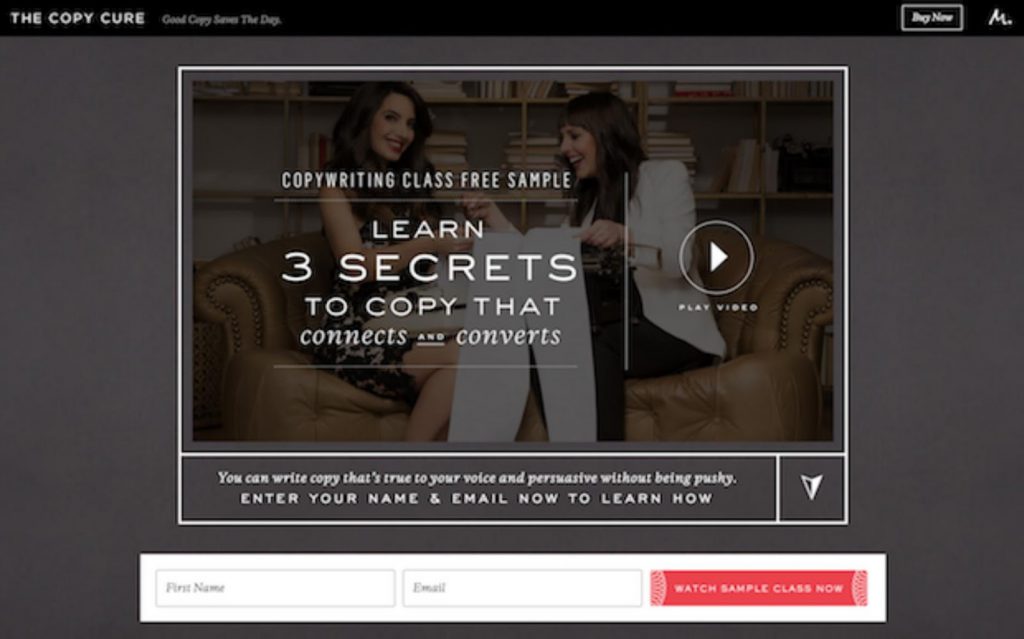 Sumo & Klaviyo are Shopify Store owner's favorite and the best email capture tools with easy and quick setups in the market. 
Step 4: Leverage Cross-Selling, Upselling & Downselling
Not all customers that form your overall traffic at the start reach the bottom process of checking out. The ultimate aim of any Shopify Store owner is to increase revenue generation and maximize profits. 
Thus as the funnel size decreases it's mandatory to make absolute utilization to increase the average transaction amount for each customer.
The techniques of Cross-sell & upsell increase the average amount a customer spends by 10-30% on your website along with a better user experience.
Before integrating these techniques, let's understand each term:
Cross-selling is to recommend other products in combination with the primary product. It encourages customers to spend more by purchasing a relatively complimentary product along with it.
Whereas Upselling is to push the customers to purchase a superior product, a high-end version, and expensive with more valuable benefits than the primary product the customer is buying. 
In both cases, the strategy is to make the customers spend more. Thus, strategizing and showing the relevant products and offers is highly important.
On Contrary, down-selling is the opposite method to make a sale. It's advantageous when a customer rejects the primary product, so to make a sale you recommend a slightly inexpensive product offer.
Thus increasing the chances of making a sale because something is always better than nothing.
For example, A customer visits your website to purchase a watch. The customer has selected the preferred model and brand. In the case of upselling, you recommend a better and upgraded version of the watch.
So, in down-selling, if the customer doesn't check out and leaves the process midway, you can suggest a lower-priced model encourage a purchase.
Whereas for upselling, you recommend a relevant complement product such as laptop table, laptop covers, or laptop stickers, thus increasing the average total amount.
Step 5: Shoot up Your Traffic
Just like building a website and creating a sales funnel is important for your Shopify store it's also important to bring relevant traffic to your webpage.
Therefore. generating traffic comes is to create awareness at the top of the sale funnel. The three best ways to drive traffic to your store page include:
Facebook, Instagram, and Pinterest are the best platforms to raise awareness about the brand. It's also an effective tool to leverage ads and reach target customers.
It has expanded to various business tools and advertising strategies to encourage business owners to advertise on the platforms.
Influencer marketing is the new trendy way to capture leads. Influencers have significant followers and hold the power to influence their followers that persuades them to make a purchase.
Hence, collaborating with relevant and small influencers for a shoutout through their post and stories is a great way to create brand awareness and generate leads.
Generating blog content for creating a sales funnel on Shopify is based on keyword research is an inexpensive and lucrative tool to increase traffic.
The only thing is it will take a longer time to rank organically on search engines and reach customers than advertisements or influencer marketing. 

ClickFunnels is a great tool preferred by maximum Shopify store owners. It's a great software tool to build high-quality landing pages and capture customer leads.
It integrates the right sales techniques to grow business, sales, and audience.
Conclusion:
Building a sales funnel is a long-lasting activity. It's not a simple task.
Integrating tools with your store will definitely cut down some hassles, but still, there's numerous work on other sides like creating compelling content, email strategy, remarketing strategy, setting up tracking pixels, etc. And a lot more work to make it a success.
Creating sales funnel on Shopify is not the end. You have to do several trials and analyze the data to make improvements to your sales funnel.
So, good flow from top-bottom will ensure a smooth and healthy business. Effective strategies and consistently measuring results has the power to turn your small store into a global store. 
With AI Based Assessment Tool, Mitigate Your Risk And Test Your Startup Investability Score Now