Corporate Venture Capital is about setting up structural collaborations to drive mutual growth. Collaborations are established with external ventures or parties.
These external ventures are startups or scale-up companies from outside the organization. When you have assessed the feasibility of your business idea, pursuing Venture Capitals is the next step.
CVC  takes an equity stake in a small but innovative or specialist firm. It may also provide management and marketing expertise to such firms. The goal is to gain a specific competitive advantage.
CVC is not synonymous with venture capital (VC). Rather, it is a distinct subset of venture capital. Consider an investment made through an external fund managed by a third party.
Even when the investment vehicle is funded by a single investing company is not regarded as CVC. Examples of CVCs include GV and Intel Capital.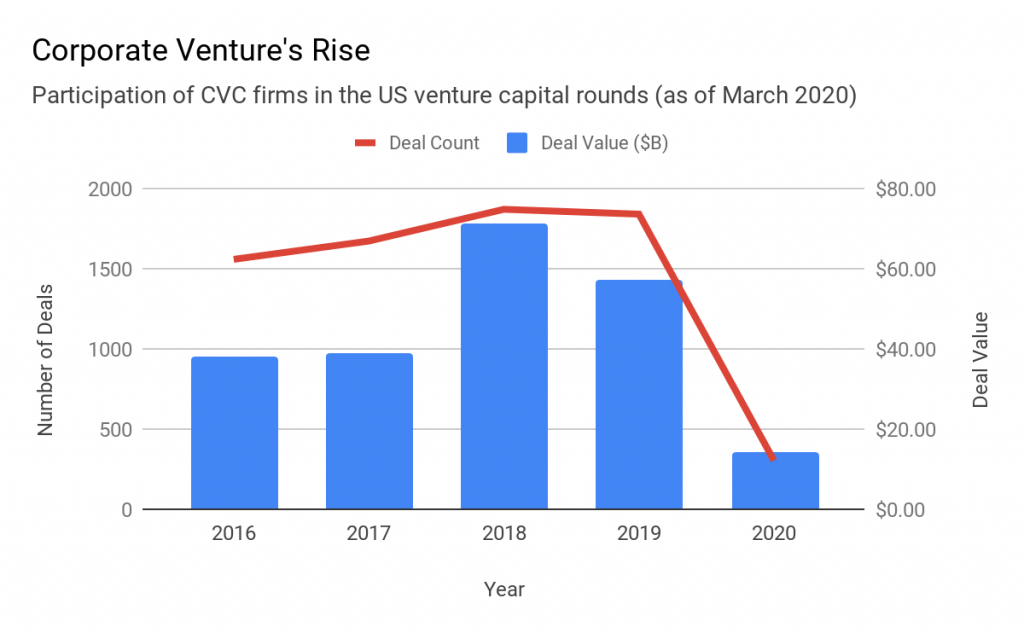 The pandemic has caused quite a bit of disruption for CVC firms. It is taking a lot longer to close deals now. But, experts predict that corporate VCs will survive it and make a much stronger comeback.
Especially in the healthcare sector. Hence, the long-term outlook for corporate venture capital investing looks positive.
Promising Industries for Investment
Many startups are focusing on online services and software that enables remote work. Meanwhile, the pandemic has highlighted the need for improvement in the healthcare sector.
Eventually, the pandemic will be a thing of the past. Investors will be looking beyond the most visible problems of recent times. So, the mainstream focus will shift back to tech and cloud-based services.
Top sectors for CVC investment:
Biotechnology

Software

Telecommunications

Semiconductors

Media/Entertainment
Investment in Virtual Solutions
People will ultimately return to work and embrace the possibility of socializing again. Despite that, we are experimenting with the efficiency of video conferencing, messaging services, and other collaboration-based applications.
Slowly we are realizing that not all meetings require travel. Therefore, virtual activities and remote services seem to be a great option going forward. Even when it is not out of necessity. 
Search Active-Investors Across The World At One Place and Get Funding For Your Startup Today.
Re-evaluation of Investment Strategies
The tremendous amount of uncertainty has investors rethinking strategies. Unlike venture capitalists, corporate VCs are more devoted to the functioning of the parent company.
Hence, slight skepticism is expected. Corporate VCs are taking their time. Once we understand how profoundly the market is affected, CVCs will be back aggressively.
Many innovative opportunities will arise. So, there is a significant amount of capital in the market looking for investment.
Why Choose a CVC?
In addition to having an in-depth understanding of their field, CVCs have vital resources to support a startup. CVCs have vast supply chains and operations organizations.
Therefore, they can easily bridge partnerships for startups. CVCs have the potential to grow and connect the distribution channel for a startup with one of their suppliers.
CVCs have the funds to partake in a startup's financing requirements. They might even lead the round. The CVC could eventually acquire a startup or recommend it to their suppliers.
Funding your business is one of the first — and most important — financial choices most business owners make. Take a look at Alcor's free reports on Venture Capital.
Get your business assessed on our high-end AI platform to get maximum results and funding from our global investors.