You got the ''BIG IDEA" for your startup. The next thing your idea needs is "FUNDING" to convert your idea into a real business by selecting the right type of investor.
It doesn't matter if you have a big idea, a new product, or looking to expand your market. There are various types of investors in the market to support and grow a startup company.
Founders get help from various startup funders at each level of startup growth. During the initial stage of validating the idea or commencement of initial startup beginnings, founders either bootstrap or get funds from family members and friends.
As the business flourish, many funders and investors come into play. The ingression of outside investors starts from seed investors or angel investors.
So, to invest in ideas and further move ahead to venture capital investors who assess previous achievements and examine future progression to invest in the startup. 
Having said that, many investors adopt different approaches like crowdfunding, bootstrapping, etc. These options work best during the initiation stage but as the customer base increases and startup scale-up, the need for more money arises. 
So If you're looking for a type of investor who will fund your startup, here goes the list of 15 such types of investors that will support you in your startup journey.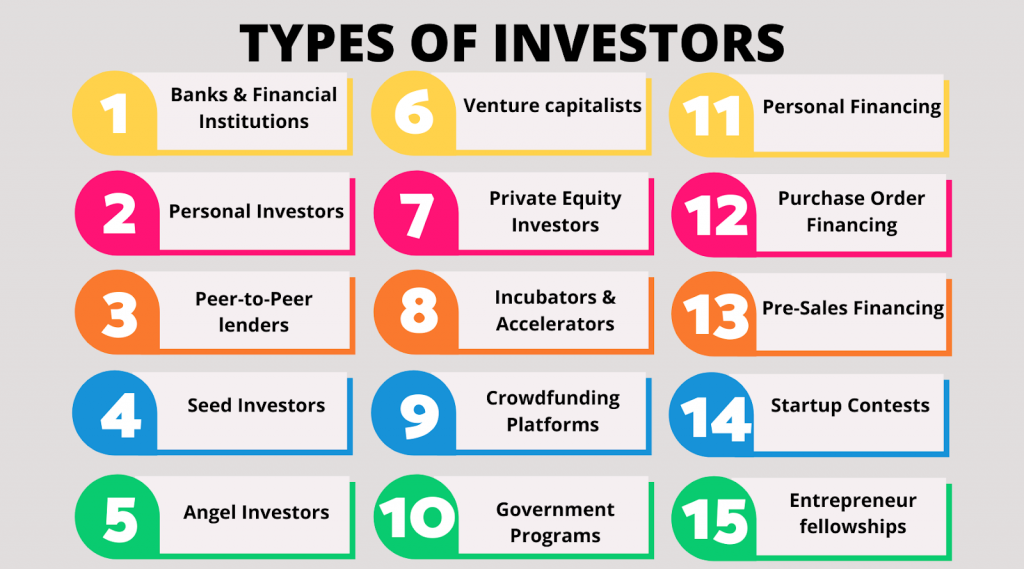 Banks & Financial Institutions
This is a prompt choice for startup founders as it assures no dilution in decision-making. With no equity at stake, the founder has full power in its operations. But it impacts profitability while raising money from other investors.
These are not real types of investors. But founders can enjoy benefits such as merchant advance loans, lines of credit, business credit cards, etc.
To secure a business fund from these institutions is a difficult task. It requires proving business authority and responsibility by sharing the business plan. A typical Business plan includes:
Comprehensive Details of the Business.
Detailed Description of the company's core activities, products, or services
Plans for implementation of goals. 
Therefore, these criteria let banks understand the capability of founders to repay their money. A bank funding isn't as big as angel investment but assures a kick start for a budding entrepreneur before securing funds from a real investor.
Securing Funds from Personal investors is another quick option. Personal investors include your friends, family members, relatives, or professional colleagues that hold strong trust in you while lending their money for your business.
Personal investors may not allow to secure a lot of money for business but can be a useful resource for boosting up the release of the Minimum Viable Product or Prototype before pitching to big investors.
Many times the founders take money without any equity stakes. But CNN Money recommends governing personal investment agreements while giving out an equity stake.
So, one should propose a written agreement or promissory notes that explain the repayment terms or the value the types of investors will be benefiting from as your startup grows in demand.
Peer-to-Peer or P2P is the latest debt financing method that harnesses technology and big data to allow borrowers to connect to lenders without any middle person.
It requires a startup founder and entrepreneurs on P2P lending websites like Prosper, Lending Club, Kabbage, Paypal, etc. to create their profiles along with their projects in front of investors.
SBA has shared the following key pointers required to follow while securing funds from Peer-to-peer clubs:
Have an actionable business plan.
Extensive market research, competition analysis, financial projections, expected returns, etc.
Sharing of credit history to put forward as a loan worthy business 
Sharing of background, your achievements, and progresses to engage with the audience of investors.
Hence, it requires the founders to be well-informed about the terms and conditions for securing the loan and the timely repayment.
Seed Investors provide seed or initial funding to let founders generate capital to set the ball rolling. It's an important phase in a startup's lifecycle journey to build a strong company foundation. 
Many founders may overlap seed investors with personal investors or bootstrapping. But one needs to understand that a seed investment from real investors is greater than money from familial relations.
Search Active-Investors Across The World At One Place and Get Funding For Your Startup Today.
Angel Investors are wealthy and high-net-worth individuals that look to invest in rising startup businesses. Many times the angels are startup founders, entrepreneurs, or corporate business leaders.
They often look for big hits while assessing the company. They provide mentoring and coaching for the new founders in their entrepreneurial growth, advising solutions to potential problems.
Angels provide one-time capital or based on different time periods depending on the level of business. They often consider the company's equity while lending their money.
But as their main aim is to gain some big profits the choice of equity stakes is secondary for some investors. Some of the top angel investors are Tech Coast Angels, Elevate Ventures, Golden Triangle Angel Network, Angel One Network, etc. 
So, founders can reach out to Angel Investors through Linkedin messages, email pitches, live pitch events, or through a mutual network of connections from the same field.
Venture Capitalists are powerful investors that boost up a startup business. VCs pool money from insurance companies, pension funds, etc, to invest in high-risk companies.
High-risk investments come with very high returns which the founder has to deliver. The Top Venture five Capitalists of 2019 are Accel, Andreessen Horowitz, Benchmark, Index Ventures, Sequoia Capital.
Most of the Venture capitalists' preferred choice is- a validated business idea, proven traction, and existence in the market. The process of securing a VC is exhaustive as it includes comprehensive reviewing and assessments of business.
With huge investments comes a high proportion of ownership. Thus diluting the founder's power. Many VCs guide founders through their wisdom and years of experience.
Therefore, you can also use our Venture Capital Pre Screening Assessments to evaluate your business. This will also help you in getting funding for your business in just 5 steps.
Private Equity Investors secured $3.9 trillion in assets in the year 2019. They have limited equity stakes in exchange for a large influence on the operation of the company.
Some of the prestigious Private Equity Firms are- The Blackstone Group, Neuberger Berman Group, Apollo Global Management, The Carlyle Group, Bain Capital, etc.
Some of the Key activities of Private Equity Investors are:
Raising money from limited partners like insurance funds, wealthy individuals, endowments, etc.

Closing deals to get new companies.

Assisting portfolio companies to cut costs, improve operations, etc

Selling of portfolio companies at profits during the exit stage.
Private Investments are not traded in public equity markets and have more earnings than public equity fund investors.
Incubators & Accelerators
It offers the needed support to startup founders during the early stage of Business. Both programs have more similar and different features.
An incubator program advances in nurturing and training to grow the business networks. Accelerator programs speed up the activities to get into the next giant leap in the process. 
Some of the top startup incubators are Y Combinator, TechStars, DreamIt Ventures, AngelPad, Launchpad LA, Excelerate Labs, Kicklabs, 500 Startups, TechNexus, Tech Wildcatters, etc.
Founders have to do thorough research and study of the program as it is for 8-12 months.
Check Your Business Worth And Get The Highest Price For Your Business
Crowdfunding is a digital way to raise funds by creating online fundraising programs. It refers to the contribution of money from more than one person or the crowd to fulfill a certain goal.
Some of the online crowdfunding community platforms are Kickstarter, GoFundme, Kiva, etc.
The entrepreneur has to create their profiles and prove business goals and needs. The people on these platforms are usually interested in the value you create. So, they contribute their money based on the impact it creates on their business minds.
The government of many countries has come forward to serve budding startups. Thus benefiting the growth and development of the nation.
The U.S. Government stepped up to establish SBA or Small business Administration. This ensures the growth of small businesses while underwriting loans to secure funds from local banks.
Therefore, SBA even provides grants for educational or non-government organizations for effective development.
Personal Financing or Self-funding often refers to as bootstrapping the startup. Many entrepreneurs struggle to secure finances at early stages due to a lack of traction. 
One can make use of their use as it comes with fewer formalities and limited costs of raisings. It is the best financing option for businesses that need money right from the start.
Also, one can take up a Home Equity Line of Credit on your house or second mortgage. So, some of the thriving bootstrapped startups are- Mailchimp, Github, Microsoft, Oracle, etc.
Getting Finances through pre-sales is the emerging method in the market. Pre-sales financing is a strategy to secure finances before the launch of the product.
Apple & Microsoft incorporated this strategy and made available pre-orders of products even before the official launch.
For this strategy, one has to be extremely focused to deliver the right value and understand the customer's desires. Thus leveraging marketing strategies to raise funds.
For example, You have 1000 customers who want to buy your product. Hence, you make them pre-order and pay the money upfront. Thus, using this money to build the product as per the demand.
Purchase Order Financing is like Pre-sales financing but in the reverse process. For example, You run a retail store and receive an order of 1000 product quantities from the customers.
You will pay the vendor to receive the required quantity. But due to a lack of money, advances aren't payable. Thus, you present your purchase order in front of the lending institution to get advances to pay for the supply.
Therefore, most of the lenders charge a certain fee and stipulated period for repayment of money.
Participating in Startup contests has become a trendy way to get yourself off the ground. These contests offer new entrepreneurs to get some cash prizes with a small number of entry fees.
These contests have certain eligibility requirements that need to be met before participating.
Many organizations held startup pitching competitions to let founders present their idea in front of corporate partners and different types of investors.
Some of the startup competitions are- Y Combinator Demo Day, TechCrunch Disrupt, HATCH Pitch, Flash Pitch, etc.
So, precise business plans and value projections increase the chances to win the contest and receive investment with media coverage.
It is one of the best ways to get hands-on various opportunities with some promising prize money. Fellowships offer a wide range of experience in various fields.
Thus promising immense growth in professional networking and encouraging fellows to take initiatives.
It can be a fresh experience in the entrepreneurial journey. One can serve in art communities, work with a team to eradicate illiteracy, poverty, solve social issues, or compete to get a $100,000 investment for your company.
Here are the best Entrepreneur Fellowship Programs to hone your brilliant skills:
Theil fellowship offers a no-strings-attached grant of $100,000
It's apt for recent graduates or students below age 20 to bring their ambitions and ideas into existence.
Presidential Innovation Fellows:
A fellowship program with a duration of 12 months for the entrepreneurial experience. It demands collaboration with government officials in the main quarters.
A brilliant opportunity to work at a venture capital firm. Ewing Marion Kauffman, a pharmaceutical entrepreneur has established this fellowship.
Ashoka Fellowship Program:
A one-of-kind fellowship for social entrepreneurs for innovative solutions to social problems. It works in 70+ countries with a presence around the globe. 
So, check out this exhaustive list of fellowships listed by ProFellow
Conclusion:
As we have listed, there are a wide variety of different types of investors that exist in the market to raise funds for your startup. Founders need to understand their business stage before approaching an investor.
So, With every round of funding, the founder has to achieve the set milestones before approaching the next investor.
As the business market grows, one has to be strategic towards its finances to ensure cash flow in the business. Adding up the fuel time-to-time and targeting the right type of investor will have a vital impact on your business.
With AI Based Assessment Tool, Mitigate Your Risk And Test Your Startup Investability Score Now