Can you get funded? – Are you sure?
Have you analyzed 40 Business Risk Parameters before approaching Investors for Funding?
Test your Startup's "Investability" and See Your Score
Leverage The Only AI Risk Assessment Before Approaching any Investors for Funding
Here is a Sample Investability Analysis Report for your Review
This report is built through Artificial Intelligence risk parameters that Investors reviewed on startups and funded them worldwide.
The Best Assessment Structure with AI Technology
Our reports evaluate your business on 40+ parameters important to investors, with detailed gap analysis and instant recommendations. From profitability to market fit to initial traction, our funding score determines your business' preparedness to raise funds and to objectively calculate your funding capacity.
Mitigate Your Business Risks
Our Risk Analysis Scores help you identify and mitigate elements of risk in key areas of your startup, from developing opportunities, growth strategies and launching to perfecting your finance and pitch, securing you a 90% higher chance of a successful investor fundraise.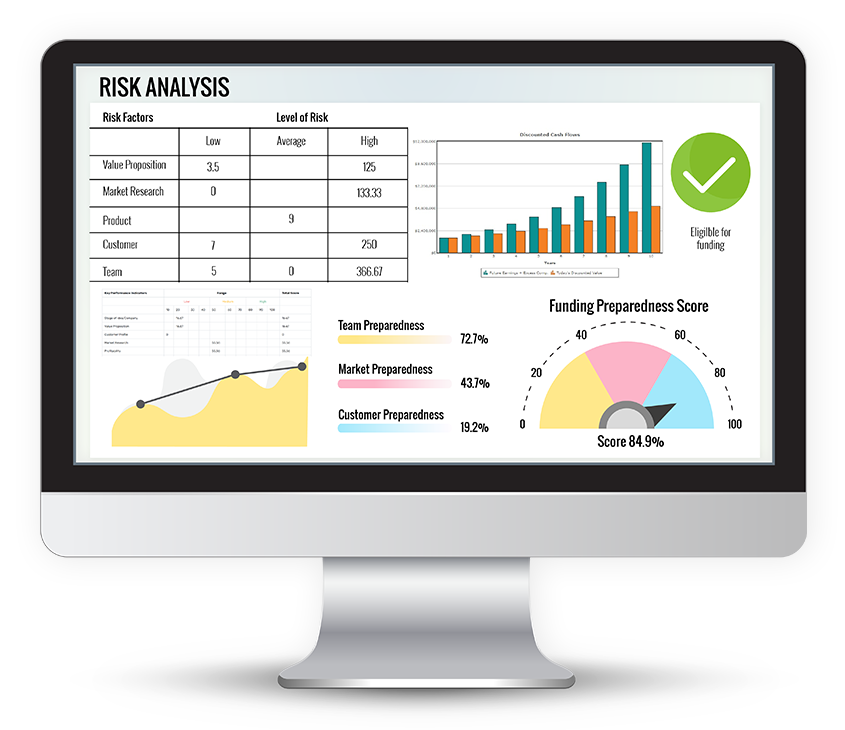 AI Risk Assessment Process
Register
Click on the Buy Report button below to register with your contact details like email, phone, company name, website, type of funding, amount of funding, etc.
Payment
We charge a nominal fee of $385, for the artificial intelligence risk assessment. For your security, a high-end firewall and secure payment gateway have been implemented.
Assessment
Once we receive your payment, you will be a registered user with Alcor, and the AI risk assessment will be unlocked. You will now need to fill out the objective questionnaire to assess your start-up/business on 45 parameters.
Report Generation
Submit your Investability Analysis Assessment. Your report generation process will begin. Our team of experts will conduct an in-depth study on your report and our customer success manager will reach out to you in the next 24 hours.
Do this Investability Assessment Report to Improve your Chances Significantly to Secure
Investor Funding Globally
What Entrepreneurs & Partners Are Saying
We are incredibly pleased with the work done by Alcor during our funding process. The team did a terrific job in the entire due diligence process and managed to get us significant exposure and understanding about the risks involved in starting a business. They have a special AI tool that assess your business at different parameters like business profile, market research, product market fit, gap analysis, investability score, etc. George Molakal and the other board members, while working with us on the transaction, could understand our business model very well and finely articulated our differentiators to all prospective investors.
Just to say many thanks for an incredibly positive virtual meeting with Alcor. My business partner and myself were well satisfied that we are able to discuss our funding requirements with the Alcor team. Professional and precise the executives guided us from an introductory virtual meeting to taking their one-of-a-kind AI assessment, which helped us identify all the parameters involved in starting and running a successful business. The AI tool allows you to gauge 40 parameters that would assess every part of your product/business and gives you a report which has all the information about business risk parameters and investors available to invest in your company. I am incredibly happy with the way you are managing client relationships and hope this will continue into the future. Alcor Fund is very customer-centered and professional, and we would happily recommend their services to others.
The team from Alcor Fund have done an outstanding job of conceiving, guiding, and executing each step of the process leading to get the best chance at funding. They were always available, highly pro-active, and willing to get into details and go the extra mile to ensure we got a fair value and treatment, while at the same time driving discussions to speedy conclusions. Moreover, the top management was always willing to get involved to guide the transaction along. All in all, kudos to the team from a very satisfied customer.
What are you Waiting for?
Do it NOW and then approach Investors
Investability Analysis Report