People often interchange Nonprofit vs Not-for-profit. Both usually refer to organizations that do not redistribute profits or funds to owners or shareholders.
Hence it is easy to assume these two terms mean the same thing. However, nonprofits and not-for-profits are business structures with different tax implications, governance, and functions.
What is NPO?
A nonprofit organization's mission and purpose are to further a social cause and provide a public benefit. So, nonprofit organizations include hospitals, universities, national charities, and foundations.
Also, to qualify as a nonprofit, a business must serve the public good in some way. Nonprofits do not distribute profit to anything. Moreover, they merely further the advancement of the organization.
Therefore, NPOs are required to make their financial and operating information public. So, this creates transparency. In other words, donors can check the use of their contributions.
What is NFPO?
A not-for-profit organization does not earn profit for its owners. In other words, money might be earned through pursuing business activities or through donations.
But revenue goes right back into running the organization. However, not-for-profits are not required to operate for the benefit of the public good.
So, a not-for-profit can simply serve the goals of its members. Therefore, a good example is a sports club; the purpose of the club is to exist for its members' enjoyment.  
Similarities
Both organizations might not make a profit. But they may receive an income to sustain their missions.

Neither type of organization pays dividends to stockholders

In the case of the United States, there is an exemption for both nonprofits and not-for-profits from tax under IRS publication 557.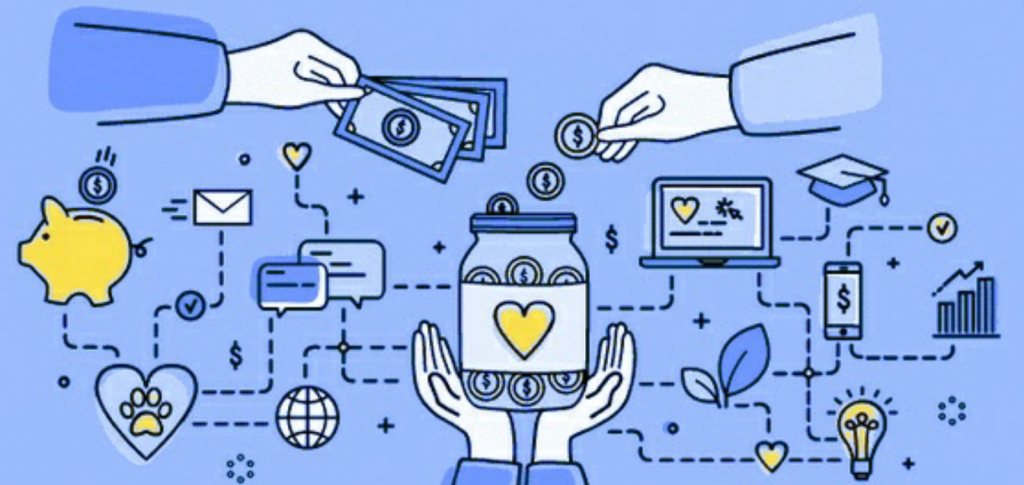 Difference
Income
There is a distinct use of revenue that nonprofit and not-for-profit organizations produce.
Nonprofit organizations reinvest profits into the organization. 

Not-for-profits use their gains to pay their working members. 
Membership
Volunteers or employees of nonprofits do not receive any money from the organization's fundraising efforts. They may earn a salary for their work.  Therefore, this is independent of the money the organization has

fundraised.

In addition, members of not-for-profits may benefit from the organization's fundraising efforts.
Tax-Exempt Status
It is allowed to an individual or business that donates to a nonprofit to deduct their donation from their tax return. Therefore, the nonprofit pays no taxes on any money received through fundraising. 
NFPOs must apply for tax-exempt status from the

IRS

. This includes exemptions from sales tax and property taxes. So, that means the money donated by an individual to an NFPO cannot be deducted from that person's tax return.
Consider the United States. Even though both organizations are tax-exempt, each of them faces different tax code requirements. Suppose an NPO is either a religious, charitable, or educational organization.
Also, if it does not influence state and federal legislation, it is tax-exempt under 501(c)(3).
Now imagine a not-for-profit for pleasure, recreation, or another nonprofit purpose. Therefore, they are tax-exempt under 501(c)(7).
| | |
| --- | --- |
| Nonprofit Organization | Not-For-Profit Organization |
| Nonprofits are formed explicitly to benefit the public good. | Not-for-profits exist to fulfill an owner's organizational objectives. |
| Nonprofits can have a separate legal entity. | Not-for-profits cannot have a separate legal entity. |
| Nonprofits run like a business and try to earn a profit. So, profits do not support any single member. | Not-for-profits are considered "recreational organizations". So, they do not operate with the business goal of earning revenue. |
| Nonprofits may have employees who are paid. But, their paychecks do not come through fundraising. | Not-for-profits are run by volunteers. |
Benefits Of Nonprofit Vs For-Profit
The advantages of a nonprofit vs for-profit entity may not be as straightforward. A nonprofit has obvious tax benefits.
But the flexibility granted to for-profit organizations has the sway to raise money and attract the best talent. Moreover, nonprofits can advertise the supposed lack of a profit motive.
But unlike nonprofits, for-profits do not face public inspection and stringent legislation. Hence, several social entrepreneurs are taking up hybrid organizations.
These businesses demand the public's respect while strategizing like a for-profit business. So, the hybrid approach maintains a for-profit segment and incorporates a nonprofit into the business, or vice versa.
Check Your Business Worth And Get The Highest Price For Your Business
Additional Resources
Funding your business is one of the first — and most important — financial choices most business owners make.
Take a look at our Venture Capital Pre Screening Assessments to evaluate your business. In addition, this will also help you in getting funding for your business in just 5 steps.
Also, get your business assessed on our high-end AI platform to get maximum results and funding from our global investors.